Carmelo Anthony is too talented and versatile a scorer not to put up big numbers. You might say that other than reigning MVP Kevin Durant, there isn't a more natural scorer than Anthony. And yet, five games into the Derek Fisher/Phil Jackson-era New York Knicks, it has become evident the triangle offense does not highlight Anthony's strengths.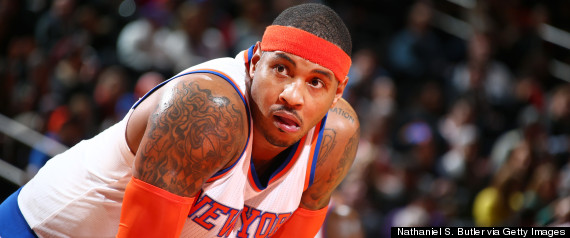 To be fair, it will take time for him to adapt to it. But sub-41 percent shooting and a 19-point scoring average represent the lowest totals of his 12-year career. Anthony may not be Michael Jordan or Kobe Bryant -- two megastars who excelled in Jackson's triangle -- but he is a former scoring champ not accustomed to operating within a ball-movement-based concept that features an entire team and not just one player.
Anthony's woes may have reached a boiling point during a miserable 5-21 shooting performance in Wednesday night's 98-95 loss to lowly Detroit. It came the day after he missed 15 of his 23 attempts in another Knicks loss. It was "one of those nights it's not going in," he said Wednesday. "Unfortunately, it's two nights in a row for me."
Fisher is hoping his 30-year-old scoring dynamo eventually will adjust to an offense very few teams run, but that has proven highly effective when run properly. This isn't an unrealistic hope. Five games may be a small sample size, but teams are not defending him differently than in years past. Much was made about Anthony's 15-lb. weight loss during the summer to give him more durability and more quickness to attack the paint. And while he may appear a step faster, a key factor in determining his struggles in the triangle is the lack of free-throw attempts. The seven-time All-Star has shown both a lack of desire and lack of comfort in attacking the rim, compiling a mere four free-throw shots per game. Considering that's nearly half his career average, it's clear Anthony's issues are more than just the ball "not going in," as he said following the loss to the Pistons.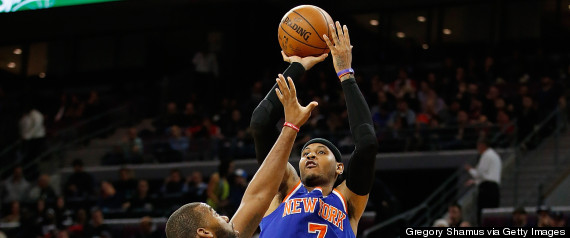 Fisher's challenge as a first-year coach becomes amplified because he now has to worry about how to generate not just an efficient half-court offense for his team, but also for the one guy he was counting on to give him 25-plus every night.
"The toughest part of this early on," Fisher said, "when you're still trying to figure out who you are within what we do, is to still trust it and have faith that things will work out without reverting back to what you normally do in these situations. That's tough for guys to do, when the game is getting away from you. The feeling for each guy is I can do it, I can help us get this back. It's actually the reverse. We have to stay together even more."
Email me at jordan.schultz@huffingtonpost.com or ask me questions about anything sports-related at @Schultz_Report, and follow me on Instagram @Schultz_Report. Also, be sure to catch my NBC Sports Radio show "Kup and Schultz," which airs Sunday mornings from 9 to 12 EST and 12-1 for fantasy football, right here.
Calling all HuffPost superfans!
Sign up for membership to become a founding member and help shape HuffPost's next chapter