And then there were five.
Carmen Carrera breaks reality TV's "Jersey Girl" mold. For one, her skin glows flawlessly, as if to say, "Look at me, I don't have to look like a scorched tangerine to be a Garden State Princess." Even after dropping the occasional F-bomb and farting on camera, Carmen might very well be Reality TV's most beautiful (and feminine) "Jersey Girl." Not bad, for a dude.
Last week, Carmen became the latest contestant to be eliminated from RuPaul's Drag Race. She might have faced critiques on committing to character and relying too much on her God-given "assets" but one thing is undeniable; Ms. Carrera is addictive. The more the judges wanted her to cover up, the more skin we wanted to see. If you've got it, flaunt it, I say.
This week I chatted with Carmen about her performance on the show, her drag beginnings and being Puerto Rican "enough." I even tried to get a beauty secret or two out of her.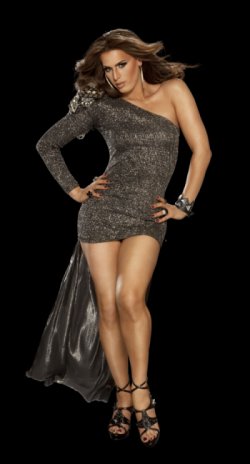 JG: Tell us a bit about Baby Carmen. How did drag come about for you?
CC: I would go to the local drag shows and watch all the girls do their thing. Luckily, where I would go had a good diversity of drag and drag styles. I caught the itch and the rest is history!
JG: What was the first song you ever performed on stage?
CC: I performed Jennifer Lopez's "Step Into My World" at Escuelita's Diva Search in New York City.
JG: During the PSA challenge you expressed, in regards to American pride, that being an American came easy because you were born into it. The things you work for are what you take most pride in. I can relate to this and agree wholeheartedly. What would you say is the one thing you are proudest of?
CC: I've always been pretty serious when it comes to relationships. In the [gay] scene, it's so tough to be young and have a meaningful, lasting relationship. I am so proud that it's legal for same-sex couples to be recognized in New Jersey [i.e. civil unions]. I can say that out of all my peers, I'm the only one that took the next step and got married. My husband and I have been married for two years and I can't be any more proud of that.
JG: You've been coined "the pretty one" and give the audience body for DAYS! How do you manage to keep up such a smooth and girlish figure? Any beauty secrets you can share?
CC: Skincare! It's super important. I shave, exfoliate, and moisturize. I try hard not to have any marks, scars or tattoos on my skin. It's just more stunning that way.
JG: Who are some of your style icons?
CC: Princess Diana, Jackie O., Jennifer Lopez, Rihanna and Sarah Jessica Parker.
JG: You were criticized by your fellow Latino contestants for not being Puerto Rican enough. This is not an uncommon debate within our community. What are your thoughts on this?
CC: I think that if you are in America, you should live as Americans do. I have Puerto Rican roots -- I eat rice and beans everyday! (laughs). I was born here and this is my country. I do visit Puerto Rico often; however, what the other girls think is a bunch of bullshit in my opinion. It's like if I said they aren't American enough. Kiss my ass!
JG: There's no question that arroz con habichuelas (rice and beans) has done your body good, WEPA! You went home after lip-syncing to Cher. If you could "turn back time (ta-ohhm)", would you do anything differently in the competition?

JG: What is most important: Charisma, Uniqueness, Nerve or Talent?
CC: Uniqueness! Who wants to see the same kind of drag?
JG: What has been the best part of the whole Drag Race experience?
CC: Meeting new people, challenging myself and the exposure. It's been an amazing experience.
JG: What is in store for Carmen Carrera?
CC: A lot! I am actually nominated for this year's Logo's NewNowNext Awards 2011. I am nominated for "Most Addictive Reality Star."
RuPaul's Drag Race airs Monday nights on Logo. Stay tuned for my weekly interviews with the remaining finalists as well as with Drag Race's outspoken judge, Michelle Visage.
Popular in the Community