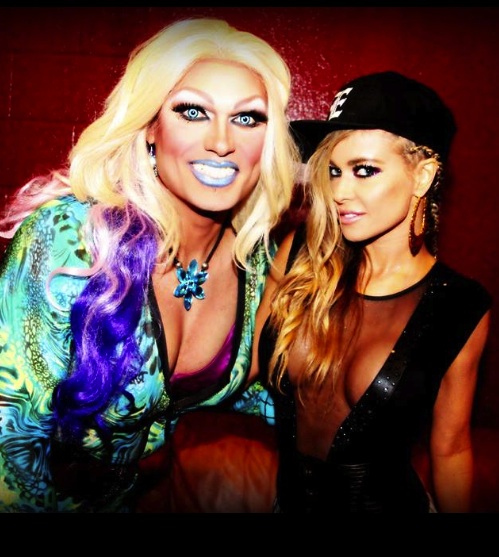 Carmen Electra is no stranger to the public eye. Despite countless television and film roles, a dance hit earlier this year and numerous appearances in Playboy, a string of high profile love affairs have perhaps brought the beauty the most notoriety. Electra both acknowledges and jokes about her headline-grabbing dalliances with a veritable checklist of rock music's top names.
"Yes, there's some truth to that list, but some are not true," the one-time Baywatch babe told me. "I get linked to people I've barely met. There are people -- honestly -- who I've met, we shook hands, and that was it. Or it's someone I've worked with..."
"Or maybe it's someone, you know, I just kissed..." Electra stops to laugh at her own joke, "But after that, you're linked as boyfriend and girlfriend forever!"
The superstar -- who admits being drawn to "very eccentric people" -- acknowledges the most notable names from her past. Iconic rocker Prince discovered her while she was still in her teens, signing the Ohio-born performer to his Paisley Park Record and renaming her 'Carmen Electra.' "I know it's hard to believe, but I was painfully, painfully shy when I met him," she recalls, "But having someone like Prince see something in me really helped overcome that."
Then, of course, there was controversial NBA star Dennis Rodman. After tying the knot in a Vegas wedding chapel in late 1998, the two shared a brief, extremely tumultuous, tabloid-fueled whirlwind which ended in early '99.
"Obviously, it was a very passionate relationship," she says of Rodman, "But as good and exciting as it was, it was also destructive at the same time."
Electra has also been linked to rockers Tommy Lee (anyone who's seen the Motley Crue musician's sextape with Pam Anderson knows why!), Limp Bizkit frontman Fred Durst and Filter's Rob Patterson. Electra's relationship and ultimate marriage to Jane's Addiction guitarist Dave Navarro was documented on the MTV reality series 'Til Death Do Us Part: Carmen & Dave.
Of late, for the first time since her self-titled, Prince-produced early-'90s debut, Electra has focused more attention on music than romance. Last winter, new single "I Like It Loud" became a Top 20 hit on Billboard Dance charts, returning the star to performing live -- which she loves. She is currently hard at work in the studio.
Still, in what can only be considered typical fashion, Electra's private life took center stage again when the bombshell grabbed headlines alongside Simon Cowell. Multiple sources indicate the two met while Electra was judging Britain's Got Talent and were dating when reports surfaced about the American Idol and The X Factor judge impregnating a friend's wife.
"I do respect people's privacy, so that's something I wouldn't get into," Electra said when pressed for specifics, then went on to clarify: "I will say I think people are assuming we were an item that never was, so it just kind of makes the story a little more dramatic."
When further questioned, Electra proves to be a class act in comments about the musical mastermind's personal matters.
"I'm happy for him," she told me of Cowell, who has since confirmed he is now an expectant father. "Honestly, what I think is important is the child's life and that the child has love and peace."
Likewise, of her romances, Electra makes no excuses. "I have no regrets," she assured me with a girlish laugh, "Trust me, I've had fun!"
Calling all HuffPost superfans!
Sign up for membership to become a founding member and help shape HuffPost's next chapter