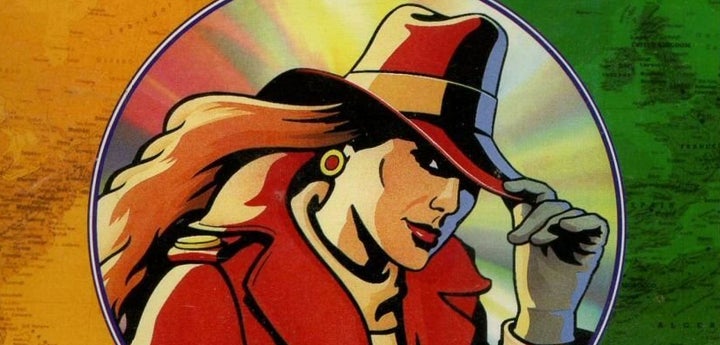 For many fortunate children of the '80s and '90s, Carmen Sandiego was their first encounter with a globe-trotting supervillain. This mysterious woman had a magical gift for stealing landmarks around the world, and it was up to the youth to stop her. She wore a long red trenchcoat, a red fedora tipped over one eye and had flowing red hair. But catching her red-handed was a near impossibility.
The character went through many iterations over the years in video games and on television shows. The version I grew up with was the game show, "Where in Time Is Carmen Sandiego?" which premiered in the fall of 1996. I was 5 years old. The world was much simpler when Carmen could swipe the Liberty Bell without casualties and I could be the one to stop her further plans in under an hour.
I didn't know this then, but "Where in Time?" is the only Carmen property to feature a live version of the character, with an actress performing the role on screen. This meant there was actually a real Carmen Sandiego, but the show tried to downplay its decision and never revealed who played the role, leaving the credit a mystery.
The year 2016 has been a bleak one for humanity. I've had a hard time falling asleep many nights after long days of seeing horrible news followed by more horrible news. The world has always been filled with both good and evil, but this year certainly seems to have awoken an inflamed inspiration from those who conduct the latter.
As a lowly content creator on the internet, I am obviously powerless to make this stop in any meaningful way within the scope of my day job. But since this year marks the 20th anniversary for "Where in Time?" I decided I could at least go after the villain I grew up with in a quest to bring a very small smidgen of justice to the world.
I needed to finally find Carmen Sandiego once and for all.
Earlier this summer, I wrote a story about my quest to try and please Mark Zuckerberg's Facebook algorithm. That journey took over a year to report, but this one ended up taking even longer. I must admit that I'm certainly hoping this story will please the Facebook gods, as well.
Just as it was while growing up, the mission to find Carmen turned out to be harder and more circuitous than I could have expected. I even learned things.
And sans all the stealing, the real Carmen proved to be everything I could have hoped for.
HERE in the world is Carmen Sandiego ...
The case began with the end credits for "Where in Time Is Carmen Sandiego?" Even though she was the namesake character, no actress was listed as playing Carmen Sandiego.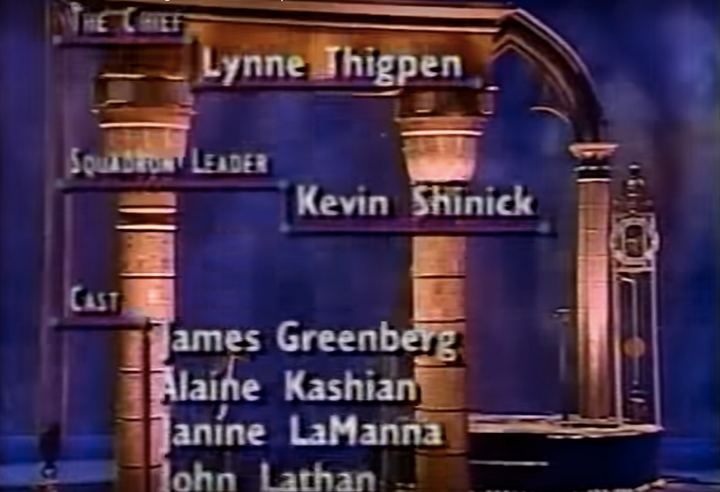 Actress Lynne Thigpen played the Chief in multiple television and video game iterations of the "Carmen Sandiego" brand. As the legendary figure that'd help players find Carmen while also teaching them basic facts about the world, she certainly deserved top billing.
Then there's the hero of this specific "Carmen" series. Squadron Leader and host Kevin Shinick would guide kid contestants in their quest to capture Carmen. The Squadron Leader was certainly an important part of the show.
But after listing just those two roles, the acting credits switch into the general "Cast." As per usual, Carmen Sandiego can't be found.
The show purposefully kept the actress' identity a secret. While actors Thigpen and Shinick would make media appearances, Carmen was always mysteriously absent.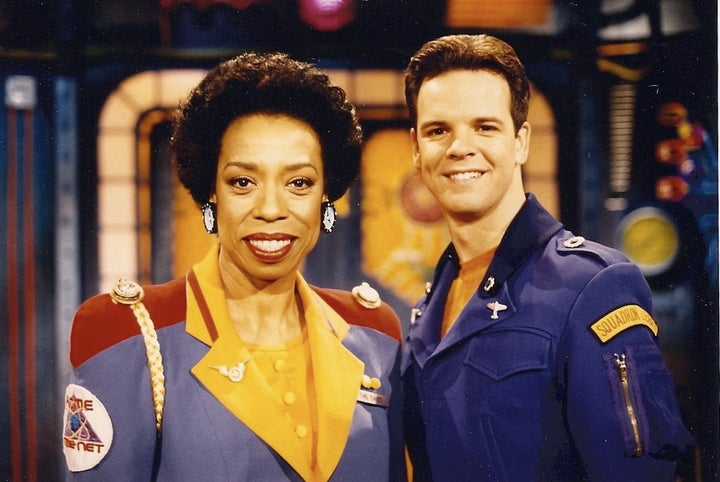 The stars of "Where in Time?" would travel the country in character to promote the show to children and their parents. Carmen didn't join them.
The show probably assumed Carmen's presence would confuse the kids. The real Carmen Sandiego hanging around a press area with Chief and the Squadron Leader wouldn't have made much sense.
Perhaps that time Carmen Sandiego stole the Golden Gate Bridge was an inside job, the kids might've thought. Maybe the president paid Carmen to steal the Constitution to facilitate a military coup?
These are questions no grade-schooler should ask while just learning the basics of world history and geography.
Just like the video games, Carmen never showed her face on the television show, so you couldn't get a decent look.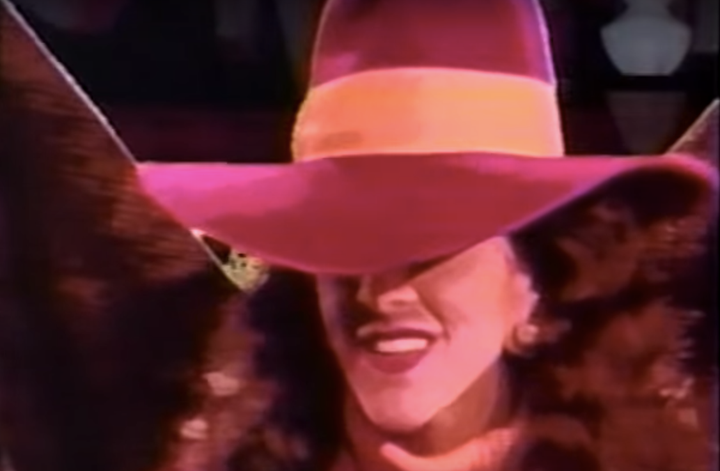 You'd be hard-pressed to find a single instance where Carmen Sandiego allowed her whole face to be shown in a video game or during a TV appearance. Her live-action appearances did not break this trend.
The real mystery, though, is how Carmen pulled off so many capers with such a small range of vision. In the above photo, how would she even know the difference between stealing the Grand Canyon versus a less impressive hole in the ground?
Since the show aired, gumshoes have speculated that general cast member Janine LaManna played Carmen.
In the "Where in Time?" acting credit list, "Janine LaManna" gets fifth billing, third in just the "Cast" section. Certainly a bizarre placement for the actress presumably behind the show's lead character.
Since the show aired, fan forums and Wikipedia have listed LaManna as having the part. Old articles in The New York Times and Newsday about the actress' other work note her time embodying Carmen as an aside.
Sources of confirmation remain scarce, but it seemed as if LaManna had the role. If true, she would be the first person to ever officially play the part. Including LaManna, only two women have ever portrayed Carmen, as another actress had the part in the second "Where in Time?" season.
Still, LaManna never did an interview about being Carmen Sandiego.
As LaManna seemed like the best place to start, I decided to try and reach out. But despite being a well-known Broadway actress, she had gone completely off the grid.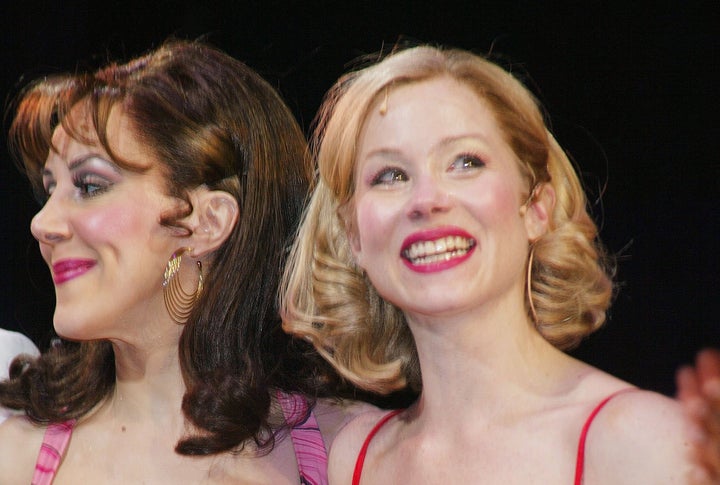 Since supposedly playing the part of Carmen, LaManna went on to star in many Broadway plays, the last of which was "The Drowsy Chaperone" in 2007.
After that, the actress seemed to have disappeared from the public eye. The most recent image listed for her on professional photo service Getty Images is from 2005. She's not on social media. She doesn't have a publicity agent listed.
Just as I was chasing after the role she might have played 20 years ago, I had to go on a journey to find LaManna.
I searched for any associates and sent messages about my case. I also decided to email every address with a name even close to "Janine LaManna" ... to no success.

If asked when I was 5 years old what I wanted to be when I grew up, I'm not sure I would have said "gumshoe." But I definitely wanted to find Carmen Sandiego.
Not wanting to let the dream die, I risked bothering quite a few people who seemed remotely connected to Janine LaManna. I started with former co-workers before trying to find contact information for some of her theater acquaintances. Not being able to find a solid email for LaManna, I tried various variations of her name in the address line, asking these people if they were the LaManna I was looking for.
Desperate for a lead, I thought back to how I would find Carmen in my youth. I realized I was in a major city and could possibly ask passersby questions about geography and history for clues.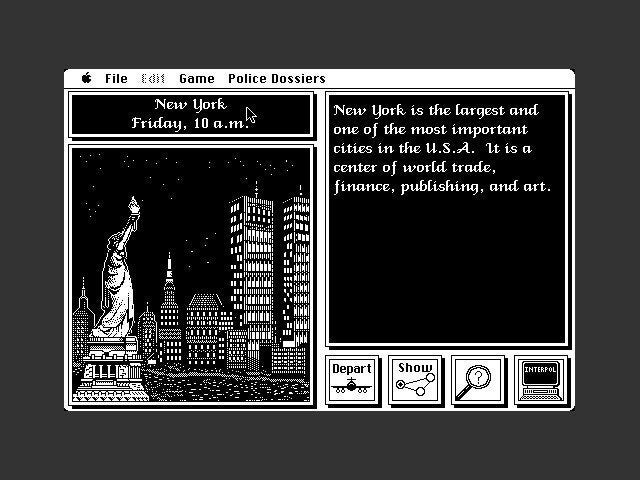 The main conceit of the Carmen Sandiego games I played while growing up was that you'd travel to different cities and ask the strangers there for clues. The strangers would then give you clues in cryptic trivia-esque ways, saying something like, "I heard that person went to the state of potatoes." Given a barely helpful response such as that, you'd have to learn which state is most proud of their potatoes and travel there.
While living in New York City over the last three years, I've never encountered a stranger that talks like this. I have heard people yelling to themselves phrases like, "There's more than one way to skin a cat!" But I don't think that would have led me to LaManna.
Still, I wondered if I went full-out in dedication to the quest, strangers would know how to react.
I looked into a detective costume suitable for catching LaManna in Times Square. I found one that somewhat mirrored her getup.

When you're on a big case ― just trying to blend in with the locals in seedy parts of town while hunting for clues ― nothing works better than wearing a bright yellow suit and hat.
I figured if I went to Times Square, passersby would respect me and spill the trivia-based clues they somehow had about LaManna's whereabouts.
But in looking closer at the reviews, I learned the fedora color was unfortunately a "banana yellow." Not wanting to be a fedora-wearing banana man, I got nervous and bailed.

Bright yellow I can deal with. Back in high school, I used to wear highlighter-yellow clothes on my running team all the time.
But banana yellow just isn't me.
Also, in a strange coincidence, while I was looking at this costume, my girlfriend messaged me, "how do bananas smell so strong lol, when apples and clementines and berries and stuff do NOT smell crazy."
Even if it would lead to solving this case, I decided I couldn't be a banana man.
Alas, right as I thought all was lost, LaManna emerged from my previous emails. And the supposed Carmen said, "Sorry you had a hard time locating me!"

In the video games, you don't really get to talk to Carmen. She might say a more cool and clever version of, "Oh, no, you caught me," but then the Chief's special forces would whisk her away to be put behind bars.
Here was an email in my inbox, though, inviting me to have a longer conversation with the woman of mystery.
After almost a lifetime of fruitless chases, Carmen was allowing me to finally ask her a few questions.
We got on the phone and LaManna confirmed that she was Carmen Sandiego. The search is over, Chief.
LaManna remembered filming the episodes in the summer of 1996, just a few months before the show would air in the fall. The cast shot all their scenes at Kaufman Astoria Studios in Queens, New York. It was "a fairly standard TV schedule" in LaManna's memory, with a 6 a.m. makeup start.
This was LaManna's first television show and a big break of sorts. Her whole family would watch the show, including her nieces (as long as they didn't have soccer practice).
"I almost wish that I had been a mom at the time, because I loved working with the kids," said LaManna. Speaking about the children on the show, LaManna explained that some were ready for television and "gung-ho," but predictably many were pretty scared. I sometimes got scared just watching Carmen from the safety of my childhood home, so I understood.
As the show had tried to hide her true identity, this was LaManna's first-ever interview about the role. She talked in length about what it had been like to be Carmen and shared photos from way back when.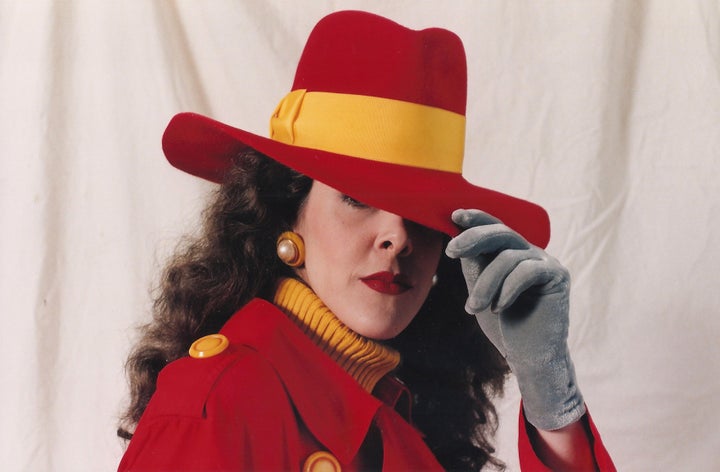 Crafting the character of Carmen was a bit tricky for LaManna, since previous iterations of the role weren't readily available to watch. Nobody had ever officially played the character in person and it would be hard to find her brief appearances in the children's video games.
"It seemed to me that she was a bit of a diva," LaManna said of trying to emulate Carmen from what she knew about her. "So, I kind of gave her a little bit of that." The actress was nervous to get Carmen right. "Once you embody a character that hasn't been embodied yet, that's a big responsibility."
But, as mentioned earlier, if she hadn't gotten it fully right (which of course, she had), it wouldn't have been a huge hit on her career since the role went uncredited. "When you look up Carmen Sandiego on the web now, they basically list Kevin and Lynne and then the crew, so Carmen isn't really one of the first characters," LaManna said. "You'd think Carmen would be the first."
LaManna elaborated on how she didn't do press for the role and why the show wanted to keep her identity a secret. "Because of the mysterious aspect of her, I don't think they ever wanted an actor to be [associated with Carmen]," said LaManna. "They didn't ever want to reveal my face probably. Then you would reveal Carmen. But don't forget, the internet was not [as useful back then]. It wasn't that easy to find stuff. Everything had to go through the press."
Twenty years later, the reveal is finally happening.
Part of the reason they kept Carmen's true identity a secret is because LaManna also played the "good" people that would help contestants thwart Carmen on the show.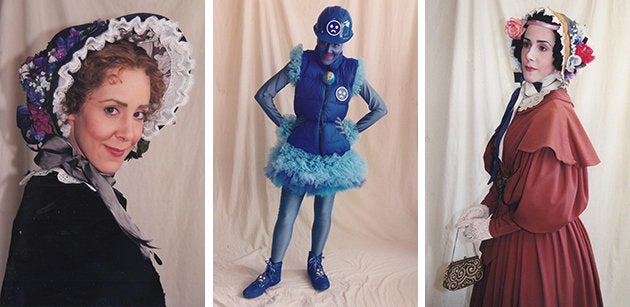 LaManna's most involved job on the show actually wasn't being Carmen, but playing various historical figures and other helpers during the game-show aspect of the series. According to her memory, she shot all of the Carmen footage at the beginning of the production and then would just portray other characters day-to-day throughout the summer.
The costume designer for the show, Wendy Stuart, received an Emmy nomination for the first season and LaManna had nothing but praise for her work. "She and I had just clicked in such a way," LaManna said.
Over the course of the 65 episodes in Season 1, LaManna played about a dozen historical characters, as she recalled. Characters included Elizabeth Cady Stanton and Lady Byron (pictured above) as well as the more esoteric "Blue Girl," who perhaps existed in some alternate timeline of history. Maybe with Carmen's affinity for red, the show felt "Blue Girl" would be the perfect foil.
Further shaking my conception of good versus evil, LaManna suggested I also talk to the person who chased her all those years ago, Squadron Leader Kevin Shinick.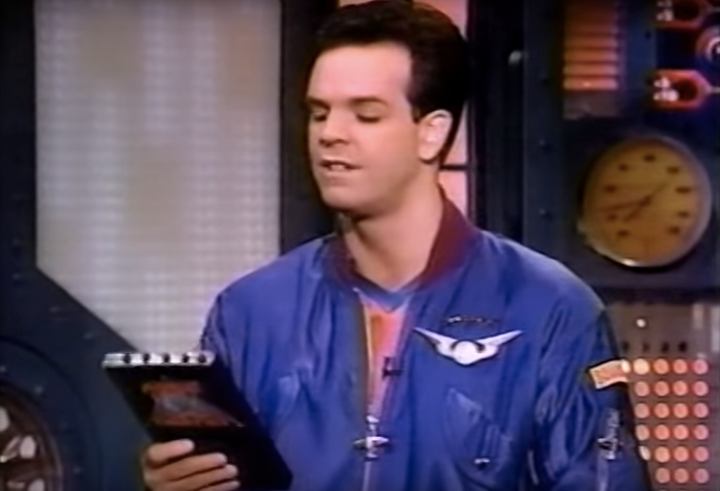 After two decades, LaManna still had very fond memories of working with the cast, including Thigpen and Shinick, who played Carmen's adversaries.
Thigpen died in 2003 after a cerebral hemorrhage, causing her hometown of Joliet, Illinois, to name an elementary school in her honor.
"Watching her work, whenever she was in the room, that was so exciting," said LaManna. "If I'd cross paths with her in the makeup room, I was always so excited because she was such an icon, especially in TV."
LaManna insisted I talk to Shinick, who still works as an actor. "Kevin was great to work with because he had to do a lot of ad-libbing ... " LaManna broke out into laughter remembering her co-star on set.
"Kevin just had that ... Kevin was perfectly cast. I don't know how else to say it. He was just so funny and he was so quick, but sweet. He had that perfect combination of being kind of goofy funny and he was accessible to the kids."
These two were supposed to be enemies on the show, but that certainly didn't seem to mirror real life. "We just laughed a lot because it was lot of fun," added LaManna.
On the phone, Shinick expressed that he felt LaManna was the embodiment of Carmen.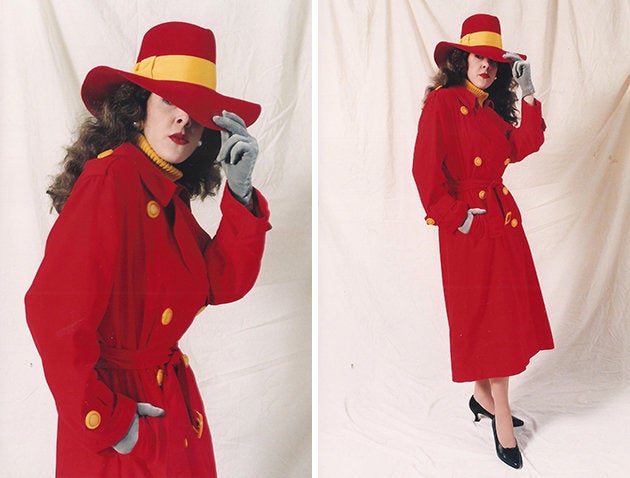 "Janine was the first one to breathe life into this character," Shinick said during a phone interview. "And I have to tell you, when you meet Janine, she embodied everything that I thought would be great in Carmen Sandiego. She's beautiful, she had that great hair. She just had that mystery to her, and I thought she did such a beautiful job of bringing this iconic character to life. It was pitch-perfect in my opinion."
Shinick corroborated that the show's masterminds wanted to keep her credit a mystery as it could have confused the children. "You know, Kevin Shinick was a Squadron Leader, but if they said, 'Janine LaManna was Carmen and Betsy Ross,' it may lose some of the mystique."
Throughout the call, Shinick stressed that LaManna was the one true Carmen.
"I still remember seeing Janine coming out in that red coat and that fedora and thinking, 'Wow, she nailed it. That is Carmen Sandiego,'" said Shinick. "Something about it when Janine came out, I thought, 'Wow, that is it. That's the one I've envisioned all my life.'"
At the end of our conversation, Squadron Leader Shinick asked if he could get
Carmen's

LaManna's contact information.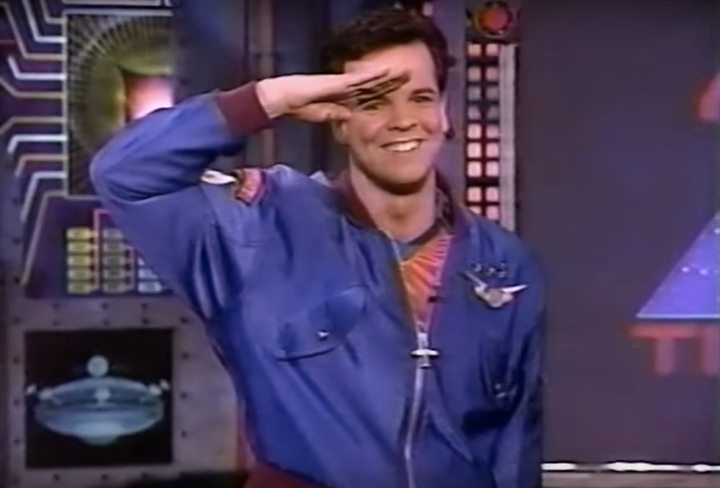 Shinick now has a 5-year-old daughter who recently discovered an action figure that was made in his likeness for the show. The two have been watching the show together on YouTube and he's been happy that it seems to hold up.
"Because it's a history quiz show, it's still incredibly relevant and the answers aren't dated," said Shinick. "Going back now with my daughter to see how well it replays and how relevant it still is, it's just an honor to be a part of something I think stands the test of time like that."
Growing up, I definitely thought Shinick was a hero. If I had known there was an action figure, I would have wanted it to go along with my Michael Jordan toy from "Space Jam," which premiered the same year as "Where in Time?"
The end of my conversation with Shinick seemed to emulate the show, as he asked if I could tell him where Carmen was. To be fair, more specifically, "Do you have contact info for Janine?"
This was my time to finally win the game. But after the bonding moment I'd had with LaManna, I felt my idea of right and wrong had become more complicated. I couldn't betray her whereabouts.
My gut reaction, built in from childhood, gave me pause to let him know how to find her. I told him I'd see if she was up for getting on a phone call.
After my awkward stalling and pausing, Shinick eventually gave me his phone number to pass along to LaManna in case she was up for reaching out.
"You know what, you can give her my number," said Shinick. "I was just going to say hello to her."
No mention about locking her up in a time-jail. It didn't seem like a trap.
This wasn't the end of the long and winding road for Carmen, right?
It turns out the two had mutually fond feelings for each other all along. They spoke and dealt the last blow to my concept of heroes and villains from childhood.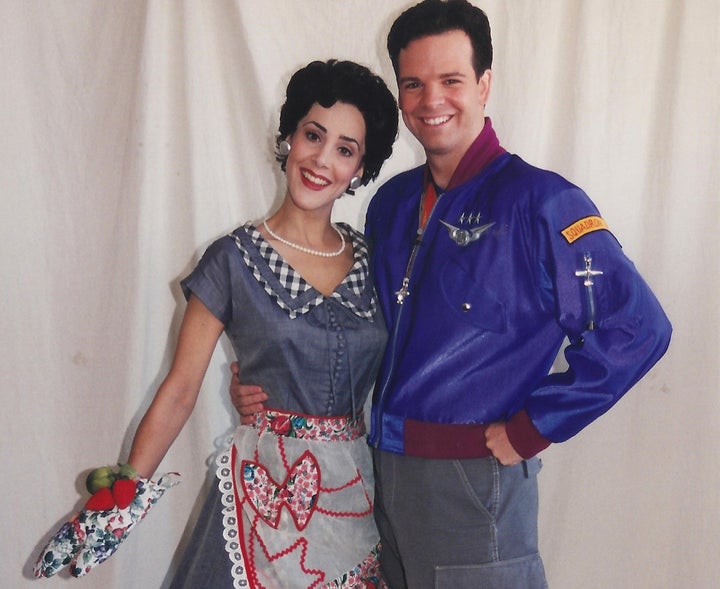 "The only thing that sticks out is not so much specific stuff with Janine, but we would laugh all the time," Shinick told me. I shouldn't have worried he would lock her up like he did on the show. In a way, it was secretly a story of friendship between two fated enemies all along.
"It's so funny because she's the villain and Chief and I were the heroes ... she was supposed to be this mysterious evil woman, but she's got such a great sense of humor and such a great personality that we just had a blast every time we were on the set together," said Shinick.
I don't know what the moral to this story is except that things that seem so clear-cut in childhood often take on shades of gray in adulthood.
"I think Carmen was really neat because she was a villain and yet she wasn't villainous," LaManna told me during our conversation.
So where exactly in the world is Carmen Sandiego now?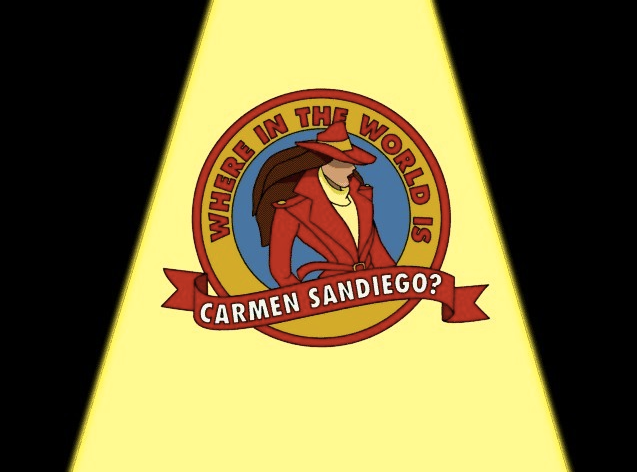 After the first season of "Where in Time?" LaManna left to pursue theater. She assumed that the show would be on for many seasons and that she could eventually come back.
However, despite my dutiful watching, "Where in Time?" only lasted one more season with an alternate actress filling in as Carmen.
As previously mentioned, LaManna went on to successfully become a Broadway star over the next decade, but has admittedly gone off the grid more recently, as she put it.
"Since I was kind of away from New York for a couple years, I decided not to do Facebook and Twitter and all of that because I wasn't necessarily doing anything that required a lot of publicity," explained LaManna. "I said, 'OK, I'm just going to kind of drop out for a little bit.'"
She added, "So, that's why you cant find me anywhere."
As she's now married to an army officer, LaManna has been traveling all over the globe for years. She said her current whereabouts are off the record.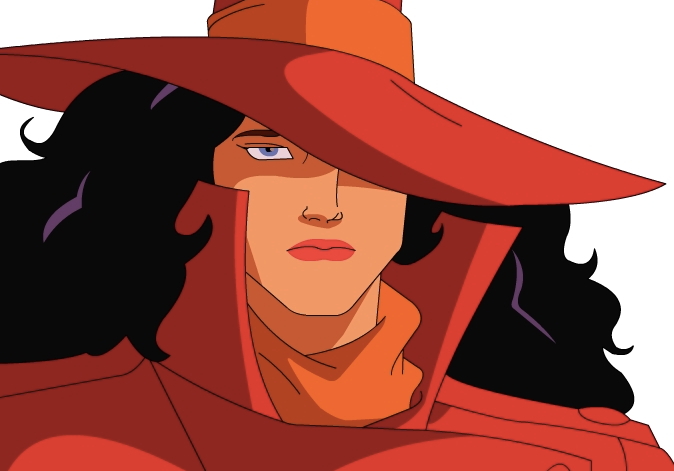 LaManna has two children with her army officer partner. They've been on the move quite a bit since she took a break from acting to raise her young kids. "I can't really say that I'm in one place or the other, because it could change in a week." Once Carmen, always Carmen.
Though, she now plans to start acting again, as her children are growing up.
Her daughter is "just about the right age" to start watching "Where in Time?" which LaManna is excited to share.
Perhaps nobody could recognize Carmen Sandiego behind that red-brimmed fedora all those years ago, but even without help from her mom, I have a feeling LaManna's daughter will be able to identify the real Carmen immediately.
I was barely half a decade old when I first tried to thwart Carmen Sandiego. After two decades I had finally found her ... and she was actually really nice.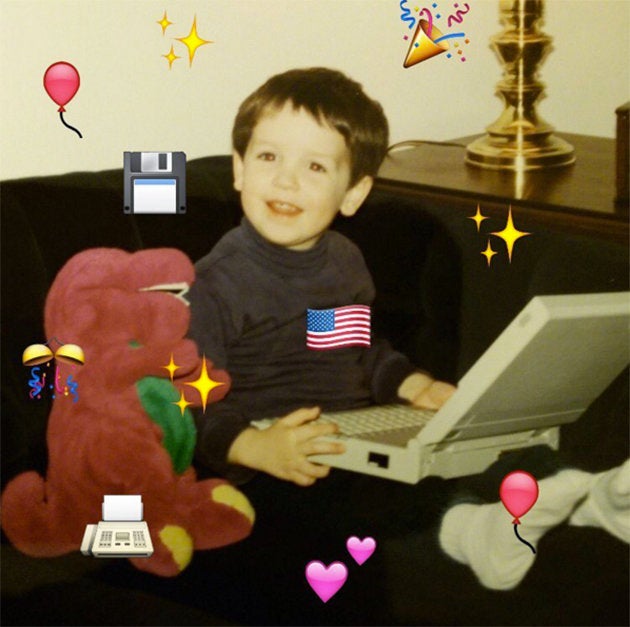 At the end of my conversation with LaManna, she had an apology for me of sorts. "Sorry it took you so long, but you're pretty tenacious about it."
She laughed and continued, "I thought, 'My God, I owe it to him. He tried so hard to get me.'"
It may have taken 20 years, but I finally found Carmen Sandiego.
Let God, the Chief and Mark Zuckerberg know, I am now content.

Hit Backspace for a regular dose of pop culture nostalgia.
Before You Go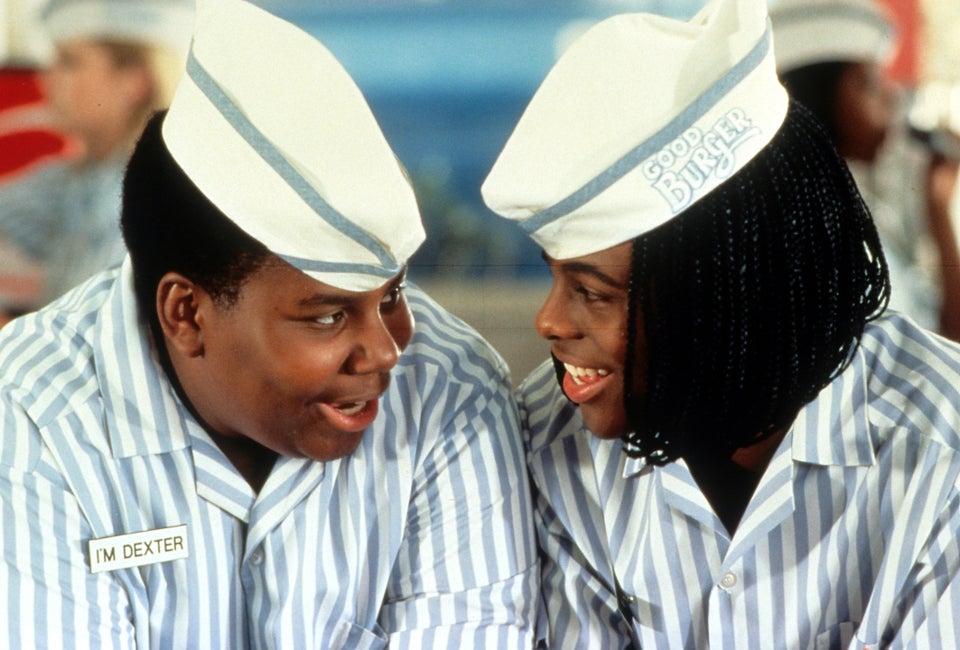 14 TV Shows Netflix Should Remake
Popular in the Community