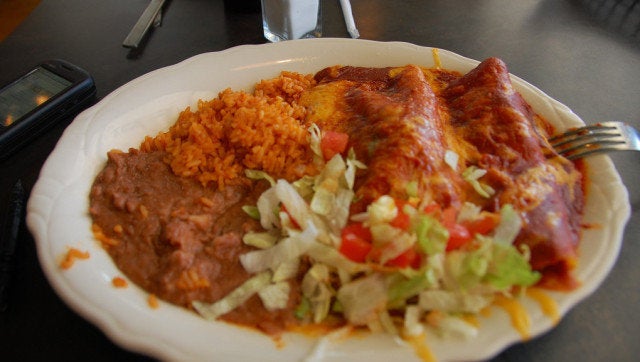 Because we cook a lot of our own meals, we know that it can sometimes feel tedious. Which frequently means that we rush through it as quickly as possible, drawn to the idea of the ten minute meal. When we talked about slowing down with Beef Bourguignon recently, we discussed the merits of slowly braising a dish, sipping wine and watching Julia Child. Slowing down your cooking process on purpose can be almost meditative, and once you find your slow cooking groove, you'll probably find yourself enjoying it way more than a five-minute-mad-dash-frittata.
Today we're talking about slowing down with a carne adovada recipe. You can think of carne adovada as New Mexican pulled pork, basically. Although, like every New Mexican dish there are tons of different methods (some like to roast the pork, some like to braise it, some people like big chunks of pork), my favorite version of carne adovada has always been the shredded, slow cooked, meltingly tender and blazingly spicy version. If you've ever had the good fortune of eating a Golden Pride carne adovada burrito, that's what we're shooting to re-create. This recipe is very long, and very slow -- you marinate the pork overnight, then slow-cook it for a whole eight hours.
Here are a few reasons why slow-cooking carne adovada is amazing:
While it does require some planning ahead, the cooking process itself requires very little attention, because you get to use your slow-cooker.
Your home will be filled with the smell of simmering pork, chiles and red wine for at least six hours.
Pork shoulder is an incredibly affordable cut of meat, which means you can invite everyone you know over for carne burritos and not break the bank.
It tastes even better the second day. You can eat the leftovers with eggs for breakfast, with beans and rice for lunch and/or in enchiladas for dinner. The sky is the limit. Carne adovada totchos, anyone?
If you don't eat pork, don't despair! This recipe would be delicious with a brisket or chicken, as well, you might just have to tweak the cooking time a bit. When you give this recipe a whirl, you'll inevitably boost your meat-cooking confidence, because it is pretty much impossible to screw up. As an added bonus, if you happen to have any New Mexican friends to invite over, they will all owe you a favor and look up at you with adoration in their eyes. When you make your own version, let us know how you eat it!
New Mexico Slow-Cooker Carne Adovada
(reprinted from Chronicles of a Stomach Grumble)
*Be forewarned, you marinate this overnight and cook it for almost a whole day. It is SO worth the planning.
3lb whole pork shoulder, bone in, skin off (I know. 3lbs?? You'll want to have leftovers. Trust.)
1 cup NM Red Chile powder (I use Los Chileros, also feel free to toss in some chopped whole red chiles if you want to)
3 - 5 big cloves of garlic, minced
3 tablespoons olive oil
1 teaspoon dried oregano
pinch cumin
pinch cinnamon
pinch nutmeg
pinch smoked paprika
salt
2 cups chicken stock or red wine, or a combination of both
Combine half the chile powder, garlic, oregano, cumin, cinnamon, nutmeg, paprika and olive oil in the dish you'll marinate your pork in. Once you've mixed the oil in, it should be a slightly loose paste. Roll the pork shoulder in the marinade so that it covers every square inch. Sprinkle with salt and massage the marinade in for a minute or two, making sure to get into any little folds or crevices. (Ew, sorry, I know. Could I have said that in a less appetizing way?) Cover with plastic and leave in the fridge overnight.
In the morning, pull out your slow cooker. Set it on low. Put the pork and stock/wine/combo in it, along with the second 1/2 cup of chile powder. Set the timer for 8 hours. LEAVE IT ALONE.
I'm serious. Leave it. Don't open it too much. Don't poke at the meat. Turn the pork over in the broth a few times throughout the course of the day. When you hit the 6 hour mark, it will start to fall apart. Shred it up with two forks so that it can spend the next few hours REALLY soaking up the lovely gravy it's made for itself.
Then, enjoy in a billion applications and maybe share with your friends if you are really nice.