There's Carnegie Hall. Carnegie Mellon. Dale Carnegie. Carnegie Hill. And then there's Carnegie Deli.
From brisket bliss to cloud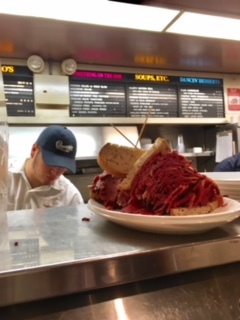 nine kasha, it's been a heavenly food haven for 79 years. Latkes the size of flying saucers. Plates toppling over with 4" piles of shaved beef and sauerkraut. And now the decades of deli decadence and delight are over.
3D: Disney, Dustin & Deli
1937. The year Warren Beatty, Dustin Hoffman and Jane Fonda were born; Amelia Earhart disappeared; Disney's Snow White and the Seven Dwarfs premiered; Howard Hughes broke his own transcontinental flight record, and the Hobbit was published by J.R.R. Tolkien. Oh yes, and the same year Carnegie Deli opened on Seventh Avenue, just across the street from Carnegie Hall.
Remember the old joke: "How do you get to Carnegie Hall?" "Practice." I would have answered: "First find the Carnegie Deli; then just go two blocks north to 57th Street!"
Not Just Another Deli
When Milton Parker and Leo Steiner took over the restaurant 40 years ago, it was just another deli. That is until 1979, when New York Times food critic Mimi Sheraton described Carnegie Deli's pastrami as some of the best in Manhattan. Then legendary filmmaker Woody Allen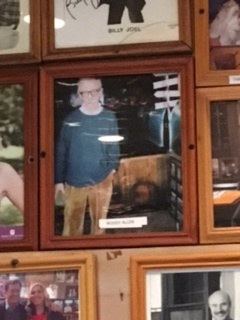 romanticized the place, using it in several colorful settings in his 1984 movie, Broadway Danny Rose. The rest is history. Hungry after-theater goers, dates, married couples, single Manhattanites, suburbanites, families, vacationers and international visitors have been waiting on endless lines ever since...just to get a taste of anything jumbo, from the classic American cheesecake to the The Mouth that Roared. And, only $3.00 to share.
So I guess it was no surprise that diehard Carnegie deli-goers' jaws dropped when they heard the place was closing--a decision made by Milton's daughter, deli President Marian Harper-Levine.
Kilts & Knishes
I bet a potato knish that Scottish industrialist Andrew Carnegie would have kicked his heels up in kilt-laden delight if he'd only had the chance to order the triple decker Carnegie Haul pastrami, tongue and salami combo.
As I grow older, I pay less attention to what men say. I just watch what they do.
If good ol' Andy had sat down at one of the many crowded, diner-friendly tables at the Carnegie Deli, he would have been watching them chomp and slurp in bliss.
Tranquility, Turkey & Tongue
Part of the charm of the Carnegie Deli? It's a noisy nirvana, an oasis in the desert gloom of tv news, pouting pundits, refugee gridlock and global crises. The other part is the food.
There's no debate about Putin sanctions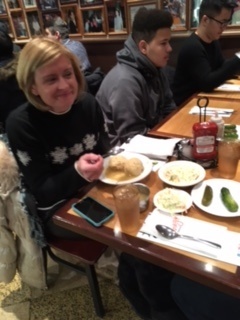 when you see a stressed New Yorker sitting down to a steaming bowl of traditional Russian borscht. There's no angst about the Middle East settlements when a weary tourist lifts an overstuffed spoon filled with a plump Carnegie Deli matzoh ball.
Matzoh Ball Memories
Growing up in Queens, there was nothing as comforting during the Jewish holidays as coming home to my Mom's chicken soup, the smell of the dill-filled broth wafting through the apartment. I remember well her seven must-have ingredients: chicken, celery, carrots, dill, onions, parsley and parsnips. But the pièce de résistance? The matzoh ball.
My father and sister preferred them light; my Mom and I opted for the sinkers. I'd cut into one of those round dumplings and it was pure rapture. Carnegie Deli 's matzoh ball? The perfect balance of firm, fluffy and heavy. Just like Proust's madeleine -- flashing me back to the dinner table with my family, everyone laughing and telling stories, my Dad telling jokes like no other human hero of mine.
Soup, Sturgeon & Scrambled Eggs
As an adult, trekking around Manhattan, comparing notes and tastes of assorted matzoh ball soups -- some too salty, too flimsy, too spicy,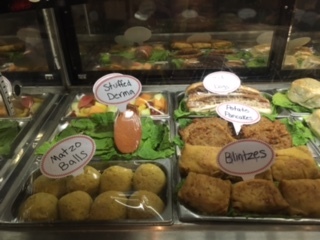 too bland -- I always came up with the same answer. My forever favorite? The Carnegie Deli.
When I was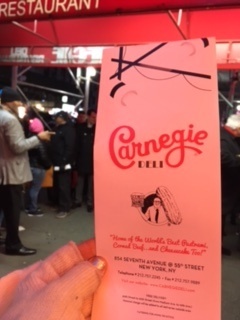 in bed with the flu, my cat-sitter Beni walked over a mile to Carnegie Deli, waited in the cold, and schlepped downtown on the #7 bus to Greenwich Village, just to bring me the sacred matzoh ball soup. Was it ever worth the wait.
Paparazzi & Pastrami
Nope. I'm not alone. Celebrities from Barbara Walters and Mel Brooks to Goldie Hawn and Jerry Seinfeld have munched their way into ecstasy, from the gargantuan 50 Ways to Love your Liver chopped liver sandwich to the infamous Woody Allen (1/2 corned beef, 1/2 pastrami for $29.99) of Broadway Danny Rose fame.
Kosher Rye Dating
Carnegie has influenced romance and relationships, frequently the chosen location for proposals, anniversaries and even break-ups. Look, even if the split was teary, at least there'd be lox and onions for solace. Not to mention the 1/2 sour pickles.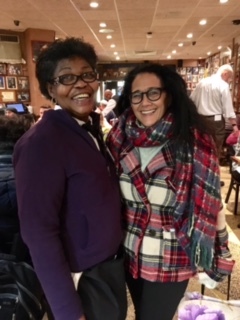 Add in unconditional love from veteran waiters. And the comfort of a midnight nosh. After all, a slice of that mile-high coconut cream pie floating in those glass cases could do wonders for a make-up meet-up. When I started dating a comic named Rubin from Rye, New York, I nicknamed him Reuben on Rye, after the Carnegie Famous Reuben (choice of corned beef pastrami or turkey, topped with melted Swiss & Sauerkraut).
Desmarine Redwood, 26-year veteran waitress
From Glitch to Last-Ditch
Marian Harper-Levine, the deli's owner and president,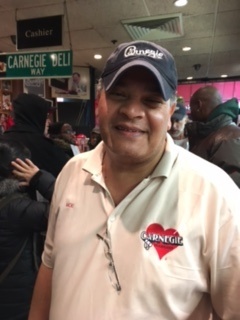 admitted the closing was indeed a very difficult decision. She stunningly rejected a last-minute $10-million offer from former Carnegie Deli dishwasher Sammy Musovic. Guess it just wasn't in the Carnegie cards.
Sauerkraut, Scandal & Salvation
True, the deli had been plagued with publicized problems -- an illegal gas hook-up; a lawsuit from employees suing for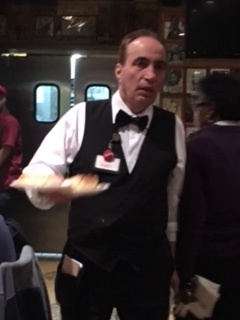 unpaid wages (settled for $2.6 million); a messy divorce between owner Harper-Levine and her husband, who cheated on her with a waitress and allegedly stole recipes for a deli location in Thailand. Regardless, the fans flocked in -- famous and non, from workers and wandering tourists to paparazzi.
Moe Allan (above), Senior Manager;
Andy (left), waiter
The Plight of the Last Bite
Once the word got out that the deli was closing for good, the lines started wrapping around the block -- all to get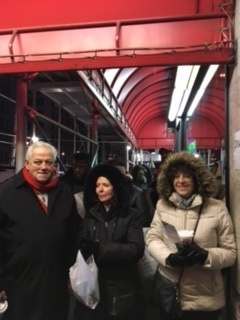 the very last morsel of Jewish Joy. On the last wintry December eve of the deli's nearly eight-decade run, against the famous neon sign backdrop,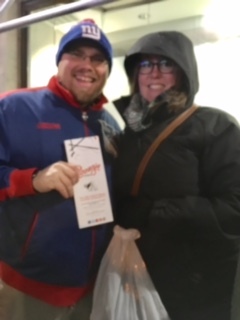 I met an Italian family, fantasizing about their last Carnegie Deli cheese blintz; an Argentinian family raving over the Nosh Nosh Nanette (hot turkey with gravy, cranberry sauce & potato) and a man from Phoenix salivating over the Novie on Sunday (for newbies, read the fine print: Novie salmon, sturgeon, cream cheese, lettuce, tomato, onion & capers).
Jeffrey & Morgan Cooper, customers from West Islip, Long Island (above left);
Rick, Renee & Gigi, from Litchfield, Connecticut, after a 3 1/2 hour wait (above right)
I encountered a half-frozen trio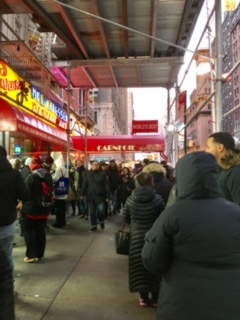 from Litchfield, Connecticut who'd finally reached the head of the line after a mere 3 1/2 hour wait. Open-faced IN THE HEAT OF THE SANDWICH fans described the Lil' Abner (hot brisket of beef with gravy & potato). Healthy greens eaters were praising the Julienne Child Chef's Salad Bowl and the Hail Caesar. Reminder: you sure don't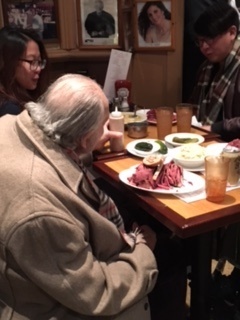 have to be Jewish--or from Mykonos-- to love the Zorba the Greek (feta cheese, chopped vegetables & olives). And then there was the woman from Maine who drove down for the last taste of a Carnegie Deli smoked chunk of whitefish.
Lerner & Loewe or Love & Latkes
Raised on Broadway musical soundtrack LPs from Rodgers & Hammerstein to Lerner & Loewe, and watching my mother grate the onions and potatoes during Chanukah, of course my personal fave? MY FAIR LATKES dish: Three potato pancakes served with sour cream or "Big Apple" sauce.
The Big Why
So why end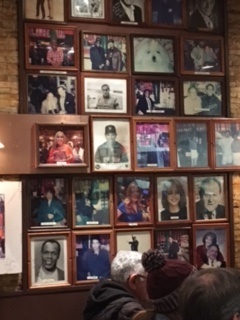 an era of ecstasy? Harper-Levine is keeping the Carnegie name to be able to expand "wholesale and retail operations" and limit it to "licensed locations" at Madison Square Garden, in Las Vegas and other places. Apparently the daily grind of running a restaurant had become too much to deal -- or perhaps to deli with.
A Deli and a Dream
But, like so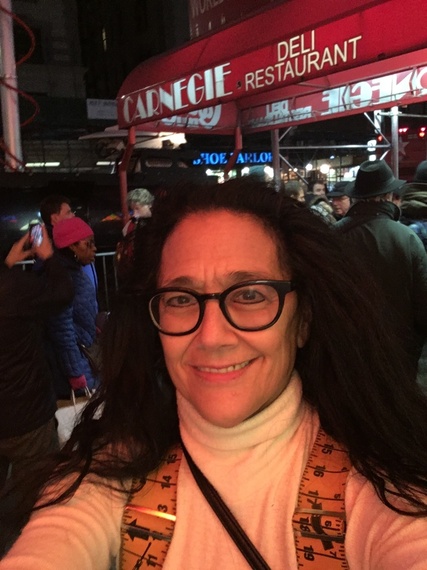 many Carnegie Deli fans, I'm dreaming big. We all crave that elusive refuge from the chaos. Maybe a miracle will happen and the place will re-open. Right this minute, I'd walk miles just for a hefty slice of that apple strudel...or some mouth-watering matzoh brei.
Hey, a girl can always dream....
REAL LIFE. REAL NEWS. REAL VOICES.
Help us tell more of the stories that matter from voices that too often remain unheard.