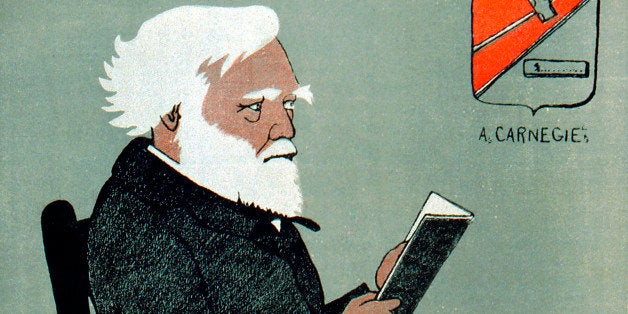 During the summer of 2013, I took my family on a long road trip west across Illinois, through Iowa and the plains of Nebraska, then high up into the Rocky Mountains. Along the way, we made a point to stop off in small Midwest towns. We were on a mission to find an endangered species in the world of the bibliophile -- Carnegie libraries.
From 1883 to 1929, Andrew Carnegie, the controversial American businessman and philanthropist, funded the construction of 1,689 libraries in towns and cities across the United States. Carnegie's legacy is checkered due to cutthroat labor practices as a businessman and an anti-union history. But his dedication to libraries is untarnished. He was, at the apex of his career in the late 1800s, the richest man in the world worth an estimated $500 million. He gave $60 million away to build libraries across the nation.
Andrew Carnegie loved libraries; he knew their importance to an educated society and as anchors to our communities. And so, just as some loyal baseball fans travel to attend games at all 30 major league stadiums, over the last decade or so, I have slowly, casually, visited Carnegie libraries whenever I am on the road. My Carnegie quest, to visit the roughly 1,500 extant buildings in my lifetime, is a bit daunting, probably unobtainable, even a little insane, but it is a dream.
I'm a library geek.
I have even lured my three young daughters into my mad Carnegie odyssey. We are a book family and we like to tour historic town libraries and marvel at the collections; the art glass; the marvelous old woodwork; the light fixtures; the marble steps; the statuary; the architectural details, and the history. One thing I have noticed, particularly in a Carnegie, is that many of the employees -- the reference librarians and people at the circulation desks -- seem a bit perplexed by my fervor for the old buildings where they earn a paycheck. Most of these imposing, impressive -- yet often decidedly compact monoliths -- have not adapted well to the modern age.
The buildings are not particularly user friendly for the people who work there, nor were they built for the computer era. The wiring is often woefully inadequate, and the tech-heavy library of contemporary times is out of place in the athenaeum of the past with its dark wood, labyrinthine stacks and the smell of books and time. As such, Carnegie libraries are increasingly under threat. Some have been repurposed. Some have been closed and stand mothballed. Others face the wrecking ball. These beauts of limestone and brick are incongruous to the digital age, not to mention an era of big box stores, McMansionization and sprawl. Many Americans want bigger and newer.
This dichotomous confluence of the past and the future, it seems to me, is a metaphor for the present state of libraries in general. Libraries are at a cultural crossroads. Some proffer that libraries as we know them may go away altogether, ironic victims of the information age where Google has subverted Dewey decimal and researchers can access anything on a handheld device. Who needs to venture deep into the stacks when answers are but a click away? A recent Pew research study reinforces the point. The pubic library as cathedral of the book may be a remnant of the bygone era. Of the 1,003 respondents ages 16 and older in the Pew survey, 30 percent said that libraries should "definitely" do away with some books to free up space for technology and other resources. Another 40 percent of those surveyed responded "maybe."
Because of the increased demand for technology and the question about the role the physical book will play in our reading culture, libraries across the country are reinventing themselves, offering print on demand book services, 3D printing, more access to computers and wifi, literacy programs, expanded space for community members to work in, classes and events programming among many other offerings.
But as I drove across the plains of America with my family, our car moving across the nation like on one of those old maps in a movie with an animated line zig-zagging across the heartland, I had several realizations.
Early on in the voyage, I watched with joy as my three girls stormed the basement children's section of the Galena, Illinois Public Library, built by Carnegie and opened in 1908. There is an arts and crafts section in this library, where they drew pictures and used scissors and glue and made art projects. They played with a dollhouse. They built puzzles. And they found picture books and deep and cozy alcoves in the library and sat down and read and whiled the afternoon away. There was not a tablet or electronic device to be found anywhere and my kids didn't notice or care.
Meanwhile, I wandered the stacks upstairs, remarkable wrought iron shelving original to the library. There, I discovered a first edition of Ray Bradbury's classic 1957 Illinois novel-in-stories, Dandelion Wine. Standing there, surrounded by books, alone, I opened the novel to find that this nearly 60-year-old tome was not only a first edition, it was signed by the now departed author. I touched his handwriting and had the remarkable realization that he had once held this very book in his hands.
In Carroll, Iowa, I stood on the steps of the Carnegie library (1903), the very library my own father had visited as a boy in the 1930s and 40s.
In Atlantic, Iowa we explored the old Carnegie (1903), read books, looked at the incredible oak woodwork and later my kids wandered into a Main Street five and dime and selected candies from gleaming oversized glass jars.
These libraries were all full of joy and wonder and imagination. They had rich histories and a legacy of generations of townspeople who had gone through their doors over the last century. There was a slower pace to these athenaeums, a sanctuary of thought. Visiting these Carnegies made me appreciate that not everything should be backlit on a screen. Not everything should be a fast download. While I am certainly no luddite (I'm writing this essay of an iPad with a blue tooth keyboard) the digital age, for all that it has afforded us in ease and accessibility, has also stripped us of a slower, often more thoughtful way of life. Browsing the shelves of a library has become less valued in our society. Browsing culture in general has slipped away. The old libraries and their book collections are being threatened.
Just last May, the old Carnegie in Aurora, Illinois (built on an island in the Fox River in 1904) shuttered its doors to make way for a new, gleaming, more spacious and far less imaginative library in town. And as with the call to reduce book collections in libraries, many books stores, independents and even oft-maligned chain stores like Borders have gone away. Many record, CD and DVD shops have closed. Gone are the days of discovering a new musical artist on a listening station at Tower Records, the days of going to the Mom and Pop video store on a Friday night with the kids and simply browsing for a good movie is all but gone too. Browsing culture afforded the opportunity for discovery. It was an act of fun regardless of a consumerist outcome. It was the proverbial journey, not the destination. And, now, this is happening more and more in our public libraries.
Browsing for books with a mouse and screen is not nearly as joyful an act as wandering the stacks and getting lost in the labyrinthine corridors of knowledge. The best libraries are places of imagination, education and community. The best libraries have mystery to them. The best libraries represent bot the yesterday and tomorrow.
Andrew Carnegie knew this. And so did Ray Bradbury. As the author of Fahrenheit 451 so aptly stated: "Without libraries, what have we? We have no past and no future."
Ray Bradbury, it should be noted, discovered books and fell in love with them in, but where else? A Carnegie Library, of course. Waukegan, Illinois (1903).
Calling all HuffPost superfans!
Sign up for membership to become a founding member and help shape HuffPost's next chapter