A class at Carnegie Mellon University has created an interactive graphic novel aimed at helping students better understand how to spot warning signs and intervene to stop sexual assault in real social situations.
The online game, "Decisions that Matter," walks users through various scenarios on campus. Your character might experience catcalling, notice someone being groped by a friend or go to a party where a sexual assault may or may not take place, depending on the choices you make. The game is meant to provide a better way for students to understand how an approach called "bystander intervention" actually works.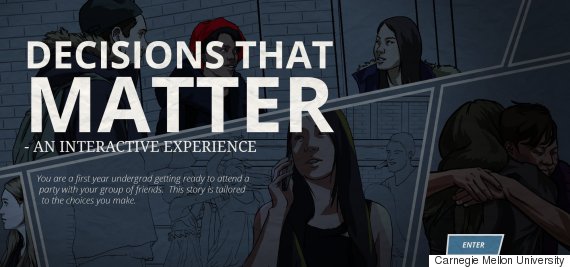 The class' goal was to create something students wouldn't "roll their eyes" at, unlike some other products on the market.
"We think this is really different -- a welcome experience -- that makes people want to think harder about it," said Andy Norman, an adjunct faculty member in CMU's philosophy department.
"One of the things I first said when they came to me," said Jessica Klein, CMU's coordinator of gender programs and sexual violence prevention, "I said, 'I am so tired of these cheesy products with these standard stock photos of white people in a business setting.' It's so not relatable."
In fact, the students are so pleased with their project, they're offering it for free to other colleges to use in their freshman orientation programs. Klein said her office is discussing how they'll incorporate it into their own schoolwide efforts. One possibility is that the school will hold small group sessions, perhaps within a fraternity or led by a resident adviser, where students can play through the game and then discuss it.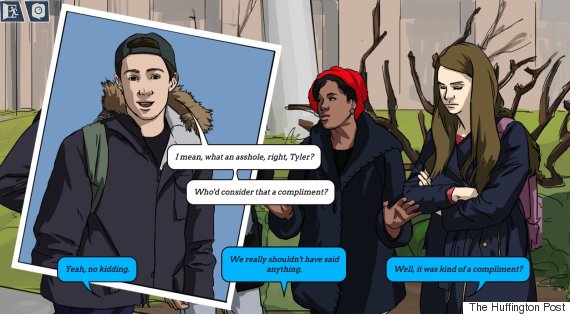 The interdisciplinary project course is designed to combine social sciences with technology in ways that address actual issues in society. The class, part of CMU's Entertainment Technology Center, went through 30 revisions of the game's script and play-tested the results. Students were trying to guard against elements "that sounded corny or sounded too preachy, or [where] the point was too obvious," Norman said.
"They worked very hard to make sure the story is not predictable and the answers you are expected to give are not predictable," he explained.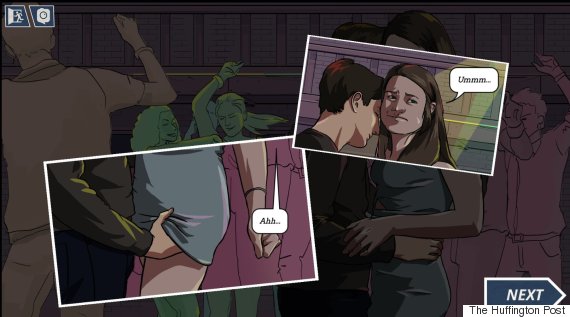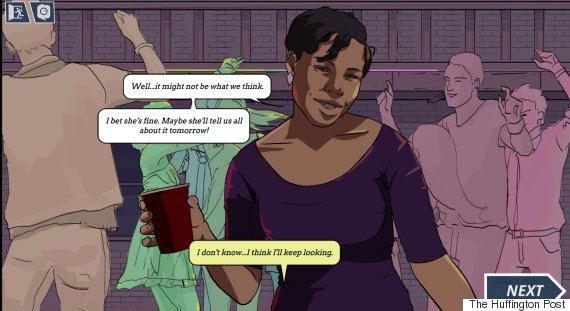 Savannah Badalich, a student at the University of California, Los Angeles, noted with approval that the game includes "a diverse group of students saying things students would actually say."
"I love that it covers sexual harassment, and in a real setting off the bat," said Badalich, who founded the anti-rape group 7000 In Solidarity at UCLA. Sexual harassment is one of the hardest things to explain to students, she said -- especially certain ideas, like how catcalling is actually harassment.
Badalich added that she hopes "Decisions that Matter" will eventually also incorporate stalking, intimate partner violence and LGBTQ relationships.
If the game doesn't address those issues, then it "erases the experiences of LGBTQ survivors and male survivors," said Tracey Vitchers, chair of the nonprofit advocacy group Students Active for Ending Rape.
"Other problematic aspects of 'Decisions that Matter' have to do with the positioning of the characters themselves," Vitchers told The Huffington Post. "[Character] Natalie is positioned as having very little agency, which reinforces negative stereotypes about survivors and/or potential survivors. And Luke, her love interest, is positioned as an unintentional aggressor who simply doesn't understand that what he is doing is wrong."
Vitchers said she's not a fan of most other products on the market, usually in the form of apps, that claim to offer a way for potential victims to stop attacks. While she agrees that bystander intervention can help create a community emphasis on stopping rape, Vitchers said she's worried colleges will focus too much on these approaches at the expense of discussing consent.
But Klein hopes the game will help reach people who do not think they're capable of perpetrating this type of violence, as well as people who might intervene in a situation.
"It's so easy for people to say, 'Well, I wouldn't have gone to that place in the first place,' and that's so victim-blaming," Klein said. "You don't know what you would do unless you're actually in that situation. [In this game], you're confronting what you actually might do in that situation."
Related
Popular in the Community