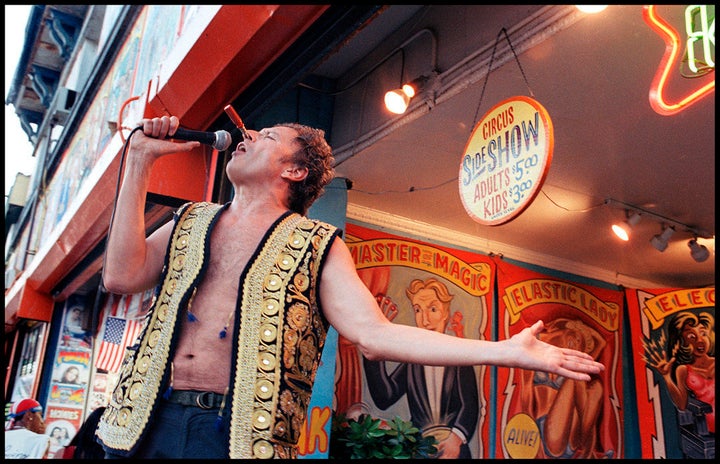 When President Obama released his birth certificate on Wednesday morning, he may have thought he was closing the door on controversy. Instead, he ended up starting controversy anew -- with America's carnival barkers.
When discussing the lingering "birther" controversy, Obama remarked: "We're not going to be able to solve our problems if we get distracted by sideshows and carnival barkers."
Many in the carnival community were not amused by the mention of their industry.
"I am extremely upset by the reference," said Frank Zaitshik, who runs Wade Shows, a carnival business with over 100 amusement rides and attractions that entertains over 15 million people each year.
Zaitshik, a second generation carnival worker -- a term he prefers to the word "carny," which is some used as a pejorative. He says he has spent much of his life battling negative stereotypes about his industry.
"I think what Obama said is the same type of stereotype that has been placed on African Americans." Zaitshik says. "You wouldn't expect those comments from someone who is a minority and has faced prejudice."
Ron Weber, editor of Carnival Warehouse.com, a website dealing with the industry, thought the president should be more sensitive about singling out groups when making disparaging comments.
"A person who has fought for equal rights may not realize he's hurting a group of people," Weber said. "Maybe carnival people are the last safe stereotype to attack."
Although Obama's comments bring to mind visions of crooked hustlers, rigged games and a "Step right up!" style of showmanship, carnival insiders say the so-called mobile entertainment industry has cleaned up its act in recent decades. Weber's boss, Matt Cook, says Obama's comments aren't reflective of the current industry.
"The reference to 'carnival barkers' and 'sideshows' is really a thing of the past," Cook said. "It's not like the olden days. The carnival industry has modernized and is more high-tech. In fact, there are very few barkers or sideshows these days."
One that does exist is the Coney Island Sideshow, which has been keeping alive the tradition for 31 years in Brooklyn, New York.
And while industry types like Zaitshik think Obama's comments were unfair, the sideshow's artistic director Dick Zigun sees the positive side.
"I'm glad the White House is giving me publicity," Zigun said. "We're delighted to be in the vernacular. We're the best living example of what the White House thinks of Donald Trump."
However, Zigun -- who says he voted for Obama in 2008 and will probably support him again in 2012 -- does believe the President misspoke when he used the term "carnival barker."
"There's no such thing as a barker unless it's a dog," he said.
In fact, the correct term is "talker," according to Scott Baker, who has been doing this sort of work for 16 years, currently with the Coney Island Sideshow.
"Anyone who uses the term 'barker' is betraying their ignorance," Baker said. "You have 'inside talkers' and 'outside talkers,' and sometimes the term 'lecturer' is used. But the term 'barker' has never been used."
Baker said he has a bone to pick with people who use the term "carnival barker" and admitted to being shocked when the President singled out his industry.
"Our jaws did drop," Baker said. "This silliness has gone on for years, but, the fact is, we work very hard to create a great show. We pride ourselves in Class A entertainment."
If Obama wants to make it up to Baker, he said he's got just the solution.
"I think the President should come see our show," he said. "We'll let him in for the kid's price. Maybe we can use his birth certificate as the 'blow-off,' which is the extra entertainment that's not officially part of the show."
Related
Popular in the Community