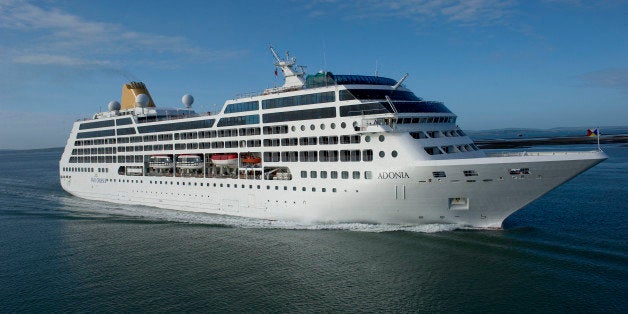 A "social impact" cruise announced this week promises a meaningful travel experience for do-gooder globetrotters -- and aims for lasting benefits for both tourists and locals.
Carnival Corp., the world's largest cruise line, on Thursday introduced the cruise brand fathom, which will allow travelers to take part in three days of volunteering alongside residents of their destination as a part of a weeklong trip.
Carnival calls the new offering "social impact travel" and expects it to appeal to millennials, parents who want to engage in a meaningful experience with their children, and baby boomers looking to help others beyond writing a check. Carnival predicts 40 percent of fathom travelers will be cruise first-timers.
"We created fathom to meet the real hunger in the world for purpose, while at the same time tackling profound social issues through a sustainable business model," fathom president Tara Russell said in a press release. "We harness the assets and resources of the world's largest travel and leisure company and combine them with the talents and hearts of those working in social enterprises around the world."
Fathom's maiden voyage is set to dock in Amber Cove, a new port in the Puerto Plata region of the Dominican Republic, in April 2016. The company plans to add other destinations in the future. Prices for the Dominican Republic cruise start at $1,540 per person for an exterior cabin with a window.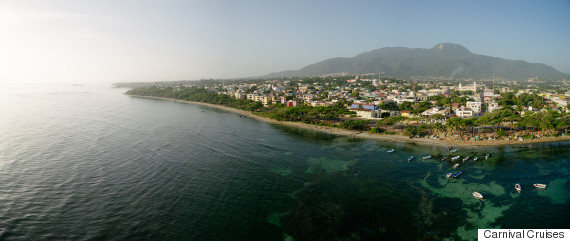 The Puerto Plata region of the Dominican Republic.
Joy Huang, an assistant professor in the University of Illinois at Champaign-Urbana's Department of Recreation, Sport and Tourism, told HuffPost the new cruise is "a really great thought for Carnival," but questioned whether it was simply a marketing strategy to offset the company's public relations blunders in recent years. Huang said most volunteer tourists in the past have tended to be students or recent graduates hoping to upgrade college applications or resumes.
"It's great for Carnival to do this and talk about giving back to the community and really behave as a good citizen," Huang said. "On the other hand, I'm concerned this is just another version of volunteer tourism. If it doesn't serve the real, authentic need of local communities, it's a waste of resources."
Previous research from Leeds Metropolitan University in the U.K. suggests that voluntourism opportunities with loftier price tags, such as the Carnival cruise, tend to have less impact on the communities they purport to serve.
Carnival addressed voluntourism concerns in its fathom press release, saying the company has worked closely with its partner nonprofit organizations, including Entrena and the Instituto Dominicano de Desarrollo Integral, and local leaders in the Dominican Republic to ensure cruise volunteers are addressing genuine needs -- education, the environment and economic development.
Carnival said it will train participants on the ship prior to arrival so that they can be helpful improving English skills of students, building and delivering water filters, and cultivating cacao plants and organic fertilizer at a nursery that produces artisan chocolates in partnership with a women's cooperative.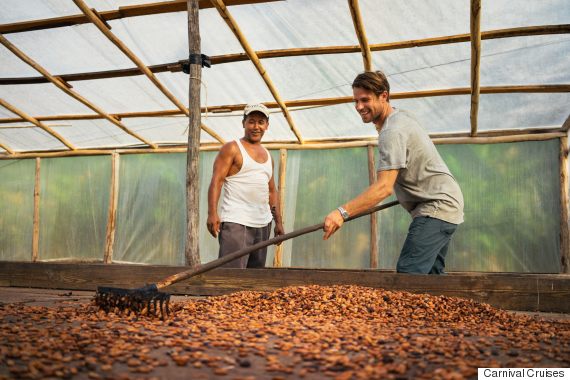 Travelers on the Dominican Republic cruise will have the option of working with a local nursery that grows cacao plants.
Lorri Christou, a spokeswoman for Cruise Lines International Association, of which Carnival is a member, said Carnival "has made some great choices in terms of who they're working with."
"We've got this whole generation of new adults who think very differently and who are much more socially responsible and are looking for these types of vacations," Christou said. "This is a great opportunity to make an impact on the world and give folks the incredible experience they're looking for."
REAL LIFE. REAL NEWS. REAL VOICES.
Help us tell more of the stories that matter from voices that too often remain unheard.
BEFORE YOU GO
PHOTO GALLERY
The Sexiest Cruise Ship Cabins