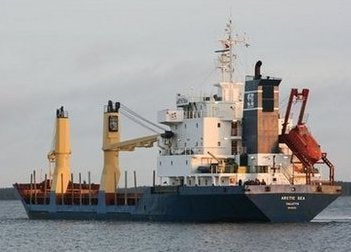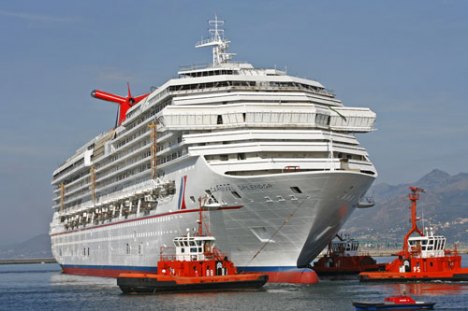 Sitting powerless fifty five miles west of Punta San Jacinto, Mexico, Carnival Splendor's staff and crew are working non-stop to restore power to the ship crippled by an engine room fire Monday. No one was injured aboard the 113,000-ton ship -- which is carrying 3299 passengers and 1167 crew.
According to The Los Angeles Times, tugboats are expected to arrive in mid-afternoon and will tow the ship back to Ensenada, Mexico, where passengers will disembark and be flown home.
The U.S. Navy plans to deliver 70,000 pounds of bread, canned milk and other food to the ship. The supplies are being flown from North Island Naval Air Station in Coronado to the aircraft carrier Ronald Reagan. The carrier's helicopters will then transfer the supplies to the cruise ship".
Carnival president and CEO Gerry Cahill said "Conditions on board the ship are very challenging and we sincerely apologize for the discomfort and inconvenience our guests are currently enduring", and, he admitted that it was "an extremely trying situation."
While their vacation turned into a dreadful situation, passengers will get a full refund, which also covers transportation costs plus credit for a future cruise.
Fire Is Biggest Threat To a Cruise Ship
In 1998, I awoke in my cabin aboard Carnival Elation during a Mexico cruise, turned on CNN and gasped. Live coverage of my ship on fire! But I quickly learned it wasn't Carnival Elation, but her identical sister ship, Carnival Ecstasy, which was on fire off the coast of Florida. Fourteen crew members and eight passengers suffered minor injuries.
So I decided to interview Carnival Elation's captain about fires aboard ships. Since cruise ship captains are similar to airline pilots in terms of being Obama-cool and collected, I got a reaction I didn't expect from this ship's captain when I asked what his reaction was when he first learned of the fire aboard Carnival Ecstasy.
He became extremely upset and said he was devastated by the fire on the other Carnival ship. In fact, the outbreak of fire at sea is every ships captain biggest fear.
I also learned that cruise lines build ships with fire safety in mind. In addition to sprinklers and fire alarms, if a fire breaks out anywhere on the vessel, officers on the bridge instantly know where it is located allowing fire fighters to reach the area within minutes.
He told me that Carnival requires all staff and crew to take an intensive course on fire safety and pass a test in order to work aboard ships in the fleet. And that four professional firemen were among the crew of Carnival Elation, the norm on all Carnival ships. While cruisers are ashore, it's not uncommon to watch the crew having their own fire drill.
Cruise ships have survived 100-foot tsunamis, and thanks to modern technology, I don't expect Titanic 2 or Andrea Doria 2, when two ships collided.
But what I do know is that the cruise industry puts its money where it's mouth is in terms of passenger safety by trying to prepare for the worst case scenario: a fire at sea.