MOBILE, Ala., Feb 14 (Reuters) - Four tugboats were hauling the disabled Carnival Triumph cruise ship slowly into port in Mobile, Alabama, where authorities expected it to arrive on Thursday, carrying more than 4,220 people who have endured days of unsanitary conditions and food shortages.
The 893-foot (272 meter) vessel, notorious for reports of raw sewage from overflowing toilets, has been without propulsion and running on emergency generator power since Sunday, when an engine room fire left it adrift in the Gulf of Mexico.
The ship is operated by Carnival Cruise Lines, the flagship brand of global cruise ship giant Carnival Corp. It left Galveston, Texas, last Thursday carrying 3,143 passengers and 1,086 crew and had originally been due to return there on Monday
There were conflicting reports about the Triumph's expected arrival time in Mobile. But Vance Gulliksen, a spokesman for Miami-based Carnival Corp, said the final leg of the journey was slow.
"The operation is taking longer than we had anticipated but based on current conditions, the ship is expected to be alongside the Mobile Cruise Terminal between 8 and 11 p.m. this evening," Guilliksen told Reuters by email.
He did not elaborate, but Petty Officer Bill Colclough, a U.S. Coast Guard spokesman, said earlier that the Triumph was located about 25 nautical miles south of the sea buoy near the entrance to Mobile Bay.
A Coast Guard cutter has been escorting the Triumph on its long voyage into port since Monday and a Coast Guard helicopter ferried about 3,000 pounds (1,360 kg) of equipment including a generator to the stricken ship on Wednesday.
Earlier this week, some passengers reported on the poor conditions on the Triumph when they contacted relatives and media before their cellphone batteries died.
They said people were getting sick from gut-wrenching odors aboard the sweltering ship, which had no working air conditioning, and said passengers had been told to use plastic "biohazard" bags as makeshift toilets.
In a statement late on Wednesday, Carnival Cruise Lines President and Chief Executive Gerry Cahill said the company had decided to add further payment of $500 per person to help compensate passengers for "very challenging circumstances" aboard the ship.
"We are very sorry for what our guests have had to endure," Cahill said.
Mary Poret, who spoke to her 12-year-old daughter aboard the Triumph on Monday, rejected Cahill's apology out of hand in comments to CNN on Thursday, as she waited anxiously in Mobile with a friend for the Triumph's arrival.
"Seeing urine and feces sloshing in the halls, sleeping on the floor, nothing to eat, people fighting over food, $500? What's the emotional cost? You can't put money on that," Poret said.
The troubles on the Carnival Triumph occurred a little more than a year after 32 people were killed when the Costa Concordia, a luxury cruise ship operated by Carnival Corp's Costa Cruises brand, was grounded on rocks off the Tuscan island of Giglio in Italy.
Carnival said it had initially planned to tow the Triumph into Progreso in Mexico, the closest port to its location early on Sunday when the engine room fire occurred. But the ship drifted about 90 nautical miles north, due to strong currents, before the towing got under way, and that left it stranded roughly midway between Progreso and Mobile.
"It was preferable to head north to Mobile rather than attempt to tow against the currents," Gulliksen said.

Related
Before You Go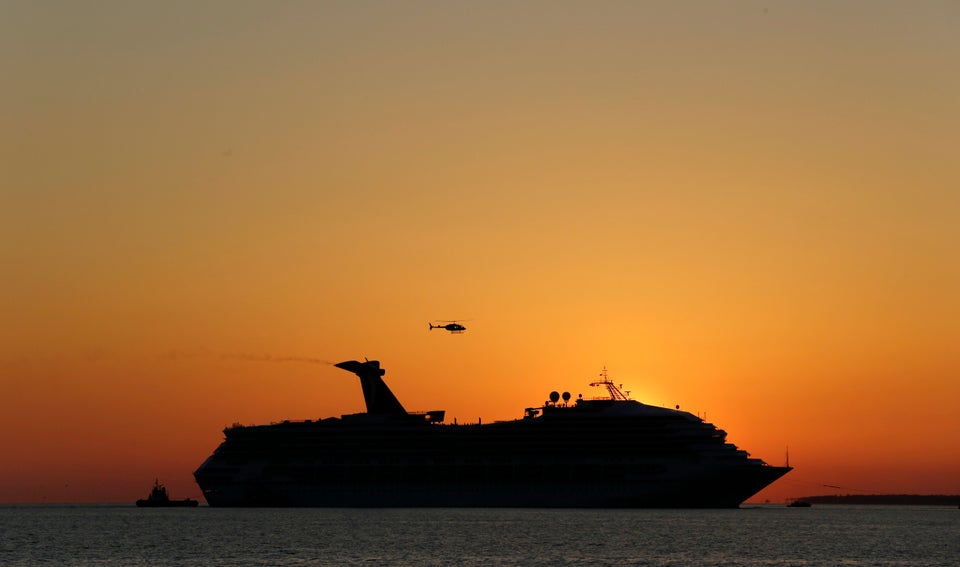 Cruise Ship Adrift
Popular in the Community