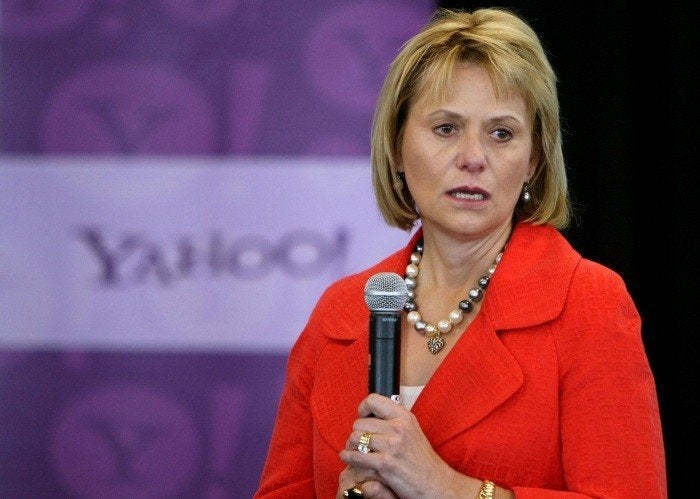 Ousted Yahoo CEO Carol Bartz has some choice words to share about the people who fired her.
"I am very sad to tell you that I've just been fired over the phone by Yahoo's Chairman of the Board," she wrote, according to AllThingsD's Kara Swisher. "It has been my pleasure to work with all of you and I wish you only the best going forward."
Bartz explained to Fortune on Thursday why she thinks the board chose to fire her after recruiting her from Autodesk in 2009 to turn Yahoo around.
"The board was so spooked by being cast as the worst board in the country," Bartz said, as reported by Fortune. "Now they're trying to show that they're not the doofuses that they are."
Bartz, 63, is known for her salty language and her sometimes prickly demeanor.
Writes the Wall Street Journal, "During her first year at Yahoo, fellow directors spent time discouraging what they saw as Ms. Bartz's abrasive CEO style, including her frequent use of swear words, said people familiar with the matter."
Forbes describes one such instance from March 2009, when Bartz visited China to meet with Alibaba CEO Jack Ma to discuss the two companies' rocky partnership. According to Forbes, Bartz reportedly told Ma, "I'm going to be blunt because that's my reputation." Forbes goes on to report that "Bartz proceeded to dress down Ma in front of his entire senior management team over Alibaba's handling of Yahoo China."
What do I look for when hiring? Well, let's get past the assumption that they can do the job. There has to be a no-a—— rule. We'll go through the whole interview, and I'll say, 'I have one last question. I don't work with a——-. Are you one?' Some say, 'What a great question! I want to work in a place that's like that.' But you'd be amazed at how many others hear that question and look like they've just been caught. Their expressions say: I guess I'm an a——.
Some, such as journalist and media critic Jeff Jarvis, believe that a criticism of Bartz that focuses on her language is an unfair assessment of the former CEO. "Would a male CEO get as much s--t for saying f---?" Jarvis wrote via Twitter on Thursday.
REAL LIFE. REAL NEWS. REAL VOICES.
Help us tell more of the stories that matter from voices that too often remain unheard.