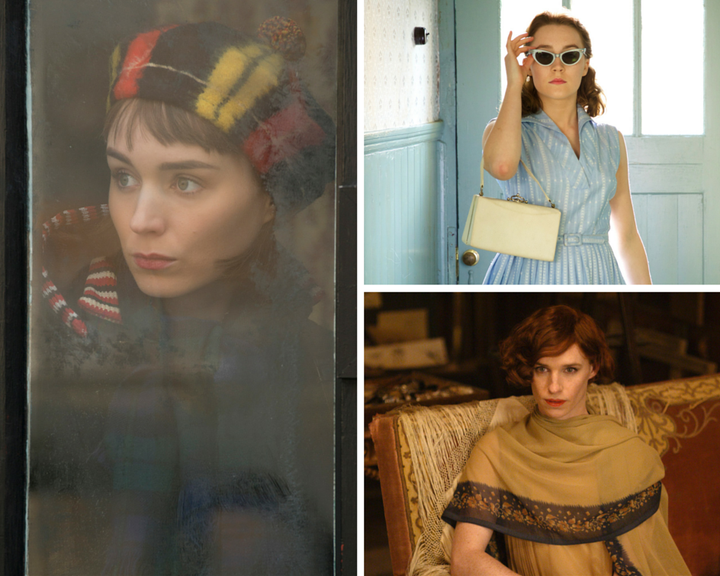 Three unconventional stories of romance find an unlikely commonality in this year's Oscar contest. Beyond their crusades to score hardware amid the ongoing awards season, each movie features a central character whose prosperity can be charted through her department-store day job. 
In "Carol," "Brooklyn" and "The Danish Girl," these department stores serve as backdrops for three young women seeking a sense of identity. The characters feel uncomfortable in their own skin, until they discover a new piece of themselves hiding like merchandise buried on a shelf. It just so happens these turning points sprout within the walls of emporiums whose rich design underscores a significance beyond the characters' need for pink-collar paychecks.
Take the 1950s-set "Carol." The demure Therese Belivet (Rooney Mara) starts to comprehend her sexuality after selling a train set to an alluring older woman (Cate Blanchett) during the Christmas gift-buying frenzy. Said woman -- the titular Carol -- leaves her gloves behind, and after Therese mails them to her, Carol phones Therese at work and invites her to lunch. "What a strange girl you are, flung out of space," Carol tells her when they reconvene -- and, with that, Therese begins to wonder what divine meaning this elusive divorcee-to-be has brought to her life.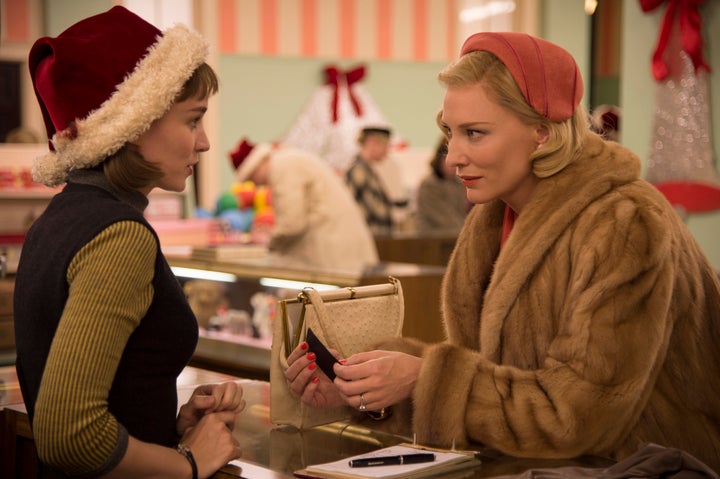 Before shooting Carol and Therese's first meeting at a fabric warehouse in Cincinnati, Judy Becker, the production designer on the Todd Haynes-directed film, conceived the showroom's aesthetics based on photographs of department stores from that time. She also examined the 1956 film "Lovers and Lollipops," a naturalistic independent drama in which the characters visit a Manhattan Macy's.
"What we got from that was how haphazard the toy departments were at the time," Becker told The Huffington Post. "It wasn't all beautifully arranged. That image of the cluttered toy department came from that, and also a combination of old and new, which is something we really strived to put into the toy department in 'Carol.'" 
Becker, who earned an Oscar nod for designing 2013's "American Hustle" and also worked on "Joy," noted that dilapidated display cases sat next to ones that were brand new, while junky-looking price tags and untidy shelves were complimented by "beautiful" elevators. That juxtaposition doubles as a reflection of the post-World War II, pre-Eisenhower era, when global chaos was settling into domestic peace. The back entrance to the store in "Carol," where employees clock in, was made to feel "almost Soviet" in its rigidity, emphasizing that Mara's character feels trapped by a job she hates. When we see Therese outside of work, especially as her liaison with Carol evolves, the movie's tint is more inviting.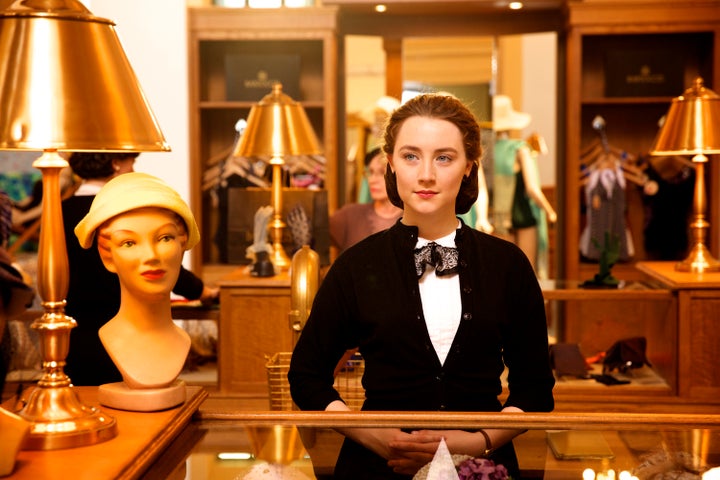 If "Carol" uses a graininess to mark Therese's bleak outlook on her professional and romantic life, the stores in "Brooklyn" and "The Danish Girl" employ golden hues that glisten with their characters' budding contentment.
The coming-of-age ode "Brooklyn," directed by John Crowley and also set in the 1950s, revolves around Eilis Lacey, an Irish immigrant (Saoirse Ronan) who sets sail for New York in search of more promising professional prospects. Homesickness sets in instantly, and upon starting work at a posh department store, a despondent Eilis is scolded by her supervisor (Jessica Paré) for not being friendlier to customers. She meets a charming, impossibly kind suitor (Emory Cohen) who inspires in Eilis a newfound optimism. Suddenly, her idea of home expands to New York, and her demeanor shifts as a result. Eilis smiles more and engages with patrons, and suddenly those gilded hues seem to sparkle a bit more radiantly. 
"Brooklyn" production designer François Séguin scouted locations to find a site with lighting that paired warmth and elegance. Shot at a historical library in Ireland, the movie's department store is bathed in natural light thanks to a "massive" window. A sense of comfort portends the happiness that Eilis will encounter, giving the store certain romantic underpinnings. Its color scheme is the most benevolent of the three because Eilis faces the least outward adversity.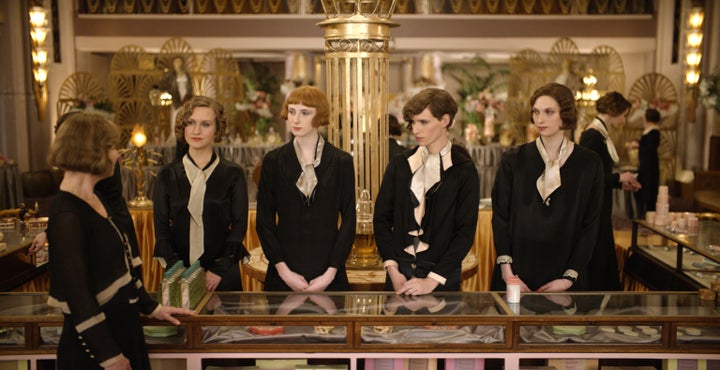 The same effect occurs in "The Danish Girl," Tom Hooper's 1920s-set portrait of real-life artist Lili Elbe, the first person to undergo successful gender-confirmation surgery. The entire movie looks like a lush painting, but its canvas is often punctuated with grays that reflect the confusion Lili experiences as a result of being born into a man's body. After she begins to dress in traditionally female clothing full-time, Lili acquires a job at an opulent women's store -- the "absolute best moment of her life," as "Danish Girl" production designer Eve Stewart described it, recalling evidence from Elbe's published diaries. 
Amid the roaring fashion scene in 1920s Paris, Lili's employment at such an upscale shop placed her in an epicenter of wealth, as well as a token of refreshing liberation for women. For someone consciously asserting her femininity after disguising it for so long, Lili blossoms in the job, as exhibited in a scene where she joyfully instructs a customer that a "lady" would apply perfume via mere spritz. "Voila," Lili chirps after demonstrating. The "Danish Girl" crew had one day to shoot the scene at an art-deco hotel in London, which Stewart said she dressed to look even more elaborate than what's portrayed in the film -- a world-building effect she learned from working with director Mike Leigh on "Topsy-Turvy," "All or Nothing" and "Vera Drake."
Stewart, a three-time Oscar nominee, sees the department-store sequence as Lili's "'Charlie and the Chocolate Factory' moment, like it's full of candy." At last, Lili has the fortitude to present herself as a full-fledged woman. The character's escalating confidence is on display in a manner far more flagrant than the implicit euphoria of Therese's encounter with Carol or the satisfaction that mounts as Eilis' homesickness fades.
Each of these movies tells a story of unexpected romance -- that of two lesbians in the cloistered 1950s, a transgender artist who loves her wife but must exact her true identity, and a lonely immigrant who rediscovers the meaning of home thanks to a new admirer. At the center of the three characters' self-discovery, these department stores confirm that what once seemed mundane, or even claustrophobic, can become marvelous.
Sure, significant others help Therese, Eilis and Lili to realize themselves. But what really brings them to life is the actualization of an existence they've long buried -- lives that society and their families would rather them not enact. When they are happy with themselves, everything seems a bit more golden. 
PHOTO GALLERY
2016 Best Picture Contenders
Calling all HuffPost superfans!
Sign up for membership to become a founding member and help shape HuffPost's next chapter