A CNN anchor took Walmart to task Tuesday, forcing a company spokesman to confront claims that the retail giant pays many of its workers barely-livable wages.
In an interview with Walmart Vice President of Communications David Tovar, CNN host Carol Costello asked the Walmart executive about data from Our Walmart, a labor organization backed by United Food and Commercial Workers union, showing many Walmart workers make just enough to put them above the poverty level.
"Walmart made a whole lot of money last year, billions of dollars, hundreds of billions of dollars, why not at least negotiate with them so that they can live a better middle-class life style?" Costello asked Tovar. "If a lot of them are making 15,000 a year, you can't live a strong middle class lifestyle on that, you just can't," she later added.
Tovar stood his ground, saying that full-time associates on average make $12.40 per hour, or more than $25,000 per year, about $10,000 more than the poverty-level figure cited by Costello. "We've got some of the best jobs in the retail industry and our associates appreciate that," Tovar said.
Workers are preparing to strike at 1,000 Walmart locations across the country on Black Friday, the biggest shopping day of the year. At issue are claims of low wages, lack of opportunities for advancement and retaliation against those who speak up against poor working conditions. More than 30,000 people have also signed a petition asking the company not to open at 8 p.m. on Thanksgiving, which has required some employees to work on the holiday.
For its part, Walmart has filed a complaint with federal labor officials claiming the Black Friday strikes are illegal.
Tovar told Costello in the interview that the complaints were coming from a small group of workers and that "the vast majority of our associates like working at Walmart." The retailer took home $3.63 billion last quarter.
Related
Before You Go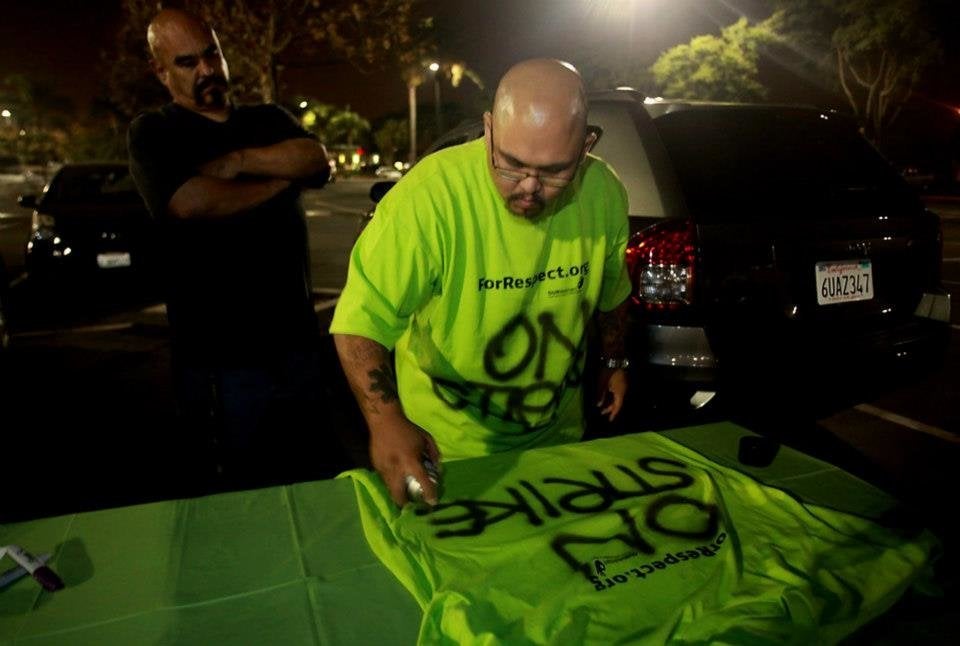 First-Ever Walmart Strike, Oct. 2012, LA
Popular in the Community