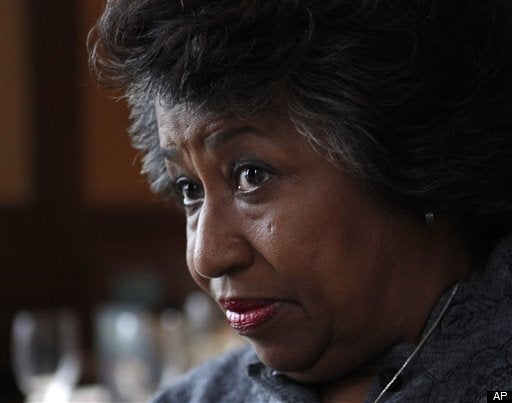 UPDATE: Braun invokes Monica Lewinsky in attacking Pres. Clinton. Scroll down for video.
Former President Bill Clinton was in Chicago yesterday, throwing his support behind his former aide Rahm Emanuel in the city's mayoral contest.
At least one candidate wasn't too thrilled to see him.
Carol Moseley Braun, a former U.S. Senator whom Clinton appointed as the Ambassador to New Zealand, wrote a scathing release on her website criticizing the endorsement:
President Bill Clinton does not live or vote in Chicago. He's an outsider parachuting in to support another outsider. For him to come on the day following Dr. Martin Luther King's birthday to insert himself in the middle of a mayoral race, when the majority of the population and mayoral candidates are African American and Latino, is a betrayal of the people who were most loyal to him. It's a mistake.

Another black political leader in Chicago had similarly harsh words for the former president. Rep. Danny Davis, a South Side congressman who was also briefly a candidate in the mayoral race, previously criticized Clinton for the endorsement on the basis of race.
Speaking of black support for Clinton after the Rahm endorsement, Davis said, "I think that this will take away a bit. And there are individuals who have been former Clinton supporters who no longer will."
Racial undercurrents have been running through the Chicago mayoral race from the outset. The 1980s saw a harshly divisive period in the city's history called the "Council Wars," in which the black mayor and majority-white City Council faced years of legislative gridlock. That era was ended with the election of outgoing mayor Richard M. Daley in 1989. Daley was able to consolidate the city's black, white and Latino factions on the Council, turning the body into little more than a legislative rubber-stamp for his policies of choice.
The race to succeed him has threatened to bring back old racial divisions, with black leaders deciding that Moseley Braun was the community's "consensus candidate" and urging the city's African-Americans to support her. Two other black candidates, Patricia Watkins and Dock Walls, are also in the race; Gery Chico and Miguel del Valle are both of Latino background, making Rahm Emanuel the only "white" candidate on the ballot.
At an event at Ann Sather's restaurant Wednesday, Braun took her attacks on Clinton to an even more personal level. She reminded those present that the African-American community stood by him "when he was having Monica Lewinsky problems," before ripping Clinton again for not endorsing a minority candidate in the race.
Watch video of Braun's comments:
Related
Popular in the Community