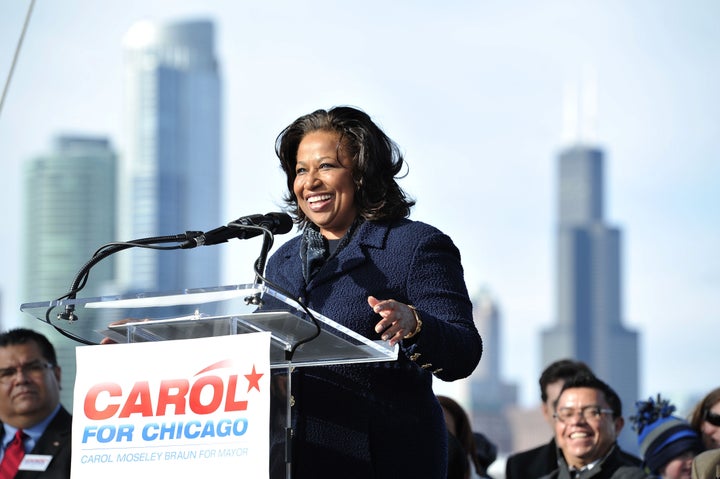 Mayoral candidate Carol Moseley Braun lashed out at her opponents and Police Superintendent Jody Weis Wednesday, ripping on everything from Rahm Emanuel's "buddy" Bart Stupak to morale within the Chicago Police Department.
Braun's series of attacks came at a morning press conference called to outline her public safety platform. First, she tore into Chicago Sun-Times columnist Neil Steinberg, who teased her candidacy in his Tuesday column.
"I'm just going to tell the truth about these things," Braun said Wednesday, according to the Sun-Times. "[Steinberg] is a drunk and a wife-beater and he insulted the entire African-American community in Chicago. And the Sun-Times, particularly based on its demographic, ... ought to do better by Chicagoans than to give this man a continual platform for his divisive rantings in the newspaper."
After slamming Steinberg, Braun told the crowd she would fire Supt. Weis if elected.
"The fact that the superintendent is not from here, doesn't understand this city, having to learn it, get a guide book out," she said. "You need to get someone that knows Chicago to run the Chicago Police Department."
Weis, an FBI veteran with a rich and diverse background in law enforcement, fired back: with numbers.
This year, Chicago is on pace to have the lowest number of homicides since the 1960s, and the department has reported "two years of straight month-to-month reductions in nearly every category of crime," Weis said in a statement.
"Hyperbole does not get the mission done," Weis said in the statement. "More than 30 years in the military and law enforcement have taught me that it is results that count."
Braun also used the press conference as an opportunity to further question frontrunner Rahm Emanuel's candidacy. After saying that "everybody in this room knows [Rahm] doesn't live here," she criticized former President Clinton's endorsement of Emanuel.
"We know that Mr. Clinton and Emanuel have a relationship," Braun said in a statement. "But if Rahm is going to invite his buddies to Chicago to campaign for him then he ought to invite his friend Bart Stupak, who along with Rahm took a woman's right to choose out of the health care bill. He ought to invite his buddy Tom Tancredo who blocked the Dream Act. Or he can have his friend Leland Brendsel stop by. Brendsel was in charge of Freddie Mac and played a huge role in the mortgage meltdown, and was a major Rahm contributor."
Emanuel spokesman Ben LaBolt told the Sun-Times that Braun's comments were "inaccurate, divisive, and fail to demonstrate the kind of leadership Chicago needs from its next mayor. We encourage all candidates to lay out their vision for our city's future instead of engaging in the tired politics of the past."
Columnist Neil Steinberg and the Sun-Times also defended themselves against Braun's criticisms:
"The difference between my past and hers is that I have done the hard work to change myself, while she remains exactly what she was, alas," Steinberg said. "If a person cannot tolerate one teasing column, how can she hope to be mayor of a great city?"
Popular in the Community