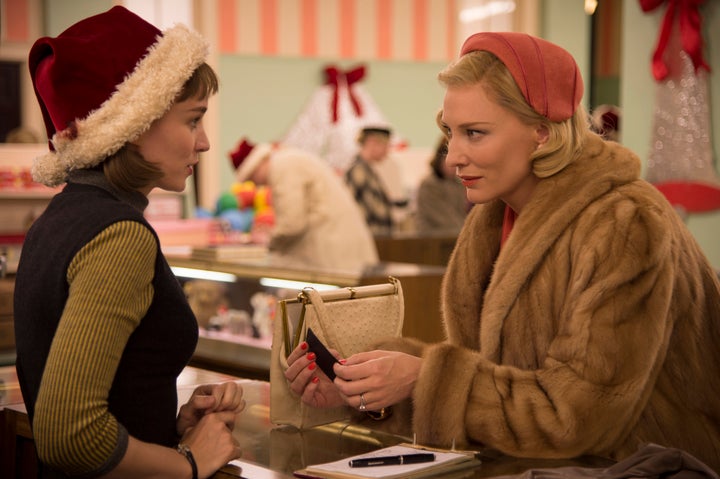 The final installment of the "Hunger Games" franchise is opening in some 4,000 theaters this weekend. The Seth Rogen Christmas comedy "The Night Before" bows in nearly 3,000, and "Secret in Their Eyes" -- a thriller that finds Julia Roberts and Nicole Kidman sharing the screen for the first time -- is slated for a reported 2,400 auditoriums. But I would turn my back on all of them in favor of a comparatively tiny film whose quality can run circles around the others.*
The movie I prioritized this week is "Carol," the latest from gifted director Todd Haynes, who made two of the 2000s' best releases with "Far From Heaven" and "I'm Not There." Having first seen "Carol" back in September, four months after its euphoric Cannes Film Festival premiere, I cleared my schedule for a weeklong "Carol" blitz, and I've come away with an even fonder appreciation of the film. Technically, this blitz started last month during a quick conversation with Cate Blanchett, who was promoting "Truth," the other movie that has her name on every Oscar prognosticator's lips. Blanchett has the title role in "Carol," playing an affluent 1950s married New Yorker who sparks an unlikely romance with Therese (Rooney Mara), a younger photographer working a temp job at a department store, where she sells Carol a train set for her daughter during the height of the holiday gift-buying scramble.
"Her sexuality had no name, and Carol didn't fit into a particular subculture, so that visual niche expression of that was not an easy thing to find," Blanchett said of her approach to the character -- a sentiment she took a step further during Monday morning's New York press conference at a hotel overlooking Central Park, where Blanchett called Carol's repressed existence a "quiet hell."
It's in that hell that "Carol" finds resplendent grooves, both on- and offscreen. For a movie that tackles homosexuality during a time when it was still illegal nationwide, "Carol" is a decidedly unpolitical tale. Yet its source material -- Patricia Highsmith's semi-autobiographical 1952 novel The Price of Salt -- quickly became a quiet pillar upon its publication, when there weren't many stories that portrayed queer people in a positive light.
After Monday's press conference, I sat down with two of the film's producers, Christine Vachon and Elizabeth Karlsen, who walked me through its lengthy development process. Phyllis Nagy adapted the script in the mid-1990s, after which it cycled through numerous hands. The rights to Highsmith's novel were locked up with another producer, and other filmmakers were considered, including "Boys Don't Cry" director Kimberly Peirce. But as stalled projects tend to do, "Carol" fell by the Hollywood wayside until Karlsen and Vachon produced 2005's "Mrs. Harris," which Nagy wrote and directed. It was then that Nagy mentioned wanting to resuscitate "Carol."
It took Vachon and Karlsen until 2010 to secure the rights from Highsmith's estate, and it wasn't until March 2014 -- after Haynes replaced John Crowley in the director's seat and Mara replaced Mia Wasikowska in the role of Therese -- that cameras rolled. The producers felt the script's central love story needed to be more enigmatic, so, working with Haynes, who usually writes his own movies, Nagy stripped some of the backstory to reflect an important line that Carol says to Therese early in the film: "What a strange girl you are, flung out of space."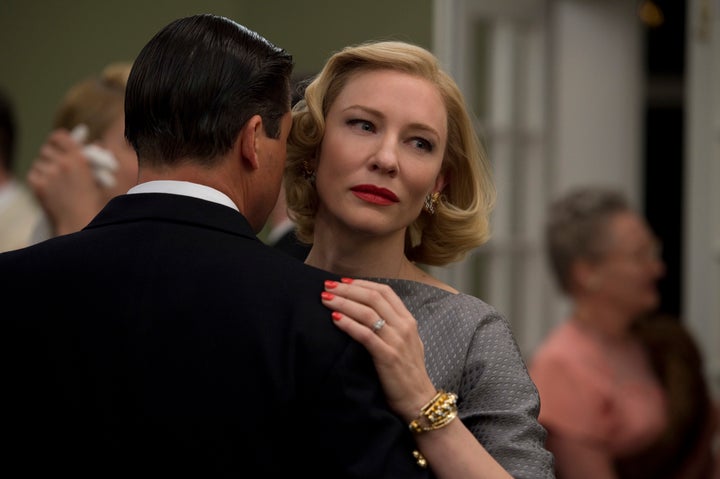 The fight was worth it: "Carol" screened to a fervent standing ovation at Cannes, where audiences are quite transparent about their reactions. (For comparison's sake, a media crowd booed "The Sea of Trees," the latest from festival favorite Gus Van Sant.) Reviews have accurately called it "exquisitely drawn" and a "gorgeous time capsule." Those remarks are no surprise for a Haynes film, as 2002's "Far From Heaven" -- also set in the 1950s -- was caked in the glossy reds and oranges of Connecticut's fall foliage. He seeps "Carol" in the gray mistiness of a New York whose concrete is paved with melancholy. The whole thing looks like an Edward Hopper painting.
After chatting with Karlsen and Vachon, I sat down with Sarah Paulson, who has a small but pivotal role as Carol's longtime friend, Abby, who harbors a deep romantic affection for her. Abby was the catalyst for Harge, Carol's husband (an excellent Kyle Chandler), first discovering his wife's hidden sexuality, as the two women had a tryst several years before the movie takes place. Carol and Harge are in the midst of a divorce, and when he discovers Therese's sudden role in Carol's life, Harge threatens Carol's custody rights -- a loss that is unfathomable to her. Abby plays a vital part in salvaging Carol's peace of mind after the latter tells Therese she can no longer see her, providing another layer of devastating beauty that solidifies "Carol" as a portrait of unequivocal love of all kinds.
"It also speaks to the confines of society for gay women at that time," Paulson told me. "It was not a big-enough world, so if you found a person you could relate to and who was of your tribe, you weren't so likely to want to let go of them, no matter what, even if it meant that person was in love with someone else."
Despite such a glowing reception, "Carol" opens on a mere four screens this weekend before expanding to additional theaters throughout December. If it's not already apparent, I'm anxious for the world to see this movie. I'm anxious for everyone to behold the grace of Blanchett's and Mara's performances. Both will be major players in the 2016 Oscar race, with The Weinstein Company, the movie's awards-friendly distributor, touting Blanchett as a lead-actress contender and Mara as a supporting candidate. Blanchett is reliably elegant, holding her cigarettes with sophistication and expressing her feelings with breathiness, like someone required to button them up for decades. But it's Mara's movie. She imbues Therese with an eternal longing, as though she's intelligent enough to know there is a bigger world out there but too naive to conceptualize a place within it, until Carol's arrival gives her the figurative vocabulary to understand herself.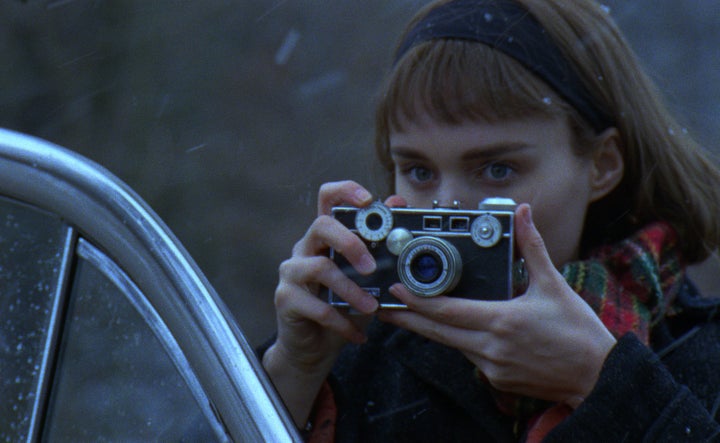 Seeing the movie for a second time at an industry screening on Tuesday night, I appreciated that it also manages a refreshingly non-prurient look at blooming sexuality. Weinstein purchased distribution rights days after the 2013 carnal lesbian drama "Blue is the Warmest Color" won Cannes' coveted Palme d'Or prize, but "Carol" operates under a different lexicon. Its sensual gaze is delicate instead of revealing, roving instead of voyeuristic, and it ensures the characters' progression never feels like a product of Hollywood schmaltz. That may leave some viewers cold, but wait for the final scene, where a single exchange -- which I won't spoil here -- becomes the year's finest cinematic moment. In an era where actors are no longer box-office draws on name alone, it is proof that movie stars do, in fact, still exist.
Complemented by a Carter Burwell score reminiscent of Philip Glass' music in "The Hours," "Carol" is a roaring achievement in contemporary film. Its patient storytelling and subtle characterization are unlike anything on the big screen right now, no matter how much you adore the impressive action sequences in "Mockingjay" or the chuckles of a caper like "The Night Before." I can't stop replaying scenes in my head because each one feels sublime, like a dream I had last night and cannot displace. I didn't cry at "Carol" the way I sobbed during "Room" or "Brooklyn" or even "The Martian," yet it's the most resonant film I've seen this year. Haynes has crafted a hallmark event so surreal you won't want to wake up.
*Actually, I liked "Mockingjay - Part 2" a lot, "The Night Before" is a tonally inconsistent series of likable clichés, and "Secret in Their Eyes" I sadly haven't caught yet.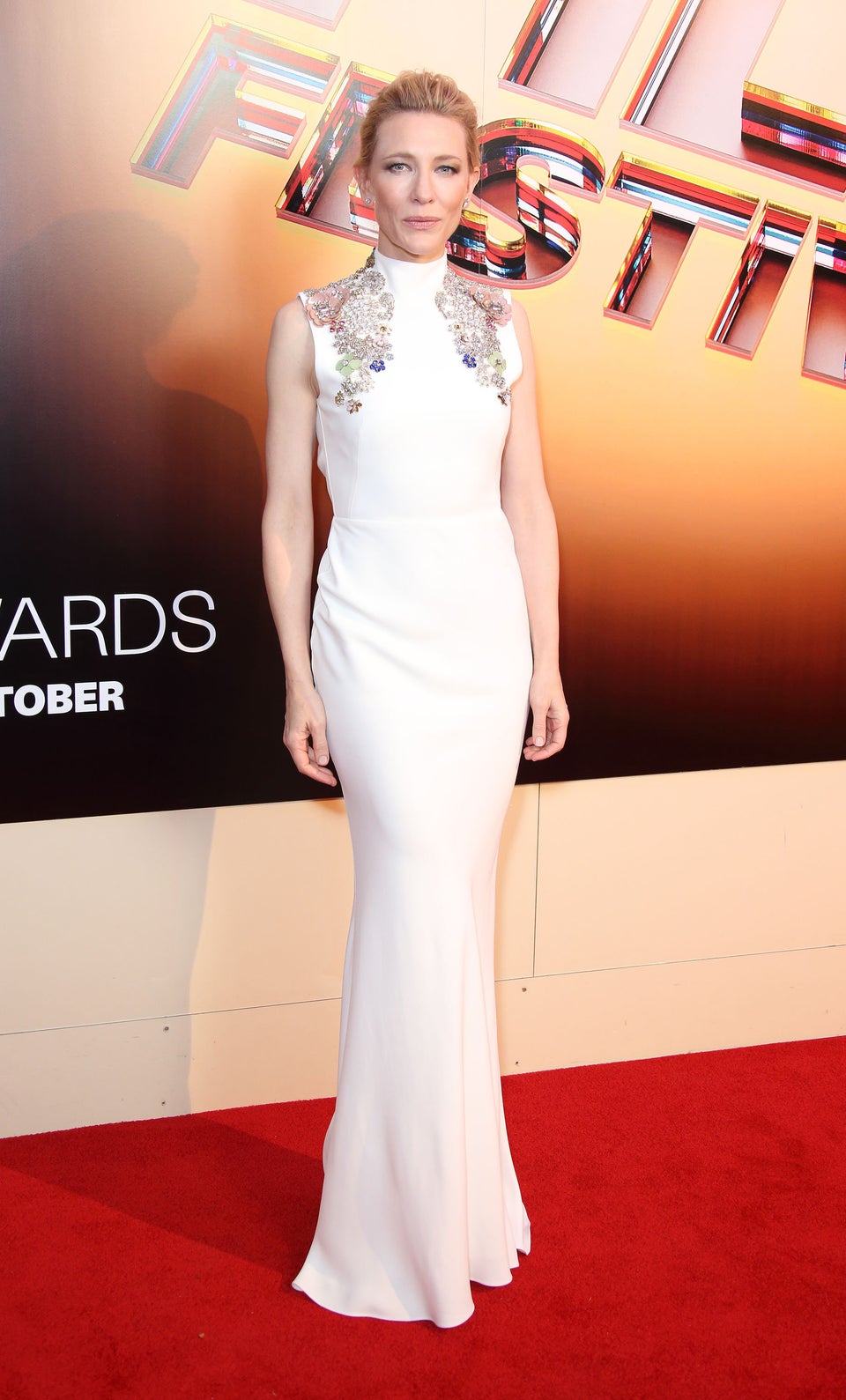 Cate Blanchett
Popular in the Community