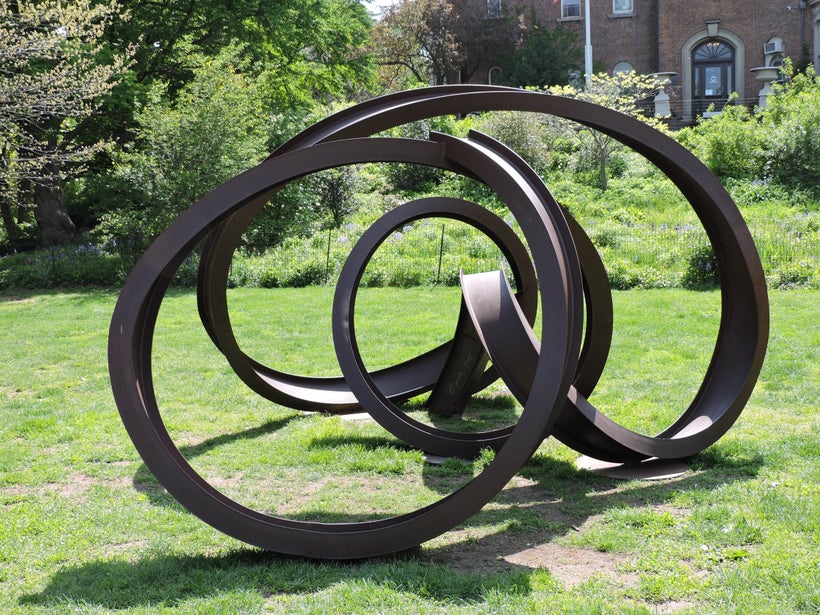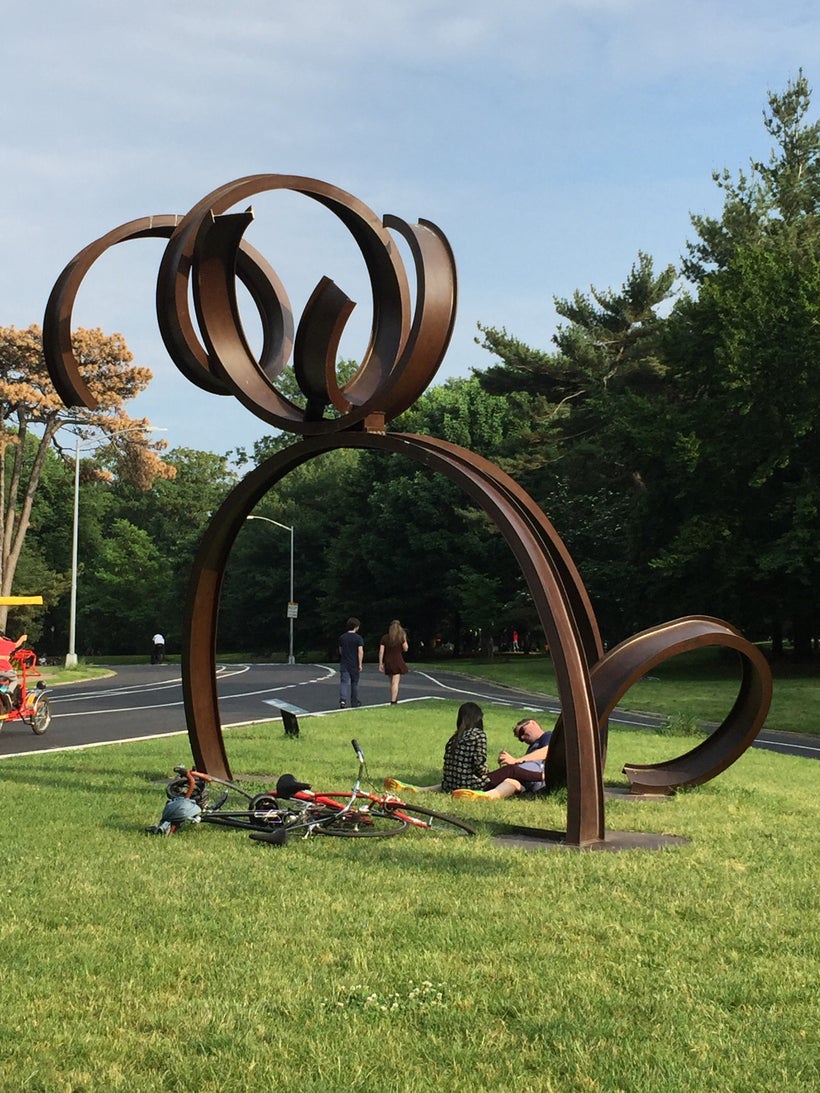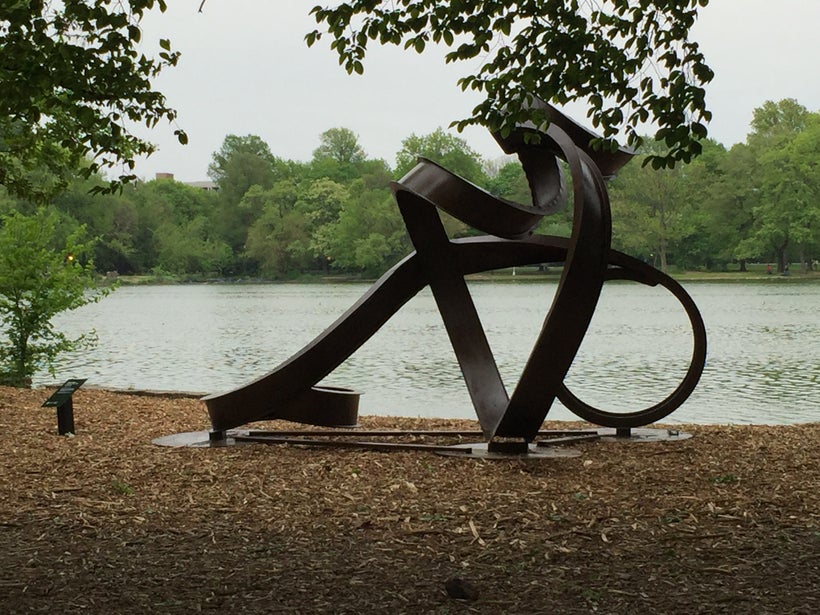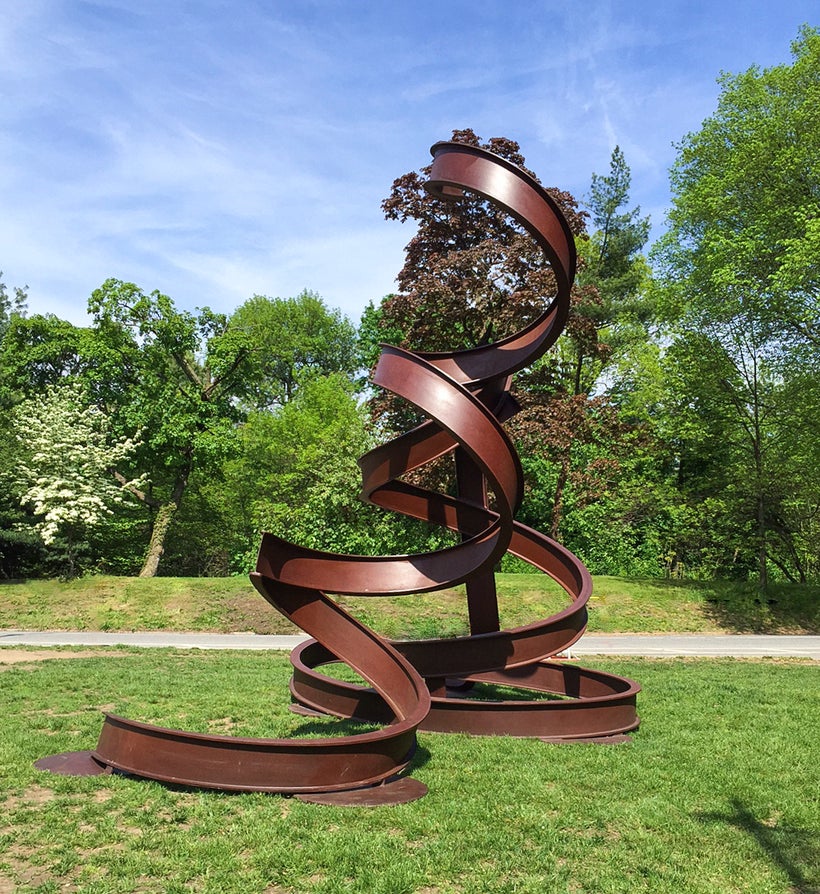 In the late 1960s my siblings and I spent our summer days at the Singing Oaks Day Camp in Weston, CT. Each afternoon ended with a snack of popsicles, cookies and bug juice before we were put on vans to shuttle us home. Reaching home—with our sticky popsicle fingers and red stained faces from the sugary juice—my mother greeted us in her denims and welding shirt, with the protective mask pushed up on her head. She had been working and would resume working, now that she had seen us safely home.
My mother, Carole Eisner, is a metal worker, a sculptor, an artist. For nearly 50 years she has bent and forged steel to make shapes that dance, glide and delight. My mom continues to gather much of her materials from junkyards throughout southern Connecticut. She was a protector of the planet and an environmentally conscious hipster recycler before the term found object was in vogue.
From the 1960s and till now, mom has spent long days bending metals to her iron will to forge beauty from debris, to give new purpose to the detritus of our industrial past.
Her sculptures have been on view in the US, Europe and Asia, in parks and sculpture gardens, corporate sites, shopping centers, civic plazas, performance centers and more. And now this summer, Prospect Park, Brooklyn is home to four monumental sculptures from the artist's rolled I-beam series. The four sculptures, called "Skipper", "Dancer", "ZerQues" and "Valentine II", were created in the past decade.
Collectors and fans say the sculptures from this series are her best yet. Each weighs about two tons, and yet, the curved metal appears light and elegant, taking on a ribbon-like quality. The rolled metal rises, swoops and circles back, as a bird catching a thermal.
I became an art dealer and opened a gallery called Susan Eley Fine Art in 2006. I cannot deny that watching my mother make art throughout my childhood fueled my passion for art and cultivated a curiosity to understand it. Most significantly, watching my mother work instilled in me an inclination to marvel at how an artist can make something from nothing.
For the first three years of operating my gallery, I chose not to represent my mother, as I felt that I had to prove myself first. But since 2009 she has been the one sculptor on the Gallery roster of some 25 painters and photographers. The only one because she has spoiled me for other sculptors.
Mom cultivated my taste for abstraction. While I appreciate an historic monument here and there, I'm easily bored with figurative sculpture. I love the abstract, primal rawness of John Chamberlain, Louise Nevelson, David Smith and Richard Serra, all artists from whom mom has drawn inspiration.
I continue to measure all contemporary sculpture against hers, and the others always fall short. While at first reticent to tell people of our filial connection, I've changed my tune and am no longer apologetic for having such a talented mother.
While we installed the sculptures in Brooklyn in May, bystanders approached and inquired.
"This is the artist," I would say with unabashed pride, as I gestured towards mom, well into her eighth decade, agile and still very beautiful. Working closely with the riggers, as they positioned the sculptures with cranes and ropes, she directed placement to optimize views from every angle.
As I watched her handle her sculpture, talk with the riggers and charm passersby, images of mom almost 50 years ago came back. As our Singing Oaks van would pull into the driveway on Sachem Road, I leaned out of the window to get a better view of the sparks flying from mom's welding torch, as she crouched in front of a new seam, formed from fusing disparate steel parts into magnificent, soaring shapes.
Calling all HuffPost superfans!
Sign up for membership to become a founding member and help shape HuffPost's next chapter
This post was published on the now-closed HuffPost Contributor platform. Contributors control their own work and posted freely to our site. If you need to flag this entry as abusive,
send us an email
.