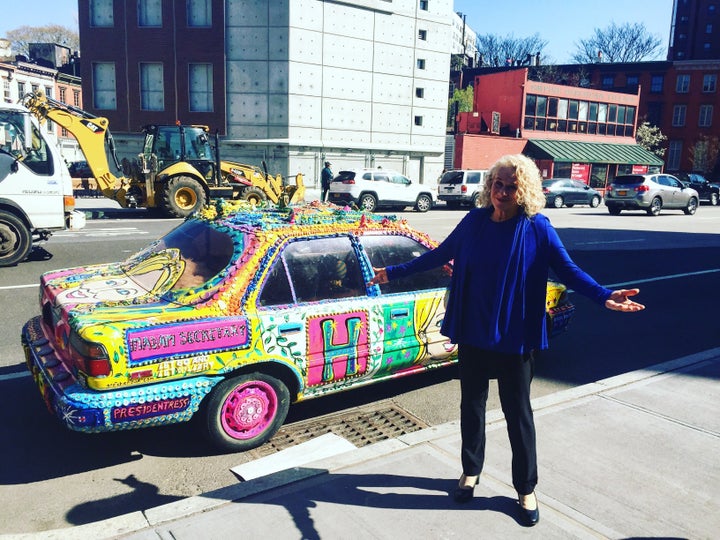 SOMEWHERE IN THE WEST VILLAGE, NEW YORK -- Walking through the streets of the West Village to rally support for Hillary Clinton, Carole King, the famed singer-songwriter, is confronted with a problem: not everyone believes that she is, in fact, Carole King.
This can be frustrating at times, but it is hardly unexpected. Door-knocking is the grunt work of a presidential campaign -- the task of the college-aged plebs who have the time, passion and stamina to do it. No one reasonably expects a four-time Grammy Award winner to be the one pushing your buzzer, asking for a few moments of your time to talk political shop.
But King enjoys being part of a campaign. Really, she's a junkie for this stuff; someone who, in between getting honored by the Kennedy Center, writing novels and consulting on a musical about her life, dives deep into environmental advocacy work and regales you with stories from presidential campaigns past. Take George McGovern, her first time volunteering: "The concert went well, the election didn't."
This cycle, Clinton is King's candidate. And if electing Clinton requires face-to-face interactions with complete strangers, well then, pavement she will pound.
And so, for an hour on a pleasant Friday afternoon, she did just that, taking me along on her walk down West 11th Street to persuade those voters the Clinton campaign has identified as fence-sitters in the upcoming New York primary.
King is a logical weapon to deploy in this part of the city. It's an enclave for artists and native New Yorkers who bought their homes long before the real estate market made them pricier than 19th-century French chateaux. These people grew up with her, some possibly literally (King was raised in Brooklyn). She relates to them in ways your 19-year-old NYU student Bernie Sanders volunteer can't.
But first, King has to get in the door.
Things get off to a promising enough start. King buzzes her first apartment and is let right in, no questions asked. "That was odd," she notes after already having rushed to take advantage of the sight-unseen hospitality. We make our way to the elevator (you save steps where you can) and head for the fourth floor.
Down the hall, King knocks on the door and then launches into what I quickly discover is her customary approach: quickly ridding the air of any suspense or heuristics. "I am the singer Carole King," she says through the peephole. "It is actually me."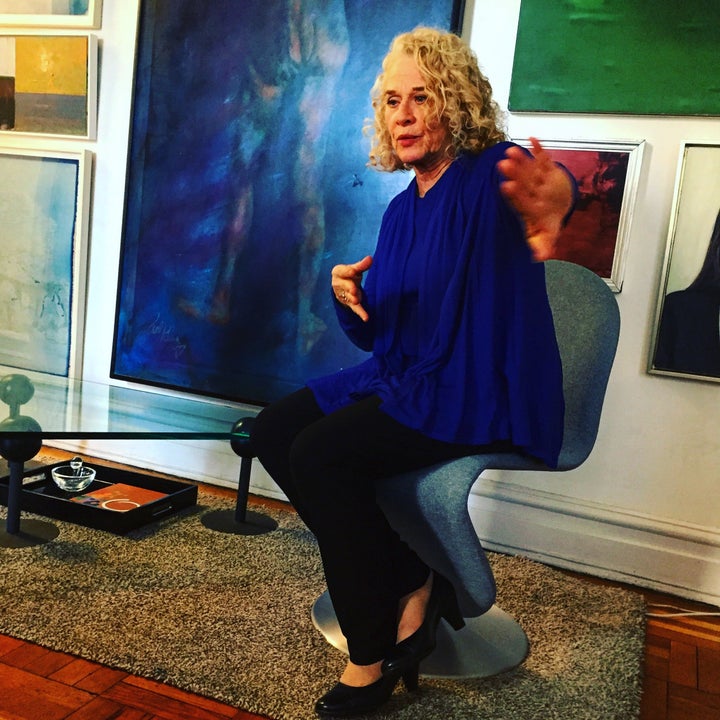 "Oh, my God. Why me?" the woman asks. Quickly, it becomes apparent that this is a far more emotional moment than anyone anticipated. "I just lost my mom and the last album we listened to was 'Tapestry,'" she says.
King handles this remarkably well, expressing sympathy for the loss, asking about the family's history and gradually bringing the conversation to an easy medium. Soon, we're back on politics, only to discover that this might be the least difficult pitch in campaign history.
"I'm a woman who grew up during a time when women were second-class citizens," our host says. "I want Hillary to do it just like Obama did it, when we needed to have an African-American president."
King decides to aim higher. Perhaps, she asks, there might be time for phone-banking before Tuesday? Our host says she will. They talk a little Bernie, share memories of New York, take a photo, and then we're off. Canvassing isn't the purview of the long-winded.
We walk down the street to our second stop -- an elegant brownstone -- only to find complications behind the front door. The husband, not the wife, is home. He's not on the Clinton campaign target list. In fact, he's not a registered Democrat, which is a prerequisite for voting in the primary. King, ever quick on her feet, suggests that he might canvas for Clinton instead of voting.
"Jeepers," the man named John replies. "I'm not sure about that ... My personality is not the best for that kind of undertaking."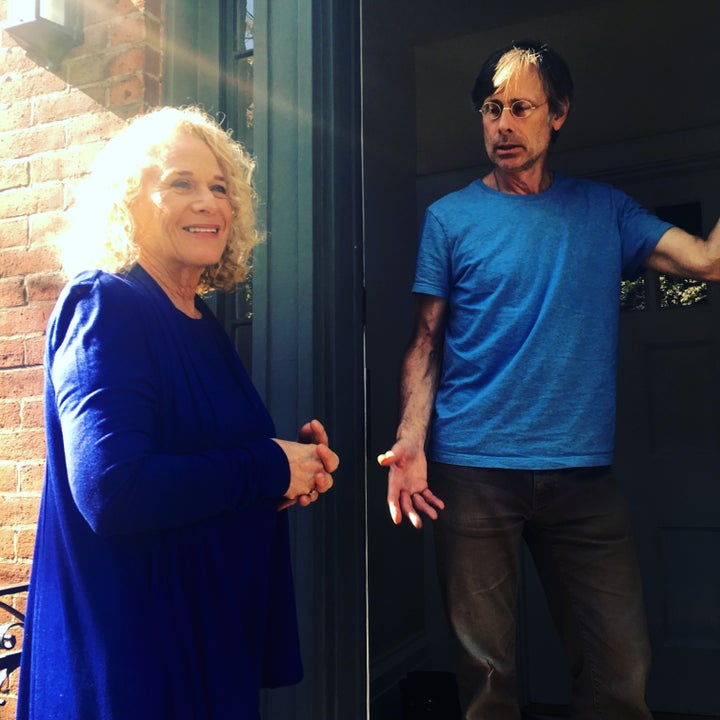 John, it turns out, is a self-described recluse: a painter who doesn't own a cell phone. King empathizes. "Dude, I am too!" she says -- of the reclusiveness, not the forsaking of cellular devices. At this point, she's a heat-seeking, Clinton-backing missile. "She represented you for eight years," she says in reference to Clinton's Senate stint, "now it's your turn to represent her."
John agrees to phone-bank for Clinton, though I'm a little less bullish than King that he'll follow through. As we leave, he gives me his assessment of her salesmanship. "She feels real," he says.
King seems lighter on her feet as we head farther down the block. She's batting a thousand so far. "I'm surprised so many people are home," she says, before pressing the next buzzer. Five seconds go by and no one answers. "And ... apparently they're not."
At the next stop, we encounter more problems. King asks the woman who answers the buzzer if she might be able to come up and speak to her about Clinton. No is the reply. "I would ring the apartments on the first floor." We are generally confused by this. What's going on on the first floor? Alas, we choose to leave the building entirely rather than further explore.
But success is growing elusive now. At the next building, a woman named Elena answers the buzzer, King explains who she is, and suddenly we have silence. We suspect Elena thought it was a prank.
Next up is another John, this one more overtly reclusive than the last. "I'm not going to let you in," he says, explaining he's a Bernie backer. He offers to continue the conversation over the intercom and King, who has only complimented Sanders throughout the day, is unfazed. She encourages John to rally behind the nominee, whoever it is, and then lets it go. There is no point in trying to convert the true believers. Far easier to convince yourself of their intentions. "He doesn't want a Republican any more than we do," she says.
We move on to Gail, who answers the buzzer but can't actually hear what King is saying. So we ring another person in her building.
"My name is Carole King, and I'm a singer," comes the usual refrain. There is confusion at this point and another round of silence too. The presumption is we've had another hanger-upper. But then, suddenly, a face emerges outside a second-floor window. The woman looks down at King in disbelief.
"I didn't believe you!" she proclaims.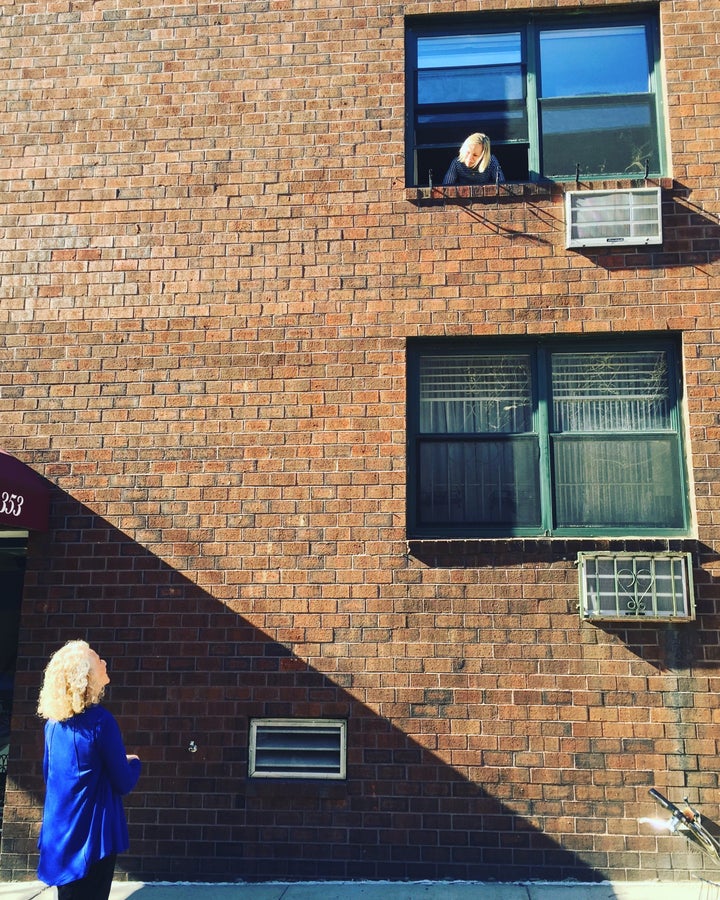 They talk for a bit, the woman explaining that she supports Bernie; King, with her preternaturally sunny disposition, encouraging her to rally behind Hillary if she wins. There is no debate. Only talk of the dangers of Donald Trump and the wonders of King's musical career.
And then it's over. King suggests that she try hitting up a few more voters but the Clinton aide who is staffing her today whisks her away.
There is more campaigning to do elsewhere in New York: a "Women for Hillary" organizing event in Manhattan that King must attend. She's already done one of those today, in Nyack, in addition to media interviews and an organizing event in White Plains. The day before, King phone-banked in Manhattan, canvassed in Park Slope and attended a debate watch party. All told, she spent three hours over two days knocking on 50 doors. She's 74.
Johanna Barr contributed reporting.
Popular in the Community