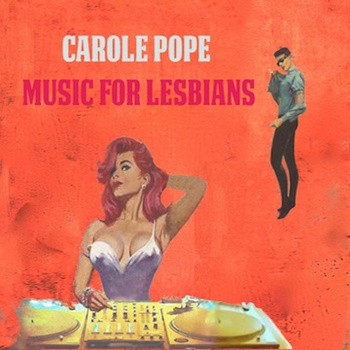 This week I talked with award-winning Canadian rock icon Carole Pope about her fabulous new EP Music for Lesbians. When asked about her inspiration for creating it, she stated:
I think the lesbian community takes itself too seriously. There are so many funny, tragic things involved in being with another woman. I wanted to explore the humor of it.

It was so fun to work with Peaches and my rock 'n' roll husband, Tim Welch, on the title track "Lesbians in the Forest," which was inspired by performing at the Michigan Womyn's Festival. I got to unleash my inner Shirley Bassey Bond Girl on "Vagina Wolf." Alain Johannes created a Smiths-like glam-rock track for "Francis Bacon," my ode to Dusty Springfield. I was Lee Hazlewood to Sara T. Russell's Nancy Sinatra on "Some Velvet Morning." Rob Preuss contributed the lush orchestrations.

I had my first exposure to lesbianism through lesbian pulp fiction. The books were salacious, except for those written by Ann Bannon, Patricia Highsmith, and Valerie Taylor, to name a few. I loved the lurid covers, and that inspired Music for Lesbians' title and the cover art, which was created by Sara T Russell.
Pope's music is infamous for making you think, laugh and dance at the same time. I talked to her about her music and her spin on LGBT issues.
Carole Pope has won three Juno Awards and a Genie Award and has four gold, one platinum and one double-platinum record to her credit. Her infamous band Rough Trade was inducted into the Indy Hall of Fame during Canadian Music Week. Throughout her career she has blazed a trail by sharing her candid thoughts on sexuality, AIDS and sexual politics. Pope's autobiography Anti Diva is currently being made into a dramatic feature entitled Rough Trade: The Movie. Set in the 1980s art scene in downtown Toronto, it tells the story of Pope, her band Rough Trade, and her relationships, including her romance with legendary British singer Dusty Springfield, who died in 1999. Andrew Boutilier and Jan Nathanson have signed on as producers and are currently searching for the lead. Pope would like to see someone edgy like Evan Rachel Wood in the title role.
Listen to more interviews with LGBTQ leaders, allies, and celebrities at OUTTAKE VOICES™.
Popular in the Community