Any minute now, John Bean's medicine should start kicking in. But, as he sits in the back seat of an aging Subaru Forester, it's apparent that it hasn't yet: Bean's still hallucinating and talking incessantly.
Behind the wheel, Carolina Jesus isn't worried; she's seen all this before.
In fact, as schizophrenic episodes go, Bean's symptoms are mild, she explains: "He's having some psychotic features. A little hallucinating. Seeing some things that aren't there. But he's coherent. Calm. Reasonable."
So Jesus just makes sure her car's child safety locks are engaged — in case Bean gets a sudden urge to jump out — and calmly drives on.
Just another day at the office for perhaps Honolulu's most unusual effort to help the homeless.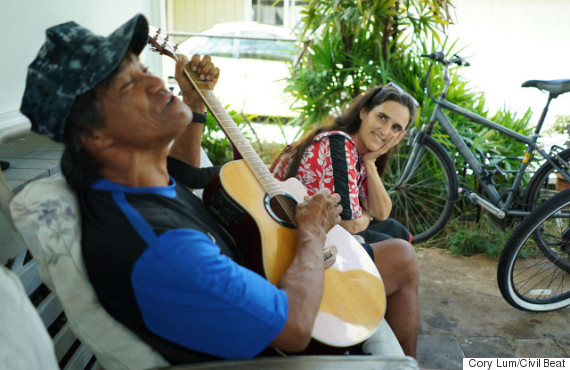 Felix plays the guitar for Carolina Jesus at their residence in Kalihi.
Since 2006, Jesus has been running a small, faith-based nonprofit called Shelter of Wisdom, and taking care of otherwise-homeless people like Bean — some suffering from even more severe forms of mental illness or drug addiction — is a routine part of her job.
Jesus, a slender 56-year-old with wavy dark-brown hair flowing down her back, started out by taking people into her own home. That was back in 2003, and she owned only one property at the time — a three-unit house in Kailua.
But, with her nonprofit in place, Jesus has steadily expanded the scope of her work and now operates out of six houses — two that she owns, along with four that she rents — serving a total of 63 people.
To her residents, Jesus is like a mother hen, available 24/7 to meet their needs.
At times, she's an ultimate case manager, connecting them to any public assistance they may qualify for or helping them find an apartment to move into when they're ready.
At other times, she's an emergency responder, ready to step in to head off any disputes among the residents or jump into a car to drive people to a hospital.
This way, Jesus has provided refuge to hundreds of homeless people over the years.
The approach is hailed by the homeless and their advocates alike.
Darrell Hart, a 55-year-old resident who spent more than 17 years living on the streets, says it's a far cry from how traditional homeless shelters operate.
"I went over to a shelter one time, and the first lady I ran into was extremely hostile. She was acting with a real snotty attitude, like, 'I'm doing you all the favor in the world, dude,'" Hart said. "But you don't get that here. Caroline treats you with dignity."
In the beginning, Jesus took in people like Hart directly off the streets, but she gets enough referrals from social services agencies and homeless shelters these days that, at any given time, she has about 20 people on a waiting list.
Scott Morishige, executive director of the homeless advocacy group PHOCUSED, says Jesus' work plays a vital role in Honolulu's homeless response system — especially now that the city's "sit-lie" ban and other measures aimed at clearing the city's sidewalks are in full effect.
"When you have homeless people being displaced because of the sit-lie enforcement, having an alternative option is something that's really needed," Morishige said. "And it's critical that we keep looking at outside-the-box approaches, like what Carolina has been doing, and see what more can be done."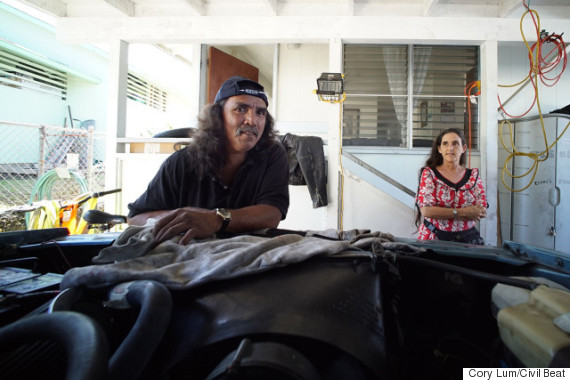 Whenever one of Shelter of Wisdom's cars needs work, Carolina Jesus relies on the mechanical skills of Reginald Apo, a longtime resident.
Divine Instructions The winding path that led Jesus to create Shelter of Wisdom began back in 2002, when her 20-year marriage ended in a divorce.
Two pivotal things happened then.
The first was her conversion to Catholicism. At the time, Jesus was trying to shake off a series of panic attacks she'd been having since her divorce, and she tried all kinds of potential remedies, from counseling and therapy to "new-age things."
But none of them was working, so Jesus gave Catholicism a try. But, given her views on Christians at the time — "I thought they were hypocrites, bigots and narrow-minded" — she wasn't counting much on it.
But the gambit worked. Jesus says her conversion has been so empowering that she kept her ex-husband's surname and now pronounces it, "Jee-sus," rather than "Hey-soos." She reasons: "It's important that people hear his name, whether they like it or not."
The second was the purchase of her first house — a three-unit fixer-upper in Kailua, which Jesus and her then-teenage son began renovating on their own.
It was around this time that Jesus said she began receiving divine instructions — which she heard in her ears, as if through a special headphone, she says — telling her to start opening up her new house to the homeless.
Initially, Jesus was hesitant: "I didn't want to do any of it because homeless people are scary and smelly and dirty, and I'm a single woman — it was so uncomfortable for me."
But Jesus worked up her courage eventually and began inviting people to live in her two spare units.
Before long, Jesus was hooked — so much so that she began tapping into her own savings to keep the operation going for a few years until she launched Shelter of Wisdom and secured its nonprofit status in 2006.
Despite her initial fears, Jesus says she's been able to keep her operation going without major incidents. But she does have to rely on her "mothering skills" occasionally to navigate through minor crises.
That's how it went when a longtime resident named Reginald Apo, a former car mechanic with a history of a traumatic brain injury, was having psychotic fits last month and required a trip to an emergency room.
The ride to the hospital was tricky, Jesus recalls. "He was going nuts. He was trying to open the door. He was kicking legs up and down," she said. "So I distracted him. I got him to talk about cars. I started asking him questions, like, 'How does a carburetor work? Do you ever think about that?' During the whole ride to the hospital, he just started talking about engines."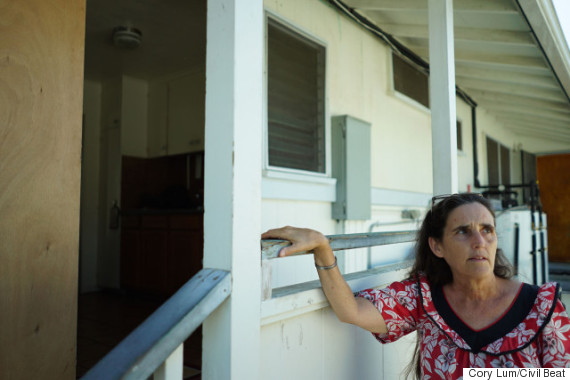 Carolina Jesus keeps her office, which doubles as her bedroom, in one of the six houses she maintains in Kalihi Valley.
'She's One-of-a-Kind' Today, Shelter of Wisdom operates out of six houses that Jesus maintains in Kalihi Valley.
Jesus chose the houses for their floor plan — it's important, she says, to have a common room big enough to allow the residents to come out of their bedrooms — which hold two or three twin beds, depending on their size — and stretch out. "We don't want them to feel overcrowded," she said.
The expenses for their upkeep — as well as for general supplies and the maintenance of four cars — are paid for by the combination of a handful of small individual donations and "shelter fees" collected from the residents, who are asked to contribute $280 to $375 a month, depending on their financial situation.
The arrangement allows the whole operation to just about break even — without any government funding. "We don't want to take any money from the government because that takes the resources away from other places that could use it," she said.
But this doesn't leave any money for a salary, so Jesus works as a "volunteer" and sleeps on a couch in her small office that's set up inside one of the houses.
Jesus says she doesn't mind the spartan arrangement. "I have a really low personal budget," she said. "I buy all my clothes at second-hand stores. I wear the same clothes over and over. I hate shopping. I don't wear any jewelry. I don't eat out. I hardly spend any money."
Bob Doeringer, who met Jesus when his church ran a donation drive for used furniture for her residents two years ago, says Jesus' dedication to her work was so inspiring that he began volunteering for Shelter of Wisdom himself.
"To literally do as much as she does, and to be so dedicated to helping people, and not doing it for any monetary gain is mind-blowing to me," said Doeringer, who's now in charge of organizing a storage room for supplies. "She's one-of-a-kind. It's really hard to imagine somebody else doing this."
Jesus shrugs off such compliments and insists that anyone can do what she does — all you need, she says, is a spare bedroom.
Still, she admits that her work can sometimes be overwhelming — and that's when she turns to the other Jesus in her life.
"Maybe, without the encouragement from Jesus, it's just too difficult to do. Sometimes it just looks hopeless," she said. "I wanted so many times to give up, but I'm glad I didn't because it's so rewarding to see people come through and become an outstanding, clean and sober citizen contributing to the society."
Calling all HuffPost superfans!
Sign up for membership to become a founding member and help shape HuffPost's next chapter
BEFORE YOU GO
PHOTO GALLERY
Artist Builds Charming Mobile Homeless Shelters Out Of Garbage