A woman who was ordered by a British court to be quiet during coitus is making her point loud and clear: She refuses to stop screaming during sex.
Caroline Cartwright, 53, of Sunderland, England is apparently so noisy with her husband of 38 years, that a British judge in 2010 ordered her to keep it down because neighbors complained.
The order, known as an Anti-Social Behavior Order (ASBO), banned Cartwright from shouting, screaming or vocalizing when getting down and dirty for a 4-year period.
Now she is speaking out about her carnal controversy. On Wednesday, she discussed her lusty legal problems on ASBO and Proud, a TV special on Channel 5, a British TV network.
"It's not as if I'm having sex and think 'Oh, I'm making too much noise. I better be quiet,'" she said in the special, according to the Sunderland Echo.
The ASBO was issued after police came to the Cartwright home more than 30 times to silence the passionate couple.
Cartwright also breached a noise abatement order five times, and was given suspended jail terms of eight weeks and 12 weeks for violating the ASBO, UPI.com reports.
"I did not understand why people asked me to be quiet because to me it is normal. I didn't understand where they were coming from," she told a judge during a court appearance, according to the Daily Mail. "I have tried to minimize the situation by being intimate in the morning -- not at night -- to avoid disturbing sleeping neighbors.
"As far as I'm concerned, that's what you should be doing. Just relax. Go with the flow," she said, according to the Mirror.
She's made one concession to the neighbors: A less noisy wooden bed.
Before You Go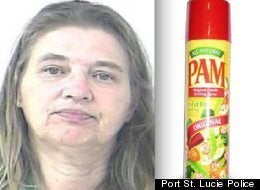 Bad Sex
Popular in the Community