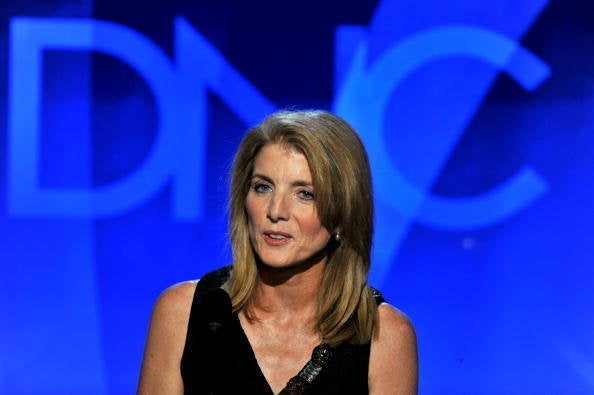 It seems Caroline Kennedy has decided she'd rather have a US Senate seat than a pony for Christmas:
Caroline Kennedy, the daughter of an American political dynasty, has decided she will pursue the U.S. Senate seat being vacated by Senator Hillary Rodham Clinton, a person told of her decision said Monday.

The decision came after a series of deeply personal and political conversations, in which Ms. Kennedy, who friends describe as unflashy but determined, wrestled with whether to give up what has been a lifetime of avoiding the spotlight.

Ms. Kennedy will ask that Gov. David A. Paterson consider her for the appointment. The governor was traveling to Utica today could not immediately be reached for comment.

If appointed, Ms. Kennedy would fill the seat once held by her uncle, the late Robert F. Kennedy.

Ms. Kennedy has been making calls this morning to alert political figures to her interest.
Really? She's "making calls this morning to alert political figures to her interest?" I guess it was either that or get her nails done.
Ms. Kennedy first telephoned the governor Dec. 3 to inquire about the job, but Mr. Paterson described that conversation as "informational" and said it was clear Ms. Kennedy had not decided whether she wanted to pursue the position.

But since, then, she has begun reaching out to key political figures in New York, such as Sheldon Silver, the speaker of the state Assembly, and State Comptroller Thomas P. DiNapoli. She has also hired Knickerbocker SKD, a prominent political consulting firm headed by Josh Isay, a former chief of staff to Sen. Charles Schumer, to advise her.
How about the public, huh? How about them? You know, those little people whose ordinary lives she hopes to enrich by her presence? How about getting out and talking to them? Maybe she could overcome her legendary shyness and tell people what she stands for? Now there's a thought. What exactly does she believe in? Why does she feel she's qualified? What does she hope to accomplish in office?
It doesn't seem to have occurred to her that letting people know where she stands on important issues of the day should matter, or that she should have to subject herself to public questioning. At best it seems like a political afterthought -- because she hasn't troubled herself to do so.
It appears Ms. Kennedy thinks that US Senate seats are something to lobbied for amongst political elites when one decides one wants them, and that the public should be happy to simply fall in line. The fact that one has a family political machine currently in the process of steamrolling David Paterson and a famous last name should be enough for the little people.
I thought at least she's get out before the cameras and start making her case to the public before she announced her intentions, because simply lobbying your well-connected buddies just oozes an outrageous sense of entitlement and insufferable pomposity.
I guess she'll take entitlement for a thousand, Alex.
Popular in the Community