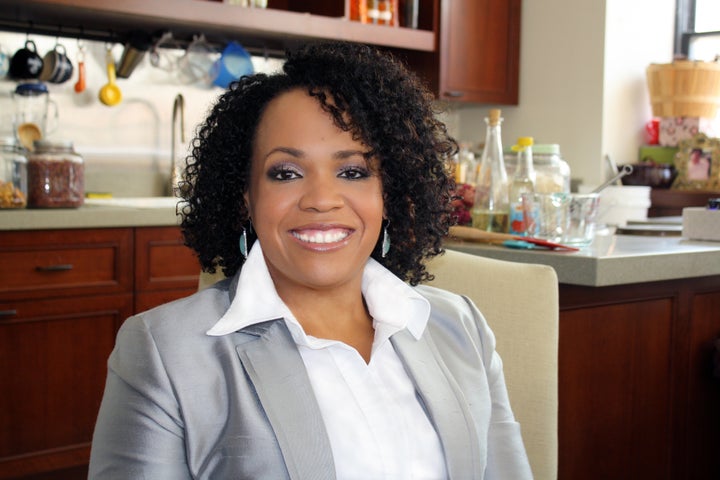 Lisa Price knew that something big had happened to her company when she walked into a New York Macy's store in 2007.
Price went in incognito, hoping to get the average consumer experience at the counter where shoppers buy her Carol's Daughter brand lotions and creams, hair oils, butters and scents, she said. Price was expecting a few floor displays. Then she saw the words "Carol's Daughter" attached to a wall.
"I thought these people must really be serious," Price said. "Somebody has put actual holes in the wall."
It was an amazing moment for Price. In the early 1990s, she was part of a television production team by day, and by night she was a one-woman product-concocting hobbyist-turned-entrepreneur. Actually, in Price's case, it was more like nights and weekends.
In 1993, Price's mother, Carol, convinced her to bring some of her handmade concoctions to a church flea market. Price spent about $100 to cover the fees, labels and a $25 lace tablecloth to make her display look a little more "homey," she said.
The church flea market and several similar events garnered Price a small following. Then a cadre of customers started visiting Price's Brooklyn apartment for holiday shopping events and populated the pages of Price's customer contact list. Being the 1990s, Price was collecting postal addresses, not email accounts; and she kept her recipes in an ordinary notebook. In the early years, the company sold about $5,000 to $6,000 in products.
The brand soon expanded from lotions to hair oils, butters, conditioners and other products. Then Price added a catalogue, a retail store in Brooklyn and then online sales.
In 2002, the company was featured on the "Oprah Winfrey Show." The daytime TV host and beauty product rainmaker declared herself a fan of the brand's foot lotion. From there, sales skyrocketed. The line that Price had once managed in her spare time, from a spare bedroom, reached $2.2 million in sales.
But then growth started to slow.
"I knew no bank was going to say to someone who was operating a business in her house in Brooklyn, 'Oh, here's $3 million. Let's make some butter,'" said Price.
Price pulled together the money to purchase a commercial building and began gradually moving out the shipping, manufacturing and other functions from her kitchen and spare bedroom. But there was still the lingering question of getting the capital needed to really rev up marketing and sales.
Price had been approached before by companies that made her feel like she needed to dance, or to audition for the level of investment that would allow the company to develop new products and reach new consumers.
In 2002, a friend suggested that she meet with Steve Stoute, a one-time music industry executive and now CEO of Translation, a marketing and ad company. Stoute listened. Then he told Price that it seemed the only thing standing in the way of becoming a full-fledged prestige beauty brand was the ability to write a check and move the project forward.
"I really knew that I had done everything that I could on my own. I mean, I had gotten on 'Oprah' without (having) a PR agent," said Price. "But I really did have to give it a lot of thought."
After some additional conversations, Stoute brought together a celebrity investment team that includes Will Smith; his wife, Jada Pinket Smith; and Jay-Z. The group invested about $10 million in Carol's Daughter. In exchange, Price surrendered an ownership stake in the company that she declined to specify.
"That was the decision that changed everything," Price said. "I honestly had not thought of Carol's Daughter as a beauty company."
In 2006, Sephora, a beauty products store, began selling Carol's Daughter products. Today, the company's products are among the top-selling items on The Home Shopping Network and in the Sephora sections of J.C. Penney and Dillard's department stores. Sales this year are expected to top $50 million.
The typical Carol's Daughter client is a 35-year-old or older African-American woman. The company would like its average customer's age to trend into the 20s. As the company grows, Price wants to continue to minimize the number of synthetic ingredients in its products. And she wants the company to become known for serving a variety of women's beauty needs.
"The world is becoming a much more multiracial place, and perpetuating the idea that Carol's Daughter is a brand for black women with natural hair alone can be limiting," Price said.
To help shift the company's image, the company has unveiled a new ad campaign featuring three celebrity spokesmodels, at least two of whom have relatively recent multiracial ancestry. The move has garnered some criticism. One blogger wrote that he was disappointed to see a black-owned company reinforcing a whiter or at least biracial standard of beauty.
"We want to expand," said Price. "And we do want to reach new customers, because there are a lot of people who do not always identify themselves or the products they buy by race. That's why we are trying to talk to our customers in terms of skin types and conditions, hair textures and types. But we want to do that without alienating our core customer. We extremely grateful for every one of them."
Popular in the Community