Congresswoman Carolyn B. Maloney, the U.S. Representative for New York's 12th congressional district, recently visited Greece in order to celebrate the fact that two Greek-American friends of hers, businessman John Catsimatidis and journalist George Stefanopoulos, had stamps issued in their honor by the Hellenic Post Office.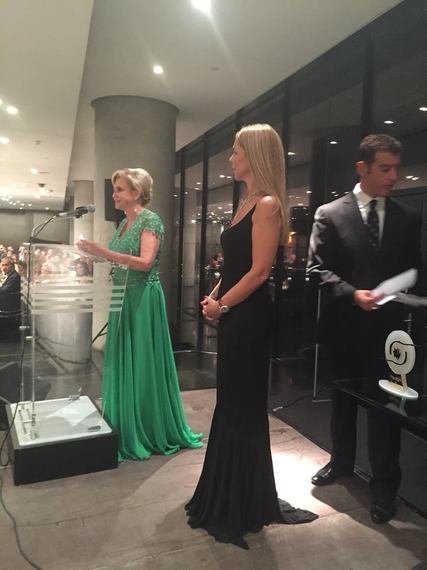 Carolyn Maloney accepting the commemorative stamp on behalf of George Stefanopoulos at the Acropolis Museum
Ms.Maloney retains very close ties with the Greek-American community as she represents a region with a large Greek-speaking electorate, is the co-chair and co-founder of the Congressional Caucus on Hellenic issues and is a ranking member of Congress' Joint Economic Committee. She is an avid supporter of the return of the Parthenon Marbles to Greece and retains a clear view of the so-called "Macedonian" issue, a long-standing dispute between the Former Yugoslav Republic of Macedonia (FYROM) and Greece concerning the name and history of the region.
In an interview regarding her recent visit, Congresswoman Maloney, whom her friends and constituents call "Bouboulina," (a legendary heroine of the Greek War of Independence in 1921) outlines her thoughts about everything Greek.

1) Congresswoman Maloney, kindly tell us the purpose of your visit to Greece.

The main reason I made the visit was to pay honor to and to celebrate the lives of some great Greek-Americans, including some friends of mine, like John Catsimatidis and George Stephanopoulos.

But, I also serve as the Ranking Member of the Joint Economic Committee and co-chair of the Congressional Caucus on Hellenic Issues so I have been closely monitoring Greece's debt crisis and recovery. I am happy to have the opportunity to meet Greek officials and citizens to hear from them, first-hand, about how daily life has been affected by years of economic depression and how they feel about their country's future. Greece is a critical ally to the U.S. and its strong recovery benefits the global economy. That is why I have strongly advocated for U.S. and international support for Greece as it regains its financial footing.


2) You are very close to the Greek Community of New York. How did this come about and how do you view your fellow Greek-Americans?

I have the honor to represent one of the largest Hellenic communities in the US outside of Greece and Cyprus in Astoria, Queens.

My constituents have taught me that the fates and the well-being of our two countries - these two amazing democracies - are inextricably linked. America has a role to play and interest in helping Greece.

3) One of the issues confronting Greece is the country's dispute with the Former Yugoslav Republic of Macedonia and its use of the name "Macedonia." What is your take on the matter?

While this issue is one that must ultimately be resolved between Greece and the Former Yugoslav Republic of Macedonia, scholars agree that ancient Macedonians were indeed Greek. The outrage over the Olympic coverage implying that Alexander the Great and Phillip II descended from the FYROM shows why this needs to be resolved and that any permanent name for what is today the FYROM must be mutually agreeable and historically accurate.

When Congress comes back into session, I will re-introduce a resolution that urges the Former Yugoslav Republic of Macedonia to work within the framework of the United Nations process and to work in good faith with Greece to achieve longstanding United States and United Nations policy goals of resolving the name dispute.

My resolution also encourages the United States Government to work with its NATO allies to uphold previous decisions at NATO summits, with regard to the enlargement issue.


4) Where do you stand with respect to Greece's quest to have the Parthenon Marbles returned to their country of origin?

I would like to add my voice to the swelling chorus of people who respectfully request that the British Museum return the Elgin Marbles to their rightful owners: The people of Greece.

They were originally sculpted by ancient Greek artists and meant to be displayed in the Parthenon temple of the Acropolis. The Parthenon is one of the greatest cultural monuments in the history of the world - and the world deserves the chance to see it as it once stood - complete with its Marbles.

I know it will be painful for the Trustees of the British Museum to part with the Elgin Marbles. After all, they have been on display in London for nearly two centuries now. But compare that loss to the great sense of loss that haunts the Greek people. They have been deprived of a breathtaking national treasure that was central to their culture, and that was created solely by them, 2,500 years ago.

I urge my counterparts in the British Government to do the all that is in their power to return these statues to where they rightfully belong.

5) You have called for U.S. government action to help boost Greece's economy as part of the "Hellenic Initiative." Could you elaborate on this?

I co-founded the Congressional Caucus on Hellenic Issues in 1996. The Caucus's main purpose is to strengthen the ties between the U.S. and Greece and Cyprus, which have been among our staunchest allies throughout history. In recent years, we have focused our efforts in directing U.S. support to Greece in particular while it faces great challenges of economic depression and the influx of refugees who are fleeing to Europe through the Greek islands in numbers unprecedented since World War II. Rep. Gus Bilirakis, Hellenic Caucus co-chair, and I have written to the Department of Homeland Security Secretary Johnson to offer assistance to his Greek counterparts in receiving and registering refugees and appealed to the Overseas Private Investment Corporation to help attract foreign investment to Greece. I have worked with the U.S. Department of Treasury to enable Greek Americans to send remittances to friends and family in Greece, but were prevented from doing so due to capital controls. I believe it is important for Greeks to know that the U.S. government will stand by them during their recovery and I continue to call on the Administration to provide support wherever possible.

6) You have known John Catsimatidis for many years. Tell us a little bit about him and your friendship. What do you think of his image being on a stamp of the Hellenic Post?

I have had the pleasure of knowing John and his family for over 30 years. We have celebrated holidays and special occasions together.

John as you know is also a constituent of mine. I am proud to represent a district with many amazing Greek Americans. John himself was born in Greece - on the island of Nisyros.

Today John is a successful businessman in New York City. John is also an incredible philanthropist. He is working with me now on my project to bring a pair of Giant Pandas from China to New York. John just brings incredible insight and organization to anything he gets involved with.

I think he is a person deserving of being honored with a stamp - a great example of a successful and proud son of Greece - who is also such a kind, caring and thoughtful individual.


7) Why do the Greeks of New York call you Bouboulina?

I am humbled by my honorary title of "Bouboulina." I hope it is recognition that I have been and will continue to champion the issues important to Greece and to the Greek people around the world.

The Bouboulina of Greek history was a brave woman warrior in the fight for Greek independence. I am deeply honored to be thought of with such esteem.


8) What do you think of Greece today?

We owe a lot to the contributions that Greeks have made to our society. They invented the modern city, Democracy and Theater. They advanced art and architecture. Their works of philosophy and literature still instruct us.

They have survived wars and tyrants, plagues and occupations, civil strife and devastating hardships.

The economic challenges for the Greek people now are severe. The economy has shrunk by about a quarter since the debt crisis began in 2009. Consumer spending is still weak and unemployment is the highest in the Eurozone, nearly 24 percent and roughly double that for young people.

But there is real hope that the tide is turning - the economy grew between April and June - it didn't contract. The government is implementing aggressive reforms to increase stability for the future.

I am hopeful about the future of Greece, and am always delighted to visit this beautiful country with such welcoming people.
REAL LIFE. REAL NEWS. REAL VOICES.
Help us tell more of the stories that matter from voices that too often remain unheard.