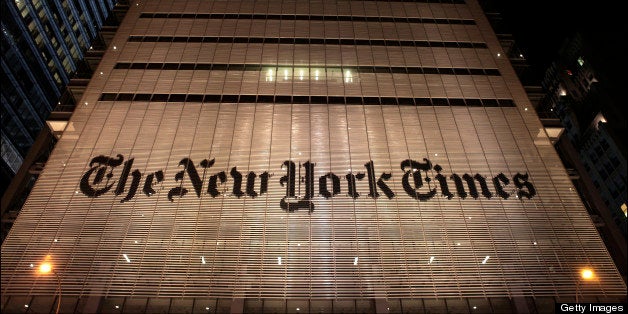 The New York Times announced Wednesday that metro editor Carolyn Ryan will be the paper's new political editor, taking a job previously held by Europe-bound Dick Stevenson.
In a memo, top editors Jill Abramson and Dean Baquet wrote that "it seems urgent to have a full-time political chief" given that there's a "mayoral race, the Clintons, an ambitious governor, congressional races and the walk up to 2016."
Wendell Jamieson, her deputy, has been promoted to metro editor.
Dear Colleagues,

In March 2008 the political editor of the Metro Desk spent a tense weekend working one of the most sensitive stories The Times has published. Our senior FBI reporter and, soon, a whole team of diggers had complete trust in her and then-Metro Editor, Joe Sexton as they carried out their work in secret, trying hard to confirm their story. On Friday, the political editor, who had hoped to publish that night but knew to hold off and push her team for still more reporting, went home at 2 a.m. She spent all weekend in the office, dispatching reporters to Washington, taking files from others in Albany, staking out the governor's swanky Manhattan building, and answering nudgy questions from the managing editor. Nervous about getting beaten, the Metro reporters all found steadiness as well as competitive zeal in their editor.

She seemed to have perfect instincts, knowing when to cut the tension with a joke. And when, on Monday, Carolyn Ryan said, "Hit it," The Times published its blockbuster on Eliot Spitzer.

No one needs a tuning fork to know that Carolyn has perfect political pitch and that no one's passion for the political story surpasses hers. Whether the story is New York's gay marriage law or Anthony Weiner's clients (no puns), Carolyn has completely dominated political coverage in our region. It was a no brainer to borrow her talents for the national political conventions and the 2012 campaign, where she had immediate impact.

While we may be cutting short her fabulous run as Metropolitan Editor, it seems only natural to turn to Carolyn to be our next political editor and lead our coverage. Yes, we are beginning earlier than usual, but with a mayoral race, the Clintons, an ambitious governor, congressional races and the walk up to 2016, it seems urgent to have a full-time political chief and Carolyn is raring to go. She will work closely and seamlessly with the Washington bureau, the fount of some of our strongest national political reporting and editing, with the ace political reporters here in New York and with the National and Investigative desks. She will assist Washington in the coverage of the mid-term elections.

Wendell Jamieson, whose very heart beats Noir New York, will be our next Metropolitan editor. He had been Carolyn's partner on all Metro has accomplished, helping to lead coverage on everything from police controversies to hurricanes. Like her, he is beloved by reporters and editors on the desk, in part because the chase is always more fun and interesting when Wendell is leading it. Although much is made of his tabloid pulse (because he once worked at The Post, New York Newsday and The Daily News), we are drawn to Wendell's flawless news head and his fascination with and knowledge of every aspect of New York.

He is the author of "Father Knows Less, or 'Can I Cook My Sister?' " in which he reported out the answers to his young son's wacky questions. He is a native of Park Slope and often notes that his Times career has improved along with his neighborhood. By the time he's done being Metro editor, no one will be able to afford a birdcage there.

Wendell takes the helm of a desk that is happy and performing at the very top of its game. Unlike Park Slope, it's hard to imagine the place getting any better, but we know it will.

Jill and Dean
REAL LIFE. REAL NEWS. REAL VOICES.
Help us tell more of the stories that matter from voices that too often remain unheard.