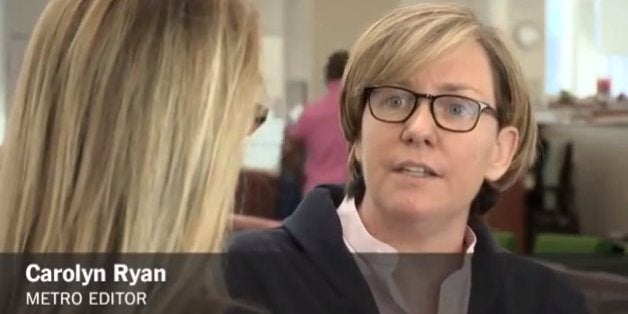 NEW YORK -- On the afternoon of Nov. 20, Carolyn Ryan stood in front of her future office in the Washington bureau of The New York Times and told staffers why the legacy of famed literary editor Maxwell Perkins, who worked with Ernest Hemingway and F. Scott Fitzgerald, might soon matter to them.
According to staffers who were present, Ryan said she was greatly influenced by a biography of Perkins she read after making the jump from reporter to editor. An editor's job, Ryan said she learned, is to "unleash" talent by nurturing reporters and energizing them to produce their best work possible. And that's what Ryan aims to do when she officially takes the reins as the paper's Washington bureau chief in two weeks.
The appointment of Ryan, 49, signals a change of direction for the bureau, which has been run the past couple years by David Leonhardt. A Pulitzer Prize-winning economics writer, Leonhardt took on the bureau chief job without any prior management experience and has never seemed suited for it. He's now launching a data-journalism venture within the Times that staffers see as a more natural fit for his talents than the day-to-day running of the bureau.
Ryan, by comparison, has managed large reporting staffs in New York and Boston and is known inside the paper as a fierce competitor who sets high expectations. Such attributes can benefit the the Times' Washington operation, which appears to be stepping up efforts against Politico and others in driving the political conversation of the day. Ryan may help ward off the complacency that news outlets long at the top of the media pecking order can sometimes fall prey to.
Some of the paper's rising stars are quick to praise Ryan, telling HuffPost how she's elevated their work in recent years. Reporter Michael Barbaro said Ryan is "by far the most influential editor" he's ever worked with.
"You come to know what kinds of details will make a story worthy of her standard and passions," Barbaro said. "Those are hard to get, behind-the-scenes nuggets and you gun for them. The bar is high and you want to meet it."
He described the "Carolyn special" -- a type of story that breaks conventional wisdom, such as metro reports on how Mayor Michael Bloomberg doesn't take the subway like a typical New Yorker or follow his own dietary prescriptions when it comes to salt. Ryan, Barbaro added, also has pushed for more memorable enterprise stories that have taken the paper's New York political reporters outside the five boroughs, such as following Bloomberg to Bermuda and London.
"Many reporters who have worked with Carolyn, including me, can attest to her transformative impact on our journalism and our careers," said Times reporter Nicholas Confessore. "She sets extremely high standards -- attempting to meet them inevitably raises your game."
Still, it remains to be seen how Ryan will handle more established Washington reporters at the Times, who may chafe under directions to get more details, more color, more scoops. Ryan isn't doing interviews until she starts at the Washington bureau, but several current and former colleagues suggested to HuffPost that she will be a force for change.
"If you're really hardworking, you can't get anybody better," said Frank Phillips, a veteran statehouse reporter for the Boston Globe who has known Ryan since her early days as a political reporter for The Patriot Ledger in Quincy, Mass.
However, he added, "she doesn't suffer fools -- especially lazy fools -- gladly."
Phillips said that while Ryan has edited several "young kids who run through fires for her" at the Times in New York, she may find more resistance from Washington veterans. Ryan is a political junkie, but she comes to the bureau chief job having only lived in Washington for a semester during college, a period when she worked as a waitress and once served then-Senator John Kerry, she recalled to staff.
Boston Globe editorial page editor Peter Canellos, who hired Ryan in 1999 from the Boston Herald and once served as his paper's Washington bureau chief, said he expected Ryan to bring a "a fresh jolt of energy" to the capital.
"I think she'll take a talented bureau that is a great credit to The New York Times and push it to be more immediate, more attuned to breaking news and better able to leverage its superior assets in Washington," Canellos said.
How Ryan runs the Washington report will be watched closely by Times Kremlinologists.
Since arriving from The Boston Globe in 2007, where she served as both metro and political editor, Ryan has quickly risen through the paper's ranks. She started as deputy metro editor for government and politics, helping run major stories like the Eliot Spitzer prostitution scandal, and became the metro editor in 2011. Appointed political editor this past May, barely six months later she was tapped to be Washington bureau chief, a perch previously held by both executive editor Jill Abramson and managing editor Dean Baquet. Ryan is a favorite of Abramson's and seems to grasp the internal politics of the Times, fueling speculation that she could someday run the paper.
Ryan has yet to handle running a major national security story out of Washington, but in six months as political editor, she has energized the paper's coverage. She poached Politico's Jonathan Martin and the Washington Post's Jason Horowitz, while bringing Amy Chozick over from the Times' business desk to cover presumed 2016 presidential candidate Hillary Clinton.
Martin, who became the Times' national political reporter in May, said that Ryan "was a really important part of why I went there."
"She has an ability to find the best news and analysis in what you have and then pushes you to get more, to find more -- more color, more details, more reporting," Martin said. "She brings it out of you."
"She's a classic reporters' editor," he added.
Current and former colleagues say Ryan urges reporters to dig into tensions and conflicts among key players in American politics. Several recent Times politics stories reflected that editorial vision, and generated considerable buzz, including front-pagers on the "civil war" being waged within Republican Party, "unease" inside the Clinton Foundation and "dispute" among members of the Cheney family over same-sex marriage. Chozick and Martin wrote a front-page story Sunday that looked deeply into how the Clintons are working to rebuild relationships with African-Americans in preparation for a likely 2016 run.
"She's one of the few people who can understand the needs of a more serious broadsheet, but she's not a creature of it," Canellos said of Ryan, who cut her teeth at a Boston tabloid. "She wants to pick up the paper and see things that people want to read."
It's fair to wonder whether reporters complimenting their editor are doing so to score brownie points. But Martin's, Confessore's and Barbaro's remarks -- at least to this reporter -- sounded sincere. And they were echoed by ABC News political director Rick Klein, who reported to Ryan when he was in his early 20s at the Boston Globe.
Klein acknowledged that "working for her is not easy," but like others mentored by Ryan in their 20s and 30s, he praised her tutelage.
"You find yourself wanting to please her," Klein said. "You want to deliver on her curiosity. She has a manner about her that you want to jump through walls with her. You want to deliver."
Related
Popular in the Community