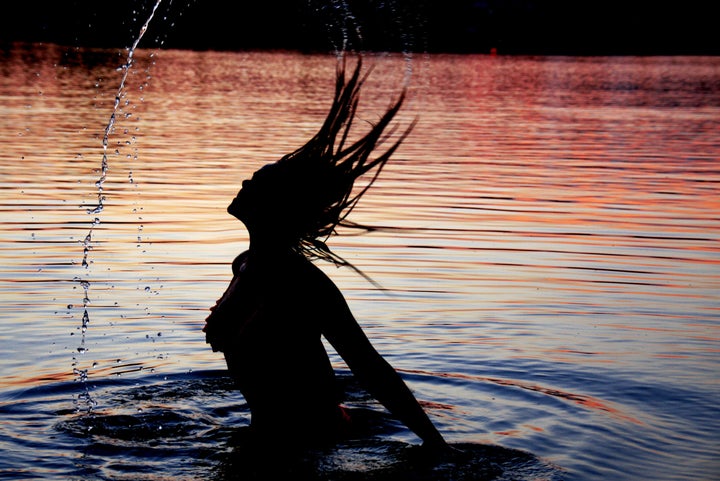 Why are mermaids rising up so strongly in our pop culture? In music, Lady Gaga, Beyonce, and Madonna adorn themselves with fabulous fins; mermaids are charismatic characters in new novels; television's Animal Planet scored high ratings for Mermaids: The Body Found. Can new films starring animated or real-life mermaids be far behind?
This enduring myth is again capturing our collective imaginations. Unlike Hans Christian Anderson's The Little Mermaid, who gives up her voice, but is still not chosen by the prince -- Carolyn Turgeon's bestselling Mermaid portrays women who rival for the prince, but end up saving each other's lives. Does this mean that women are no longer waiting for the prince to wake us up, to give us back our voices, or to make us human?

Recently, I met with Carolyn Turgeon after she'd interviewed me for my novel, The Drowning World. As sister authors who have both chosen mermaids for our main characters, we imagined what's possible for 21st century mermaids.
Carolyn, your popular blog, "I Am a Mermaid," follows all things mermaid. Why do you think mermaids are making such a big splash these days?
A lot of people writing about, painting or actually becoming mermaids today are people who grew up watching and loving Splash and The Little Mermaid, which had such an enormous influence and helped shape so many of us (especially women!). I know the influence they had on me. When Daryl Hannah got into that salt-filled tub and spread out her tail for the first time -- that was pure magic and possibility.
But also: the mermaid is female, primal and untamed. She's super hot and yet she has no genitals and might actually kill you if you get too close. These are ladies from the deep ocean -- they're death and birth and the subconscious and the great mother. At the same time, they're Ariel, perky and accessible. They're contradictory, hybrid, and, more than anything, they're powerful. For women, I think mermaids represent the ultimate freedom.
As for why now, I think this weirdly sexed and conflicted symbol of wild female power makes a lot of sense. She encompasses a whole lot of anxiety and longing in an awfully pleasing manner!
Brenda, you come from a much more ocean-centered background than I do and I wonder how much your ocean work informs your own interest in mermaids?
Yes, two decades of writing about dolphins and whales and living right on the Salish Sea, listening to surf, even in my dreams, almost makes me an amphibious "mind in the waters." My characters in The Drowning World are hybrids: half-human and half-dolphin. That means they are smart, adaptable and have super powers of echolocation, shape-shifting, time travel and even tattoos of sound. They also have signature whistles and acoustic cloaks that make them invisible to humans. Carolyn, how have mermaids made you see the world differently?
When I started writing Mermaid I had no idea that there were people out there who identify as mermaids, who actually put on mermaid tails and swim in the open ocean, their local lake or their backyard pool. I started my blog and then this whole world opened up to me. I ended up meeting so many mermaids, going to mermaid camp at Florida's Weeki Wachee Springs, attending the first mermaid convention in Las Vegas in 2011. I got my scuba certification in Nicaragua after years of avoiding the ocean. And last summer, I even took a diving trip with a boat full of mermaids in the Bahamas and swam with sharks. One thing about mermaids: They love the ocean and work hard to protect it. You can't talk to them without wanting to dive in yourself -- and eventually, I did.
I'm also continually fascinated -- and inspired -- by people who incorporate fantasy and magic into their everyday lives. What about you, Brenda? Were you aware of all those real-life mermaids out there? Did you ever identify as a mermaid yourself?
I drowned at the age of two and that near-death experience left me with such curiosity and devotion to all things ocean. Like my main mermaid character, Marina, in The Drowning World, I came back to earth feeling half-human myself. Hybrid. Since childhood, I've identified with shape-shifters, especially mermaids. I had imaginary friends who were dolphins. Still do! But now they're real: As a stranding network volunteer, I've comforted a dying, newborn dolphin; I've babysat a seal pup on the beach where I started the grassroots naturalist group Seal Sitters; I've sung lullabies to Friendly wild gray whales in Baja working on my National Geographic book Sightings. This is a water world to me. Water is awake. It is magic. We evolved from the primal seas -- we're all water babies.
Since we've got mermaids on our mind, how do you think mermaids will change the way women see ourselves in the 21st century?
I like to think that more and more women will incorporate the wild, primal power and beauty of mermaids into the way they see themselves and experience the world, whether or not they put on mermaid tails or read our novels or ever use the word "mermaid" to describe themselves.
Our 21st century mermaids are more real, complex, surprising, sexy. Their own watery worlds are as compelling -- and endangered -- as our own. Wouldn't it be wonderful if we had a fiercely romantic mermaid mini-series to rival all the endless battles and power struggles of Game of Thrones? Or The Hobbit trilogy?
Why don't we write it, Carolyn? What's the plot, the quest? Is the mermaid on a heroine's journey? Is her storyline more about love than power? Or is love her truest power? Stay tuned.
Related
Popular in the Community