One man is honoring veterans' service one gravestone at a time.
Andrew Lumish, a self-employed carpet cleaner who lives in Land O' Lakes, Florida, spends every Sunday, his day off, cleaning veterans' gravestones.
Lumish told The Huffington Post that he's been paying tribute to veterans in this manner since early 2013, but his thoughtful act recently went viral after local station ABC Action News picked up his story last week. Since then, a video featuring his generous act has garnered more than 10 million views on Facebook.
"I'm humbled by the kindness," Lumish told HuffPost of the outpouring of support he's gotten since the video went viral. "It kinda shakes you to your core to see that you have affected people all over the world -- so much so they're saying such kind things about you and that you're inspiring people."
Since he began this Sunday ritual, the carpet cleaner has washed about 250 graves. Lumish, a self-proclaimed history buff, told HuffPost that he was inspired to clean veterans' gravestones after discovering some old Southern cemeteries a few years back.
"The most disturbing part for me was the poor condition of monuments of veterans of this country," he told HuffPost. "They were in such terrible condition and it ... upset me."
So Lumish, who also has friends in the military, including a few who've died, decided he wanted to do something about it and give the veterans the "proper respect for fighting for our country." He said he began learning about how to safely clean different types of stones, stressing that only certain products and utensils can be used in the delicate cleaning process. He eventually started on the job, cleaning about three to six graves every Sunday.
"I'd be all dirty when I was done, I'd have fire ant bites from ... trying to get everything nice and clean. And it was the best feeling I would have during the course of my seven-day week every week," he explained to HuffPost. "No matter how dirty or bitten up I was -- that was one of the best things I could do all week long."
While Lumish loves what he does, he told HuffPost that he does question whether what he's doing is completely legal, as he will occasionally enter private cemeteries to clean veterans' graves. But he said that he always makes a judgment call before he begins his work, and chooses to only clean the graves which have been visibly untouched for some time. So far, he hasn't met any trouble.
"I find the worst of the worst. I look for obvious tombstones where no one has been in decades," he says, and mentions that he usually doesn't clean tombstones from after World War II.
Though it's not easy work, Lumish said he'll "never stop."
"The thought of the service -- the thought of the people losing their lives -- those things will all keep me going," he said. "You might be tired, you might have a rough day... it's nothing in comparison to the ultimate sacrifice that people have paid whether on the battlefield or psychologically. It's not even close."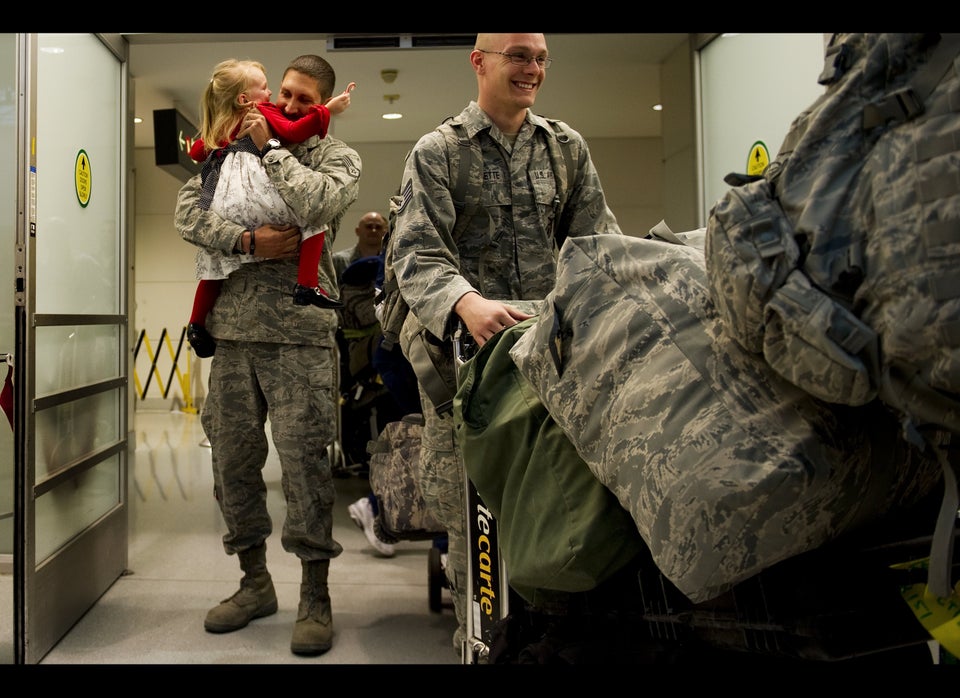 Soldier Homecomings In The U.S.
Related