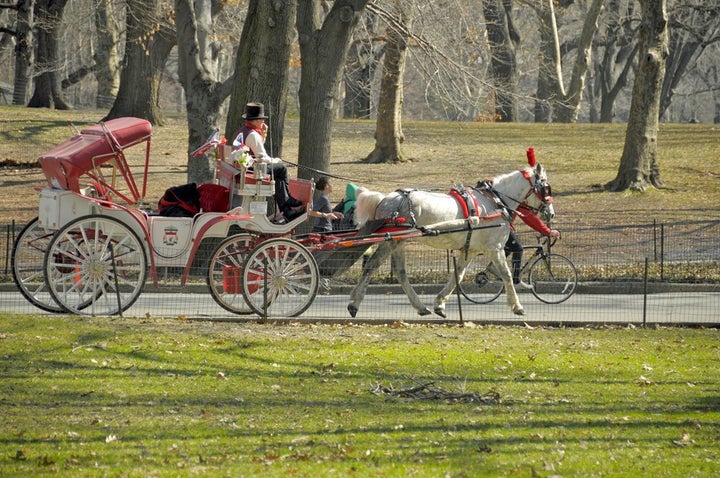 MIDTOWN -- Charlie the Central Park carriage horse, who dropped dead on his way to work in Midtown, was suffering from a pronounced, chronic ulceration of the stomach and a fractured tooth before his death, according to his preliminary necropsy results.
The horse's cause of death has yet to be determined, but the necropsy results likely meant Charlie was in severe pain prior to dropping dead en route to work at 54th Street and Eighth Avenue on Oct. 23, according to the ASPCA, which performed the necropsy.
"We are very concerned that Charlie was forced to work in spite of painful maladies," said Dr. Pamela Corey, director of equine veterinary services for the ASPCA's humane law enforcement department. "And these particular health issues can be difficult to diagnose because draft horses are by nature a stoic breed, not displaying signs of pain until they are very severe."
The necropsy was conducted at the Cornell University College of Veterinary Medicine.
Charlie's death has ignited an outpouring of sympathy and anger from animal rights activists, some of whom organized a candlelight vigil for the fallen steed on Friday night.
Edita Birnkrant, of Friends of Animals, said that roughly 100 people turned out for the event, including State Sen. Tony Avella and State Rep. Linda Rosenthal, who discussed legislation they have proposed to end the carriage horse industry in New York City.
"It was a very touching vigil," Birnkrant said. "We marched over to the spot where Charlie died and said a few words and had a moment of silence."
The memorial continued with a walk to the Clinton Hill Stables, where Charlie lived. Signs reading, "We miss Charlie more than you do," were taped across the stable walls, likely posted by carriage drivers in anticipation of the procession, Birnkrant said.
When she learned about the severe pain Charlie suffered before his death, Birnkrant said the news did not shock her.
"These horses are just commodified," she said. "Whenever you operate under that premise, the welfare of the horses is never going to be a priority."
Charlie was 15 years old and had only been a carriage horse for a few weeks, having recently moved to New York City from an Amish farm.
"Most of them wouldn't have been alive if they didn't have a job," Bloomberg said.
But Birnkrant said her organization and others will continue to work toward an end to carriage horses in New York City.
"We think that they should be able to live a life of freedom, as a horse should," Birnkrant said. "[And] we don't want to wait until another horrible accident happens."
Popular in the Community