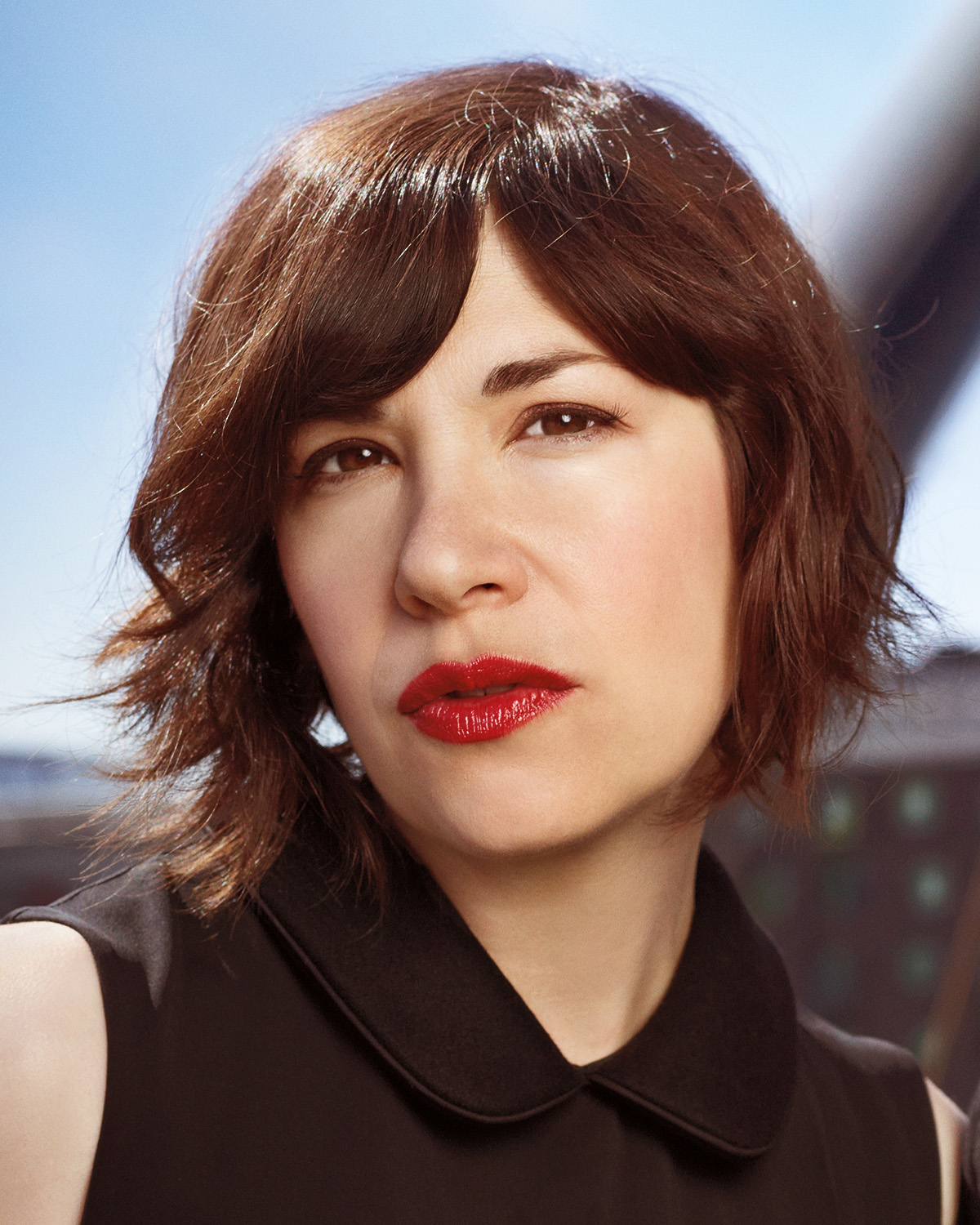 Portlandia's Carrie Brownstein wrote a short story for an exhibition catalogue of
Yoshitomo Nara's work in 2003. Photo courtesy of IFC

Before Carrie Brownstein became famous for her array of mischievously hipster-harpooning characters on IFC's edgy hit, Portlandia, she already had legions of fans for her band Sleater-Kinney -- an all-female ensemble credited with paving the way for women in the late '90s male-dominated alternative music scene. Always a creative rock star, she continues to play in bands, and has somehow found time to be a successful writer, having contributed regularly to The Believer and NPR. Last year, she published Portlandia: A Guide for Visitors, a satirical travel guide co-written with Portlandia co-star and Saturday Night Live alum, Fred Armisen (himself the former drummer of Chicago post-punk band, Trenchmouth).
One of her unforgettable pieces, sealing her fate as a serious art lover and writer, was "Light My Fire," a short story inspired by Yoshitomo Nara's eponymous sculpture. The story was commissioned for a 2003 exhibition catalog for the Museum of Contemporary Art Cleveland, and took on the Japanese artist's fascination with punk rock and teen angst -- further cementing her place as indie artist extraordinaire. It was also one of the first things she ever published, and remains, she says, "one of the most dear."
Christie's caught up with Brownstein during a break from shooting Portlandia's fourth season to opine on Nara's work and how, pre-Nara, the conflation of indie and Pop culture was only just beginning. In advance of an online-only auction of contemporary Japanese art from Sept. 17 to Oct. 1, Brownstein speaks to Nara's mastery of mischief and his mighty chops.
I know you're a big Yoshitomo Nara fan. How did you first discover his work?
I went to this giant show that was an introduction to contemporary Japanese art called "Superflat" [in 2001] and I was drawn to Nara's work. I loved the almost haunting but also very exhilarating juxtaposition between the child-like quality of his work and an almost punk rock fierceness -- with a wisdom beyond their years, and the threat of mischief that's just bordering on malevolence.
His work spoke to me in a way where I thought about how adults underestimate kids all the time. When you are a child, you feel underestimated. And as an adult, you underestimate the power and the acuity or the abilities of children in certain ways, especially for them to have a dark side, a mischievous side. I wrote a little bit about that with "Light My Fire."
How did you get involved with that?
I was approached by the museum and I was excited about how much Nara loved music, talked about music in interviews, and infused [his work with] that sensibility that music has to surprise and to catch people off guard, but not necessarily in a shocking way.
What did you notice about the work?
He's very excited about the idea of a small explosion, or looking for the device that's going to detonate in a piece, where it's not obvious. But if you look closely enough, you sort of see a fuse in his work that's potentially there to surprise or destroy or light up in some way. It's not always dark. A lot of his work has frivolity, but I do love that contradiction.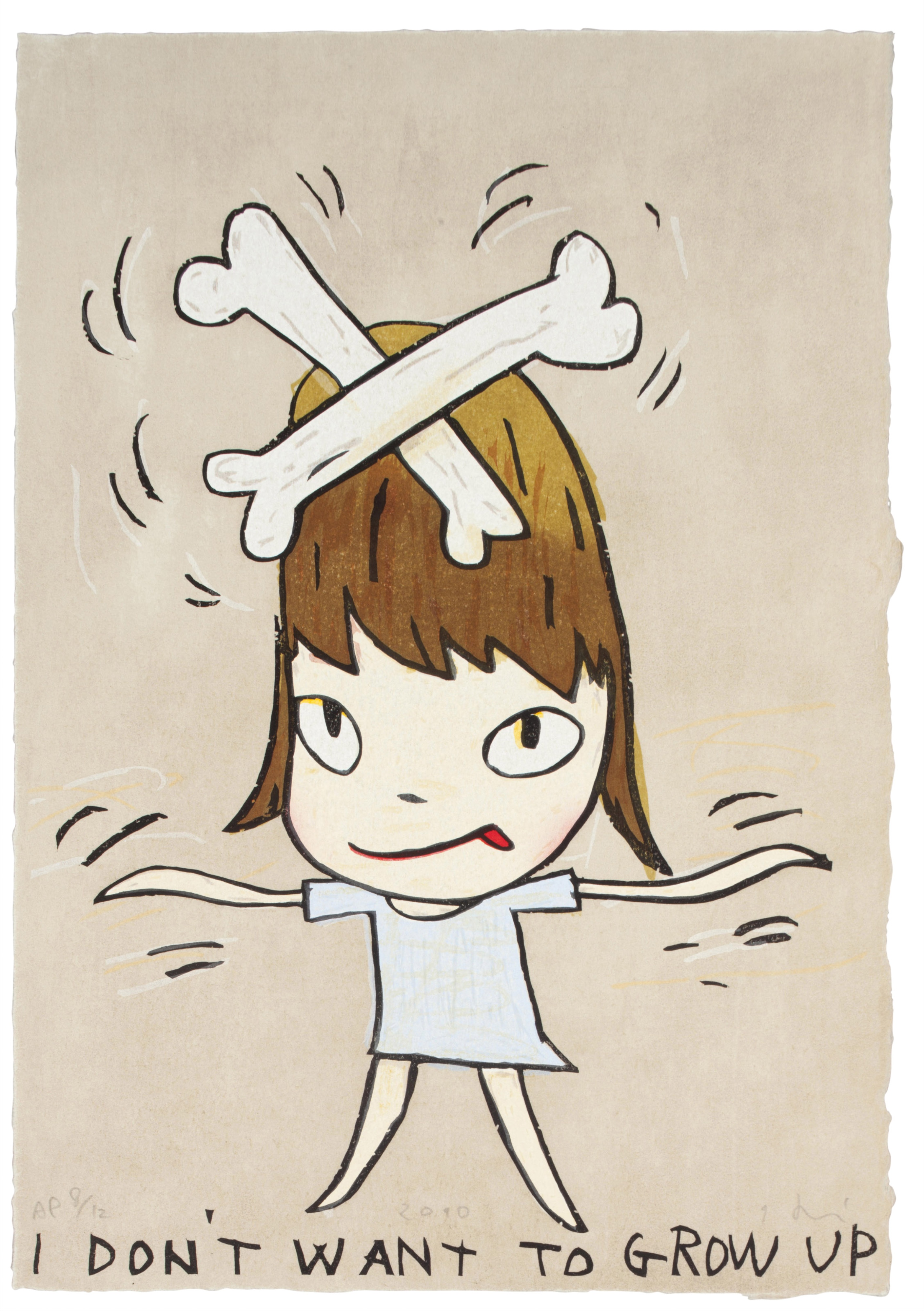 Yoshitomo Nara, I Don't Want to Grow Up (2010), woodcut in colors on Japon paper; © Christie's Images and Yoshitomo Nara

Does visual art influence your music, writing or acting?
Sometimes it does, for sure. I'll go to a museum if I'm traveling. Or see if there's a visiting art exhibit. It's not so much about the specificity of a certain work. But I think the immersive quality that visual art has -- it's such an evocative medium, and it's one that you can get lost in. Sometimes, with lyric-writing or acting, you can become over-focused on the small facets of a character or of a lyric. Of course, you want to have a grasp of those things, but you also want to be able to step back and exist in the feeling. So I think it's sometimes informative or inspiring to stroll through a museum.
Whether it's [viewing] a Giacometti sculpture, which are haunting when they're disappearing into space and time, or even going to see [Mark] Rothko or the Alexander McQueen exhibit [at the New York Metropolitan Museum of Art, in 2011], to just be in relation to something of scale, of substance -- and that tactile, tangible nature of visual art -- can help you find the meaning you couldn't with a sentence.
Was Nara's international popularity in the 1990s an accident?
I think in the early days of the internet that people's interests started to get broader. There was an excitement about the parity that existed between what kids were doing on one continent or another.
Nara's influences, especially his music influence, gave it an edge that appealed to the underground but had an accessibility that made it popular -- this mixture of subversion and accessibility. I think he was one of the first artists to do that in contemporary times, and I think that's why he has the reputation he has today.
You've been successful in many mediums. Do you make visual art?
It's actually a funny question today because we're shooting season four of Portlandia, and this morning we shot a sketch where I was supposed to be a painter in a class. And I was constantly reminded with every brushstroke -- and even the way I was holding the brush -- that I have a paucity of visual art skills. I think I have a good aesthetic sense but no real means of executing it. So I just have to appreciate the other pseudo-talents that I have and just leave the visual art to other people!
Popular in the Community