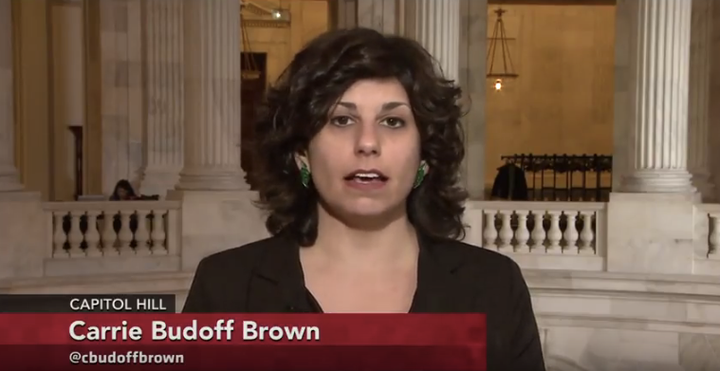 NEW YORK ― Politico has named Carrie Budoff Brown the publication's next editor, succeeding Susan Glasser, who had previously announced plans to move to Israel after the 2016 election.
John Harris, who co-founded Politico in 2007 and currently serves as publisher and editor-in-chief, described Budoff Brown in a staff memo as having the politics and policy outlet "in her blood, and her passion and protectiveness is like that of a parent for a child."
Budoff Brown is one of Politico's longest-serving employees, having joined the newsroom on the day it launched in January 2007. She's lived through Politico's transformation from scrappy website and Hill-centric newspaper to a politics and policy powerhouse boasting over 250 staffers in Washington, along with outposts in New York and Europe.
After covering the 2008 campaign, Budoff Brown jumped to the White House beat through 2014. She headed to Brussels to join Politico Europe, which launched in spring 2015, initially as associate editor and senior policy reporter, but was soon promoted to managing editor.
The Huffington Post reported last month that Harris was hoping to choose Politico's next editor before the political conventions, which begin Monday in Cleveland, and that Budoff Brown was one of the company's top internal candidates.
There were doubts among Politico staffers that Budoff Brown would return to the states so soon after moving to Europe ― even if offered such a prestigious post. But buzz inside Politico's Rosslyn newsroom over the past week signaled Budoff Brown was the leading contender. The New York Times reported Monday she was getting the job just before the company's top brass kicked off a newsroom meeting to officially announce it.
In Monday's memo, Harris wrote that Glasser would still remain in charge of Politico's coverage through the presidential election before becoming a foreign affairs columnist.
The promotion of Budoff Brown, who has deep experience throughout the Politico newsroom and is well-liked among colleagues, should make for a painless transition at a company that's been rocked by change this year. Just days before the Iowa caucuses, Politico announced co-founder and CEO Jim VandeHei, Playbook writer Mike Allen, and Glasser would all be leaving after the election, along with other executives departing even sooner.
VandeHei and Allen have said they are starting a new company, while Glasser plans to move to Israel, where her her husband, New York Times reporter Peter Baker, is headed as the paper's next Jerusalem bureau chief.
VandeHei ended up leaving the company in April, several months ahead of schedule. While Allen will remain through the election, the company recently handed the reins of Playbook to Politico reporters Anna Palmer and Jake Sherman, who kicked off the next incarnation of the influential tipsheet just hours Politico's before new editor was revealed.
Read Harris's full memo below:
Team,

My most important assignment for 2016 fell upon me late in 2015, when the incomparable Susan Glasser shared news that she planned to move to Jerusalem on an unbeatable professional and family adventure.

In the nearly 20 years we have been friends, Susan has established herself as one of the most talented and innovative editors of our era. In the three years since she came to POLITICO, these gifts produced outsized results: our award-winning magazine, a redesigned site, new capacities in our newsroom for investigative enterprise and profiles. Excellence is the word we most associate with Susan, and her unyielding commitment to it mattered most in the realm of people. Recent years have seen an influx of talented reporters and editors to POLITICO—exceptionally creative journalists drawn to our original vision of a publication dominating politics and policy, and the new expressions of that vision Susan and her team were creating.

Susan, of course, will remain with our publication, as the editor in charge of our coverage, through the presidential election, then staying on as our new chief foreign affairs columnist from overseas. She will help Robert Allbritton and me in a strategic role as director of editorial innovation, as we look for ways to create new platforms and grow our brand globally. But finding someone to take her editor's chair here in Rosslyn was among the most formidable assignments Robert has ever given me.

In this choice I was looking for someone who understands and represents POLITICO values; who will protect and expand the new platforms, such as the Magazine and Agenda, that we have built in recent years; who will constantly light fires of ambition and competitiveness and be fiercely intolerant of complacency. Most of all, I was looking for someone who shares my and Robert Allbritton's commitment to POLITICO as team—who believes that great journalism and publication-building should be a joyfully collaborative enterprise, and the only way to do it right is to be having fun along the way.

I have found that person, and Robert has enthusiastically accepted my recommendation.

Our next editor is Carrie Budoff Brown.

Carrie, a star reporter turned accomplished editor who bears much credit for the successful launch of POLITICO Europe over the last year, has a vision for the next chapter of our POLITICO journalism as we enter our second decade that Robert and I found exhilarating. We are excited beyond words for everyone across every division of POLITICO to learn more about this vision, and then lock arms with her as we carry it out. It is a vision of ascendancy, which will draw upon the talents of some 250 people in our newsroom, across every policy team, to ensure that we are the dominant news organization covering Washington with the start of a new administration next year. It is also a vision of urgency. As someone who joined POLITICO the month before we launched in early 2007, she understands as well as anyone the fluidity of the media business, and the imperative of never standing still.

This was the most serious deliberation on a leadership choice undertaken during POLITICO's first decade, and after consulting widely I concluded that while there were some very intriguing outside candidates, it seemed to me there has never been a deeper or richer roster of journalistic talent inside POLITICO than right now. These are people who understand what makes our publication special. POLITICO is in their hearts. Their achievements are the most impressive in our history. The potential for future achievement is virtually unlimited. The challenge, it seems to me, is more akin to an orchestra conductor—how to make every instrument heard, and in full harmony with each other. It seemed ideal if we could find that person within our ranks.

Carrie was my choice. Here's why.

Carrie has an extraordinary POLITICO story. This is a publication for risk-takers. Within days of Robert, Jim VandeHei, and I announcing this venture, Carrie reached out to us, then total strangers. Despite our public bravado, our success was far from assured. But the prospect of building something new at a time of disruption fired something in Carrie. She was a key player in our first great chapter—as we took advantage of the opening of the 2008 campaign and again as the new administration came in. Then when POLITICO needed to show we could be more than just great at campaigns, Carrie helped us show we could cover governing too, leading POLITICO's coverage of President Obama's overhaul of health care, which in turn led the competition. That success proved we were as much a policy news organization as a political one, providing a template for what are our now 18 policy desks. In effect, Carrie was the first Pro reporter.

Next, Carrie was instrumental in a new venture, the launch of POLITICO Europe in Brussels. Once again, this move was a risk as we took our approach to an entirely continent. It has worked stunningly, above all because of the leadership that Carrie and her partner—the brilliant Matt Kaminski—showed in making it work. In this venture we saw Carrie take skills she always had—an ability to quickly establish respect among newsmakers and colleagues—and put them to work as a manager and leader. I have never witnessed someone take editing reins so smoothly and self-confidently as Carrie.

As a co-founder, Carrie has POLITICO in her blood, and her passion and protectiveness is like that of a parent for a child.

Her appreciation of policy coverage and her vision for nurturing and fully integrating the policy teams builds on the huge strides Susan, Marty Kady, and Peter Canellos have taken the past couple years. This work is more urgent than ever at the start of a new administration.

Finally, Carrie's gift for human connection is an indispensable asset in a newsroom that is now a large place—filled with some people who have been here for years and others who have just arrived this year. We are all equally POLITICO citizens, and part of POLITICO's next great act.

Our mission remains: to set the agenda in every political and policy arena where we compete, offering indispensable original journalism for those who work depends on understanding the intersection of politics, policy and people – and the millions more who want to understand it.

I know that this mission is in the best hands with Carrie and the team she is leading. She'll transition from Brussels to Rosslyn this fall and plan to officially take the helm right after the presidential election.

Thanks to her for taking on this assignment. Thanks to Susan for giving her such a strong hand to play, with our newsroom doing its best work. Thanks to Robert for helping me in this search and embracing my recommendation. And thanks to everyone in this organization for your patience during this process, and for your daily breathtaking efforts.

Let's get to work, and have some fun.

John
Related
Popular in the Community