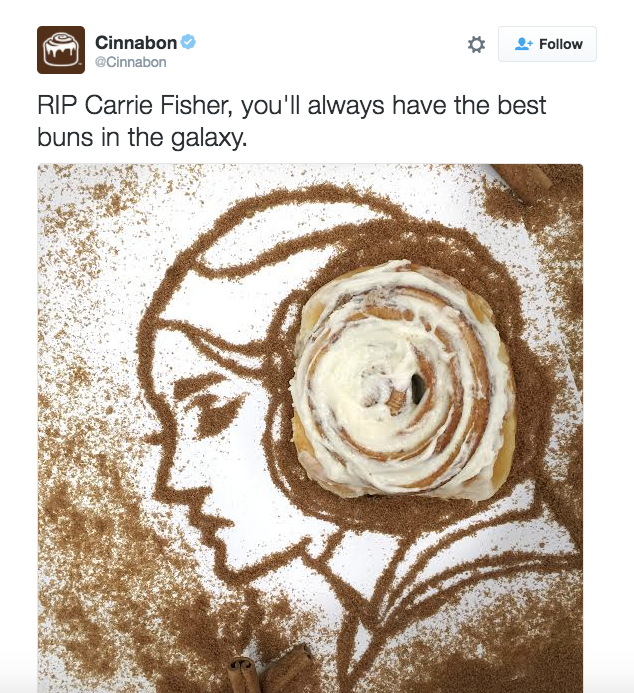 A tweeted tribute to Carrie Fisher by the Cinnabon chain is leaving a bad taste in the mouths of some "Star Wars" fans.
The tweet, which has since been deleted, read, "RIP Carrie Fisher, you'll always have the best buns in the galaxy." The accompanying photo showed a portrait of Princess Leia done in cinnamon and sugar with the company's cinnamon buns in place of the character's trademark hairstyle.
Fisher herself had dubbed the look "cinnamon buns," but that didn't make the day of the actress' death a good time to bring it up. In fact, considering that no good ever comes of using a celebrity's death to promote a product, the reaction from Twitter users was unsurprisingly quick and harsh.
Cinnabon has not responded to The Huffington Post about the now-deleted tweet, but posted an apology a few hours later.
The brewing storm is similar to the one that blew up in General Mills' corporate face after Prince died in April. The cereal company put out a tweet featuring the words "Rest in Peace" against a purple backdrop. In place of the dot over the "i" was a single Cheerio. 
New York-based crisis management expert Jessa Moore told HuffPost at the time that there is really no good way for a corporate brand to honor a celebrity's death.
"It's insensitive," Moore said. "It's like they're saying, 'We're going to capitalize on [a celebrity] death so we show up in a search algorithm.'"
UPDATE: This version of the story has been updated to include Cinnabon's apology tweet.
Calling all HuffPost superfans!
Sign up for membership to become a founding member and help shape HuffPost's next chapter
BEFORE YOU GO