During a panel discussion at Star Wars Celebration Europe this weekend, Carrie Fisher, aka the iconic Princess Leia, seemingly revealed what might be a pretty big spoiler for the upcoming "Star Wars Episode 8."
When panel host Warwick Davis asked Fisher what she knew about the time period between "Return of the Jedi" and "The Force Awakens," Fisher seemingly mistook his question to mean the time between "The Force Awakens" and "Episode 8." As a result, she let slip two little words that caught everyone's attention.
"Han's funeral…" Fisher said, before realizing she may have just said something she wasn't supposed to. But she quickly corrected herself, according to Geek Feed.
"The old one, oh," she said, "Han and I have a very, very volatile relationship, obviously, which leads to space divorce as you know. No, I don't think we are divorced ― just estranged."
"We had a child who turned out to be Hitler," she added, according to Yahoo! Movies. "I did spank Adam [Driver] when I first met him so that felt good. He's very tall so I don't think he was scared."
But let's backtrack a little bit to that part about "Han's funeral." Do those two words mean Leia prepared Han's funeral, and we'll get to see it at the beginning of the next film? It would be nice, considering we didn't really get to give the captain of the Millennium Falcon a very good sendoff. (Thanks, Kylo Ren.) Or did Fisher mean that Leia and the rest of the rebels had already attended Han's funeral in the time period between "The Force Awakens" and the next film? If so, that would mean we probably saw the last of Han Solo.
We can't come to any conclusions just yet, but we'll be speculating until Dec. 17, 2017, when "Episode 8" is set to be released.
Before You Go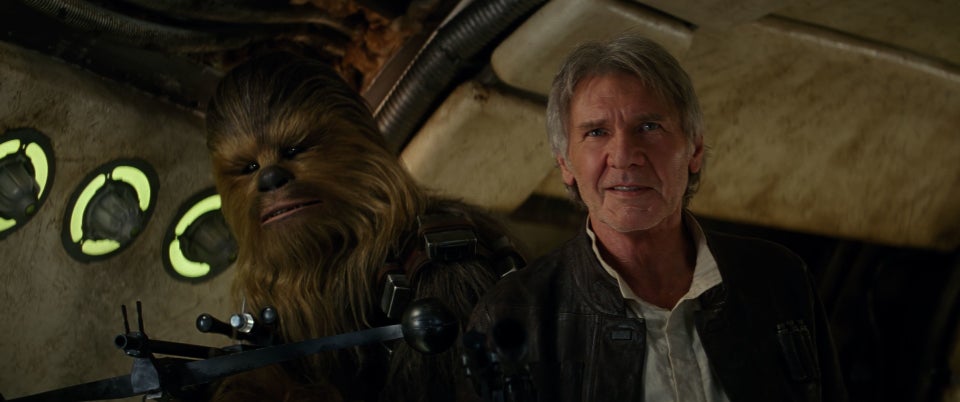 'Star Wars: The Force Awakens'
Popular in the Community