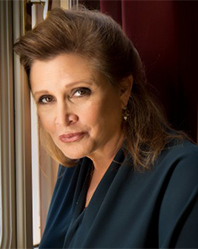 Actress and writer Carrie Fisher died at the age of 60 on Tuesday after going into cardiac arrest on Friday during a flight from London to Los Angeles. Fisher was a longtime advocate for mental health awareness, sharing publicly her own battle with bipolar and substance use disorders. She encouraged those who struggled with bipolar disorder and substance use issues to join in community and find comfort in shared feelings and experiences. As we remember her advocacy and commitment to confronting stigma and reducing shame, let's explore what we know about these disorders and what we can do to help.
What We Know About Co-Occurring Bipolar and Substance Use Disorders
Bipolar disorder is a serious mental health disorder affecting approximately 5.7 million adults each year (Kessler, Crum, et al., 1997), representing 8.1 percent of all diagnosed mental illness (US Department of Health and Human Services, 1999) in the United States. Bipolar disorder is characterized by sudden and intense shifts in mood, behavior, and energy levels and can present in a variety of ways, making diagnosis challenging. Like substance use disorders, bipolar disorder impacts physical and emotional wellbeing, and has been associated with higher rates of relationship problems, economic instability, accidental injury, suicide, and addiction.
Studies have demonstrated that people with bipolar disorder have higher rates of co-occurring substance use disorders than the population as a whole. Among individuals with bipolar disorder in one study, about 56 percent were dependent on substances, with 46 percent diagnosed with alcohol abuse or dependence and 41 percent diagnosed with drug abuse or dependence. People with bipolar I disorder were more than 3 times as likely to have alcohol abuse or dependence and about 7 times more likely to have drug abuse or dependence than those in the general population (Reiger, DA, Farmer ME, Rae DS, et al.1990).
What We Know About Treatment for Co-Occurring Bipolar and Substance Use Disorders
Having a co-occurring disorder can make recovery more challenging and requires treating bipolar disorder and substance use disorder simultaneously through a process called integrated treatment. Integrated treatment emphasizes centralized care delivered by a collaborative, multidisciplinary team, utilizing individual, family, group, peer, and medication intervention and support. Therapeutic approaches like cognitive behavioral therapy (CBT) and dialectical behavior therapy (DBT) have been shown to be effective in helping individuals regulate mood and behavior.
Integrated group therapy (IGT) is a 12-session group treatment for individuals with co-occurring bipolar disorder and substance use problems. IGT utilizes many principles of CBT, combined with psychoeducational approaches, and recommends the use of mutual self-help groups. IGT integrates the treatment of these two disorders by focusing on a single disorder paradigm, bipolar substance abuse. The treatment emphasizes the commonalities and relationship between the two disorders. Substance use is recognized as a risk factor for return to bipolar disorder and vice versa.
Important Things to Know About Co-Occurring Bipolar and Substance Use Disorders
A combination of genetics, environment, biology, and other factors are believed to play a role in developing these disorders.
Misdiagnosis is common. Proper screening and assessment is crucial.
Individuals often self-medicate.
Treatment for bipolar disorder can reduce cravings for substances.
Integrated treatment is essential, and medication-assisted therapies can help manage symptoms.
Listen, learn, and encourage treatment, notice symptoms, make a plan, stick to a schedule, express your concerns and take care of yourself.
Mental Health America (MHA)--founded in 1909--is the nation's leading community-based nonprofit dedicated to addressing the needs of those living with mental illness and to promoting the overall mental health of all Americans.
Catherine Ulrich Milliken, LICSW, MLADC, LCS, is the program director of Borden Cottage, one of McLean Hospital's Signature Recovery Programs which provide individualized residential care for patients with drug or alcohol addiction and co-occurring psychiatric conditions.
References
Kessler RC, Crum RM, et al. Lifetime co-occurrence of DSM-III-R alcohol abuse and dependence with other psychotic disorders in the National Comorbidity Survey. Archives of General Psychiatry 1997;54(4):313-21.
US Department of Health and Human Services. Mental health: a report of the surgeon general-executive summary. Rockville, MD: US Department of Health and Human Services, 1999.
Regier DA, Farmer ME, Rae DS, et al. Comorbidity of mental disorders with alcohol and other drug abuse. Results from the Epidemiologic Catchment Area (ECA) Study. JAMA 1990;264:2511-2518.
Weiss RD, Connery HS. Integrated group therapy for bipolar disorder and substance abuse. New York: Guilford Press, 2011.
Popular in the Community