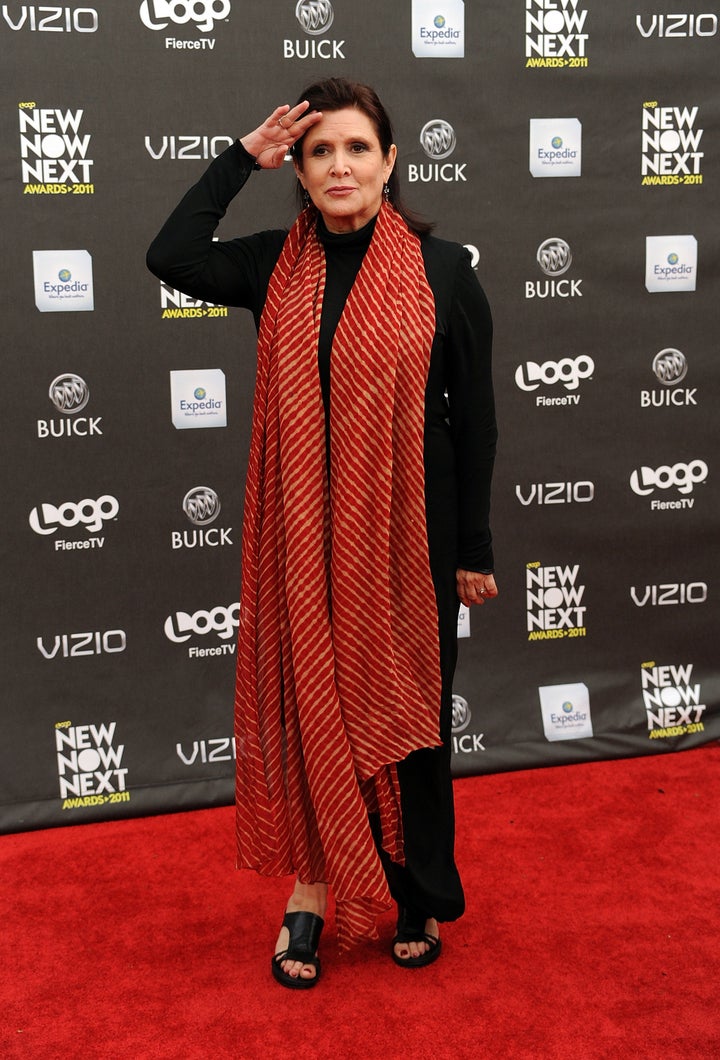 It's one of the classic pleas in history, a last, desperate attempt to preserve glorious freedom under siege; so often imitated, mocked and celebrated, Princess Leia's miniature hologram, bursting with urgency from R2D2's shell, asking "Help me Obi-Wan Kenobi, you're my only hope," helped rocket Carrie Fisher to fame.
Over thirty years later, in seeking to get back to resembling the "Star Wars" ear-bunned waif, Fisher couldn't rely on wise old mentors and children of destiny. Like a gun-toting Leia in "Return of the Jedi," Fisher had to do it herself -- with a little help to guide her along the way.
Fisher is celebrating losing over 30 pounds in just 18 weeks, with the help of a customized Jenny Craig diet -- for whom she's a national spokeswoman -- and a steadily increasing exercise rate. Just like when she called on a wise old Jedi to rescue her, the situation was dire.
"It was a health risk, I was afraid to leave the house, I didn't fit into any of my clothes," Fisher told The Huffington Post. "If somebody said, to be kind, 'You look good,' I would argue with them because I didn't. I disfigured myself with weight."
Interestingly, Fisher never thought of herself as exceptionally pretty or in shape -- though "Star Wars" fans would vehemently argue otherwise.
"I didn't identify as that. I felt I had to work on that, I think I sort of thought I was sort of passable, but I'm in a business where people are gorgeous and my mother [Debbie Reynolds] was gorgeous, so I grew up thinking, 'Well I don't look like that,'" Fisher confessed. "So I didn't see what you end up seeing in your 50's. You say, 'Really?' You look at yourself at 22, most people look realized they looked good no matter what they look like at 22."
One of the things that helped Fisher realize the extent of the problem was reading about herself on blogs and seeing all the critical comments about her appearance. Many of them said that while she was beautiful when she was young, she now looked more like Elton John than Princess Leia.
"After that happened, it really really hurt like all seven of my feelings, mostly because I knew what they were talking about. I didn't look like myself."
While aging and certain medications didn't help, Fisher pinpointed the beginning of her massive weight gain: going on tour with her one woman show, "Wishful Drinking."
"I went on tour and I stopped exercising and I started eating anything that floated by," she remembered. "I don't eat a lot but anything I ate was awful. Coca Cola, Balance Bars, I would eat the peanut butter [bars]. Those are fine in moderation, but I'm not someone who understands the notion of moderation; I would have six a day."
The six bars per day helped add up to a top level weight of 180 pounds, which, to a 5'1 Fisher, felt enormous. "10 pounds on me, someone who is 5'1, that's a world," Fisher explained.
Though they didn't carry light sabers, her team at Jenny Craig did arm her with a multitude of meals and snacks to keep her going. And helped her to actually carry through with the program so that she could see the results she wanted. It's about accountability, Fisher told HuffPo. Also, pretending you're not actually suffering.
Listing toasted oats, cookies and a number of pasta dishes as her favorites, Fisher said, "It feels like you shouldn't be able to eat this stuff but for whatever reason that they've worked out, you can eat that stuff and lose weight."
Still, she's not entirely happy with her accomplishment. Citing her short stature, she's got a goal of losing 15 more pounds. And when she does, chances are she probably won't bothering to sign online to feed the nasty bloggers their own words.
And as for being Princess Leia? When she began the process of losing weight, Fisher said that she wanted to be able to fit back into her famous metal bikini from "Return of the Jedi." Not that she'd actually do it, though -- she just wanted the option.
Has she had a change of heart?
"Maybe I'd wear it for myself," she laughed.