Gods help me, Carrie Prejean is a simple as a stick. And she's a catty piece of work, too, full of self congratulatory airs saying how sometimes it's better to come in second place. She spent the longest hour of my life on Fox & Friends this morning, and I sat through it so you wouldn't have to, though if you want to feel my pain, we do have a few minutes of her fifteen of fame here on video... Oh watch it -- it's way more fun than using a Pedi-egg, though less productive.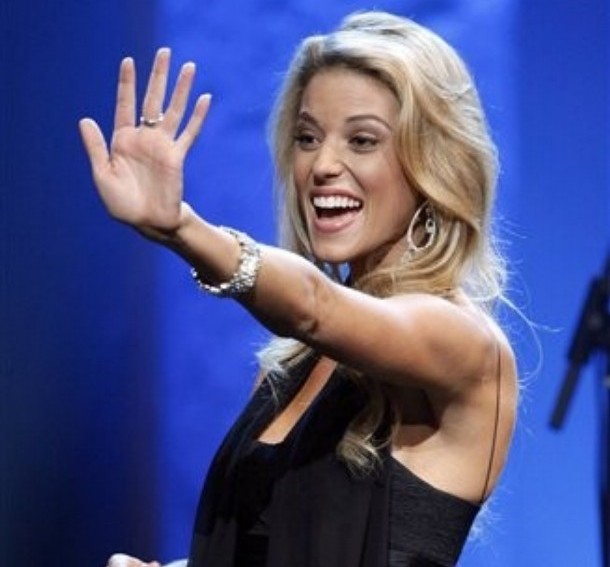 Along with trying to talk and breath at the same time, Carrie managed to hold a conversation with with Steve Doody and The Other Guy, which was like watching my betas float in their bowls. Only the fish are prettier. And, like, smarter. However, Carrie did say that it's great that the 18,000 couples already married before Prop 8 can stay married. But Carrie, you think marriage should only be opposite, so this makes no sense at all, unless she's gradually having a change of heart. Or is confused. Most likely the latter, since "that's great" is a standard response.
So Carrie, TweedleDumb and TweedleDumber went on about how an anchor on that other news show (Soledad O'Brien) wanted to get a dog removed from a co-op apartment building because he's big and smelly. The dog was a guest. The dog was livelier than Carrie and drooled less than the male anchors. It would not have been worth mentioning as a news story if CNN wasn't involved. Of course, you can argue that this story isn't worth writing about even with Carrie involved, but please play along!

You can read more and watch the video here
Based on her appearance today, no way could she get a gig as a news person, even in the dinkiest local news market. I look forward to her going away very quickly.
Lisa Derrick is La Figa at Firedoglake.com

Popular in the Community