WASHINGTON - United Technologies Corp's Carrier unit said on Wednesday it got financial incentives from Indiana and a pledge from President-elect Donald Trump to improve the climate for business in the United States in exchange for keeping more than 1,000 jobs in the state rather than moving them overseas.
The heating and air-conditioning unit of the industrial and military conglomerate did not give a value for the financial incentives, but a source briefed on the matter said it was a fraction of the $65 million that Carrier planned to save by moving production to Mexico.
The deal, an outline of which was announced late on Tuesday, is a win for Trump as he seeks to make good on his popular campaign message of persuading companies to keep jobs in the United States. More details are expected on Thursday when Trump visits the Carrier plant in Indianapolis.
Hammered out by United Technologies CEO Gregory Hayes, Trump and Vice President-elect and Indiana Governor Mike Pence, the deal lets the incoming administration claim an early victory before it takes office on Jan. 20. It allows the company to dodge some public backlash and avoid a drawn-out fight with Trump, who vowed to punish U.S. companies that shifted jobs abroad.
Perhaps more importantly for both, it helps set the tone of a business-friendly administration ready to ease regulations and cut U.S. corporate taxes.
"Today's announcement is possible because the incoming Trump-Pence administration has emphasized to us its commitment to support the business community and create an improved, more competitive U.S. business climate," Carrier said in a statement on Wednesday. It said the incentives offered by the state were an "important consideration."
TAX SLASH?
Steven Mnuchin, Trump's pick for U.S. Treasury secretary and co-author of the president-elect's tax plan, and Wilbur Ross, Trump's nominee for commerce secretary, on Wednesday reinforced the sweeping proposals Trump put forward in September to simplify the tax code and slash the corporate tax rate to 15 percent, cutting the top rate for all businesses from the present 35 percent.
"Our first priority is going to be the tax plan... lowering corporate taxes so we make U.S. companies the most competitive in the world, making sure we repatriate trillions of dollars back to the United States," Mnuchin told reporters at the Trump Tower in New York City on Wednesday.
He said the deal with Carrier showed that the incoming administration will have "open communications with business leaders."
The deal will save only about half of the 2,100 jobs that Carrier said in February it would cut in closing two Indiana plants.
The manufacturer said the "forces of globalization will continue to require solutions for the long-term competitiveness of the U.S. and of American workers moving forward."
Trump's intervention in the Carrier case raises the question of whether he will step in whenever manufacturing jobs are lost. By negotiating a deal with one company, Trump could come under pressure to do similar deals with other companies, said Alex Major, a partner at law firm McCarter & English.
That could result in what he called "a revolving door of trick or treaters at the White House," looking for handouts as they threaten to move jobs overseas.
Aside from Carrier, Indiana businesses have outsourced at least 3,660 jobs since the middle of last year, Labor Department figures show.
Senator Joe Donnelly, an Indiana Democrat, noted that there are two other companies closing two Indiana factories, including one a mile from the Carrier plant in Indianapolis that is expected to move to Mexico.
OTHER COMPANIES IN CROSSHAIRS
Oreo cookie maker Mondelez International, another company Trump has accused of shipping jobs overseas, told Reuters it has not heard from Trump since the election.
Apple, another Trump target on the campaign trail, which makes the vast bulk of its electronics in Asia, has made an attempt to reach out to the president-elect.
Trump told the New York Times he had received a call from Apple CEO Tim Cook. He said he told Cook he would like to see Apple build "a big plant in the United States," according to the Times report, with the help of incentives and a "very large tax cut for corporations."
Apple did not answer questions about the call between Trump and Cook, but it did note that it employs 80,000 people directly in the United States.
Carrier declined to disclose the exact size of the incentives for keeping jobs in the state.
"It's a modest state tax credit utilizing existing state tax tools; nothing new," an Indiana state official told Reuters. "It would be the same kind of package that would be considered for any other company that would come in," said the official, who spoke on condition of anonymity because the incentives have not yet been made public.
Carrier still plans to close a factory in Huntington, Indiana, that employs 700 people making controls for heating, cooling and refrigeration and move the jobs to Mexico by 2018.
(Reporting by David Shepardson, Ginger Gibson and Mike Stone in Washington; Additional reporting by Tracy Rucinski, Karen Pierog and Renita Young in Chicago; Editing by Soyoung Kim and Bill Rigby)
Before You Go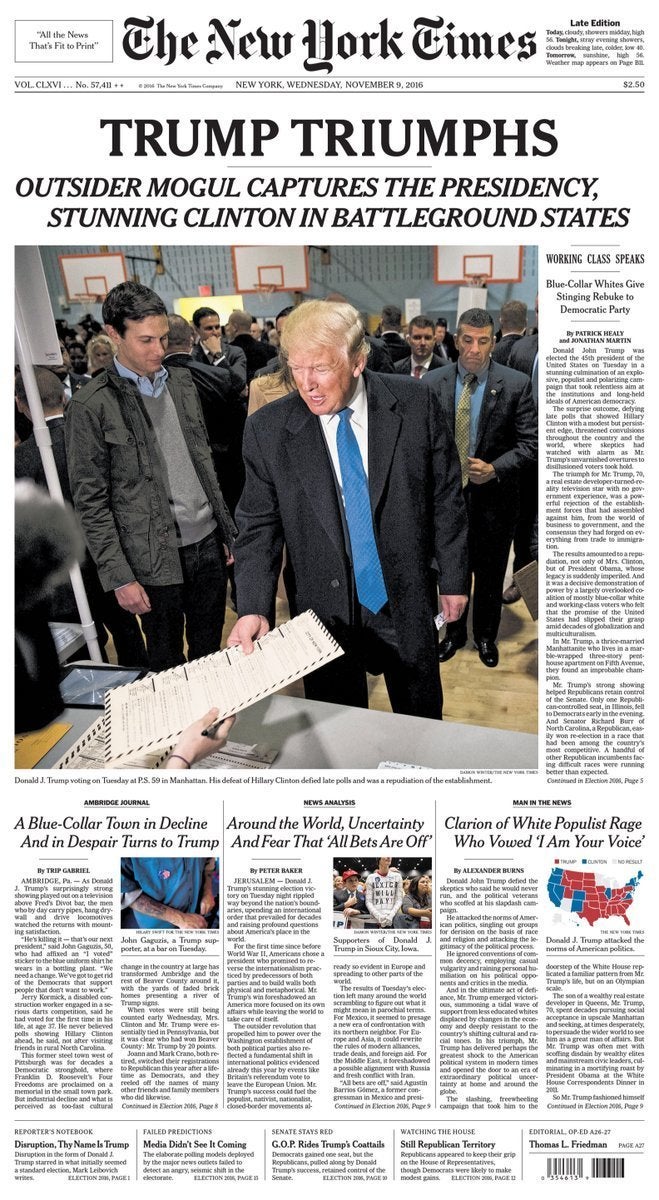 Newspapers React To President Trump
Popular in the Community