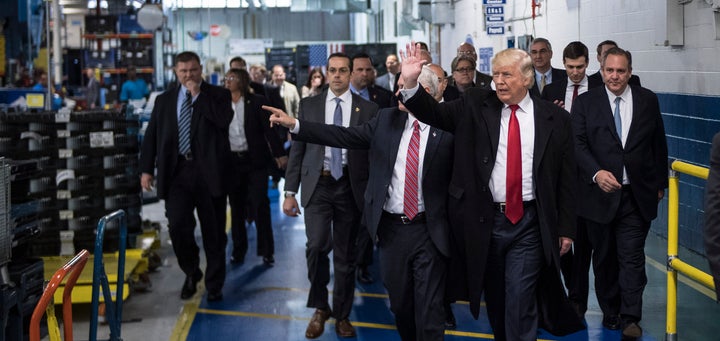 President-elect Donald Trump tweeted on Thanksgiving Day that he was working to fulfill a campaign promise to save 1,400 jobs set to be eliminated from the Carrier Corporation's factory in Indiana.
On Tuesday night, Carrier tweeted that it had reached a deal with the Trump transition team to save "close to 1,000 jobs" at Carrier's Indianapolis plant, which makes gas furnaces for heating buildings.
Chuck Jones, president of the local chapter of the United Steelworkers union that represents workers at Carrier's Indianapolis plant, had to go by the tweets. He was not a party to the deal. Jones told The Huffington Post that he first got the details from the company itself on Thursday shortly before Trump took a victory lap at the plant.
"We met with the company at noon," Jones said, "and then we found out what the numbers actually reflected was, they weren't keeping our 1,283 bargaining unit members, they were going to keep 730."
"Well, that was somewhat of a setback because Trump was saying they were keeping 1,000 jobs," Jones said. He added that the company said another 70 non-union positions would also stay. (Trump and the company have touted the preservation of an additional 300 research and development jobs, but Carrier had never announced plans to eliminate them.)
The remaining 553 bargaining unit members will still be laid off over the next three years, as will an additional 700 workers at another Indiana-based subsidiary of Carrier's parent company, United Technologies.
The union's exclusion from the process is significant, since the whole problem the company had was that it thought its labor costs were too high ― and a core function of unions is to negotiate labor costs with companies. Instead of seeking concessions from the union as part of the deal, the negotiators decided to fire fewer of its members in return for $7 million worth of tax breaks from the state of Indiana. Obviously, the union wouldn't have had much leverage to bargain with since Carrier had already decided to lay everyone off.
Something the union could have brought to Trump's attention is that Carrier's plant isn't the only one where the union represents workers whose jobs are about to be shipped to Mexico. About a mile from the Carrier plant, a ball bearings manufacturer called Rexnord is planning to shut down a factory that employs nearly 300 United Steelworkers members.
Sen. Joe Donnelly (D-Ind.) sent a letter to Trump this week praising the Carrier deal and trying to bring his attention to Rexnord and yet another closing plant owned by CTS Corporation.
"There are more than 500 jobs at risk between those two companies," Donnelly wrote.
Trump bashed Carrier's offshoring plans for much of the campaign, holding the company up as symbol of how bad trade deals let big companies betray American workers. It's not clear if he's ever mentioned Rexnord.
Jones had hoped to bring up the Rexnord situation with Trump when he visited the Carrier factory on Thursday, but between Trump's speech and hand-shaking, Jones said, he couldn't find a moment. He hadn't been promised a meeting.
"He arrived late and when he got there he was shaking hands," Jones said. "I was in the third row and I'd been sitting there about three hours and I got up and left."
Still, several Rexnord workers have told HuffPost they are thrilled that Trump has focused on saving manufacturing jobs, even if he doesn't save theirs.
"All throughout the plant yesterday everybody was elated that a thousand jobs were saved, and it does give people a lot of hope," John Feltner, a machinist at Rexnord and a member of the bargaining team, said in an interview.
Despite the glimmer of hope, Feltner's not incredibly optimistic. "This company is set on moving to Mexico," he said.
Rexnord has not responded to requests for comment.
Scott Paul, president of the Alliance for American Manufacturing, an advocacy group funded both by manufacturers and the steelworkers union, said Trump's strategy of publicly berating a company probably won't be enough by itself to stop companies from shifting production to countries with lower labor costs.
"There are plant closings like this that occur on a weekly basis, so unless he's going to set aside a couple hours per week to focus on this it's obviously not a sustainable strategy," Paul said.
Still, he called the deal an important symbolic victory for manufacturing workers, who have seen their ranks dwindle by 5.5 million since 2000.
"It shows that that economic pain that was felt in the heartland ― that caught a lot of political analysts by surprise ― does have a voice," Paul said. "And at least there are some initial steps toward addressing some of the causes."
Listen to HuffPost's interview with Paul on "So That Happened," the HuffPost Politics podcast:
Popular in the Community