For the past year, Food52.com readers have been voting in weekly showdowns of reader-submitted recipes on a given theme. The winning recipes of each week will end up in Food52's upcoming cookbook, along with bios of the people who submitted them (Food52 explains the process in simple detail here).
Food52 and its co-founders Amanda Hesser and Merrill Stubbs have invited HuffPost Food readers to vote on week 27's contest (of the second year, and the second book).
This week's showdown is for the best carrot recipe.
Check the finalists out below, and vote for your favorite here.
* * *
Roasted Carrot Soup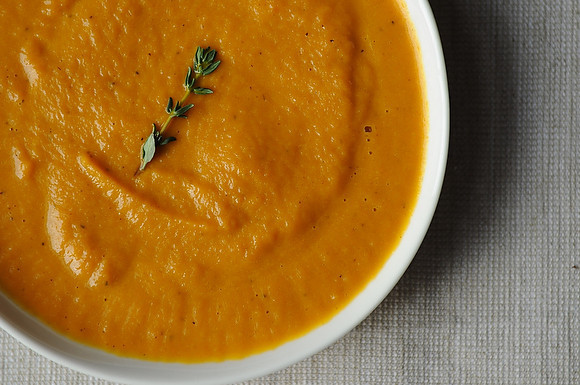 Photo: Sarah Shatz
Amanda and Merrill's notes on Roasted Carrot Soup on Food52.com:
When we first tasted this soup, we were puzzled. How could a dish that calls for only seven ingredients (not counting salt and pepper), and just five simple steps, be so complex in flavor? Reeve has devised a soup that can be put together in about half an hour, yet would be a great first course for a dinner party. It's dairy-free, but supple and creamy, and roasting the carrots gives them sweet, earthy depth. We especially love Reeve's technique of infusing the broth with ginger before making the soup, ensuring a gentle but pervasive heat. We used a good quality vegetable stock, and we recommend you do the same -- since there are so few ingredients here, each one really counts. - A&M
View the Roasted Carrot Soup recipe here.
* * *
Glazed Carrots with Braised Bibb Lettuce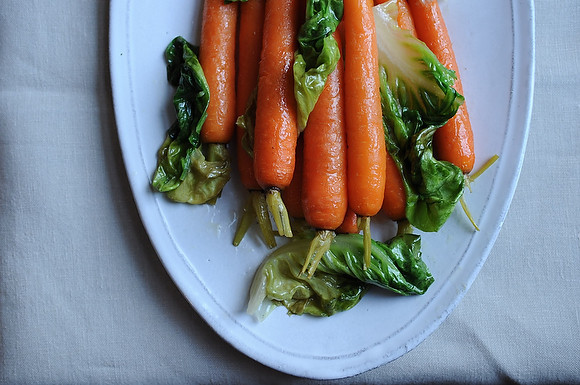 Photo: Sarah Shatz
Amanda and Merrill's notes on Glazed Carrots with Braised Bibb Lettuce on Food52.com:
This recipe relies on classic technique, yet it's by no means conventional. (If you're imagining little hexagonal barrels of carrot, fear not: thirschfeld forgoes such formalities, preferring to highlight the vegetables in their natural state.) He takes whole carrots (with their tops on) and gently simmers them in water laced with plenty of butter, a little vinegar, sugar, salt, bay leaf and thyme; as they cook, the liquid reduces and gently lacquers the carrots. At the very end, you add the lettuce leaves to the pan and let them wilt for a few seconds, letting their crevices absorb the fragrant, buttery glaze. -A&M
View the Glazed Carrots with Braised Bibb Lettuce recipe here.
Calling all HuffPost superfans!
Sign up for membership to become a founding member and help shape HuffPost's next chapter