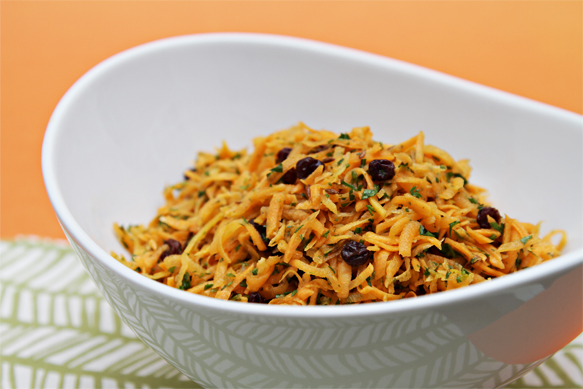 This salad is a gourmet version of the simple carrot salad I used to make as a child. Back then, the shredded carrots were tossed with a simple vinaigrette and topped with hard boiled eggs. It was one of our family's standard salads -- not a week went by without me preparing a batch.
This salad, however, puts a new spin on the humble dish. Carrot tops (or greens) are chopped and then tossed with the shredded roots. They contribute another layer of "carrotiness" to the salad, as well as their cheerful green color. The salad is then tossed with an orange-scented vinaigrette and plump currants - both accentuating the carrots' inherent sweetness. As a last touch, toasted whole cumin seeds are added for a delicious contrast to the sweetness of the dish.
This salad is wonderful served on its own, but it also makes a colorful, tasty side for any antipasti or tapas menu.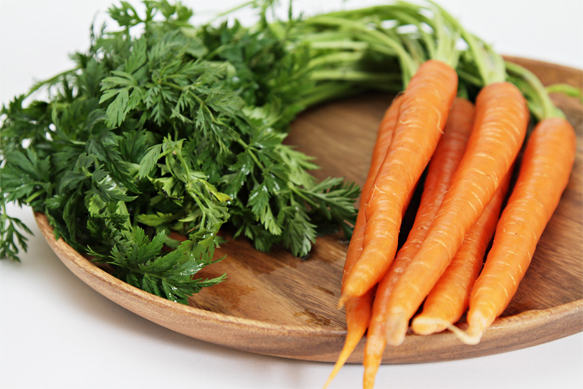 Carrot Salad with Carrot Tops, Currants and Toasted Cumin
Serves 4
Active time: 20 min
For the vinaigrette
1/4 teaspoon finely grated orange zest (use a microplane grater)
2 tablespoons orange juice
1 1/2 tablespoons aged sherry vinegar
4 tablespoons extra virgin olive oil
1/4 teaspoon sea salt
freshly ground black pepper to taste
For the salad
2 teaspoons cumin seeds
1 1/4 lbs (565 g) carrots - peeled and finely grated (use the shredding attachment of a food processor)
1/4 cup currants - soaked in hot water for 10 minutes
1/2 cup finely chopped young carrot tops
Step 1: To make the vinaigrette - Place all of the ingredients in a small bowl. Whisk until well blended and set aside.
Step 2: Heat a small heavy-bottomed frying pan over medium-high heat. Add the cumin seeds and cook until they turn deep-golden and are fragrant -- about 2 minutes -- shaking the pan continuously and taking care not to burn the spices. Transfer to a small bowl to cool. Place the grated carrots in a large bowl. Drain the currants and add them to the carrots. Add the chopped carrot tops and cumin seeds and drizzle with the vinaigrette. Toss well and serve.