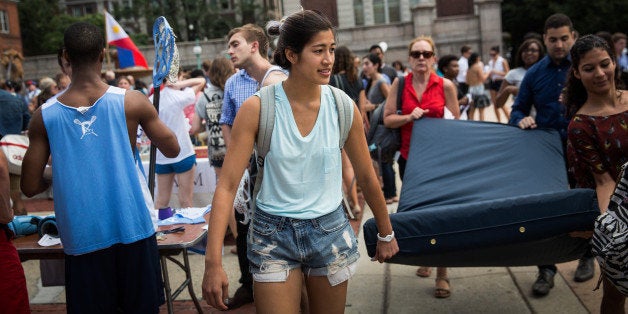 College students around the globe brought out mattresses on Wednesday to support Columbia University student Emma Sulkowicz and raise awareness about sexual assault.
Carrying the Weight Together, a group of college students and activists working to support survivors of sexual and domestic violence, organized a National Day of Action. The group was inspired by Sulkowicz's senior thesis project, "Carry That Weight," in which she is hefting her mattress around campus until the student she says raped her is expelled or leaves.
On the same day as the planned demonstration, Lee Bollinger, Columbia University's president, and Suzanne B. Goldberg, a law professor and special adviser to Bollinger on sexual assault, wrote in The New Republic, "No person who comes to a university or college to learn and live should have to endure gender-based misconduct today, particularly the young women who most frequently sustain these violations and already are saddled with gender-based burdens in their lives and interactions."
While Bollinger and Goldberg describe the changes that have been made at Columbia, they caution, "Still more work remains to be done." Data released by the university in September showed that no one was punished for sexual assault last year, although 10 undergraduate students were accused.
"We understand that reports about these cases in the media can be deeply distressing, and our hearts go out to any students who feel they have been mistreated," Columbia said in a statement Wednesday. "Columbia embraces its responsibility to be a leader in preventing sexual assault and other gender-based misconduct anywhere it may occur, with a special duty to protect the safety and well-being of our own students. Student activism here and around the nation has played an important role in encouraging these efforts."
In an op-ed in the Columbia Daily Spectator on Sunday, Sulkowicz urged supporters not to carry pillows as part of the protest, explaining that the "inevitable 'selfies'" would "look like they came from a slumber party."
"Sexual assault is neither a 'light' nor 'fluffy' matter, and we cannot treat it as if it were," Sulkowicz wrote.
Sen. Kirsten Gillibrand (D-N.Y.) sent a supportive tweet about the planned protest:
And others tweeted about the demonstrations on their campuses:
University of California-Berkeley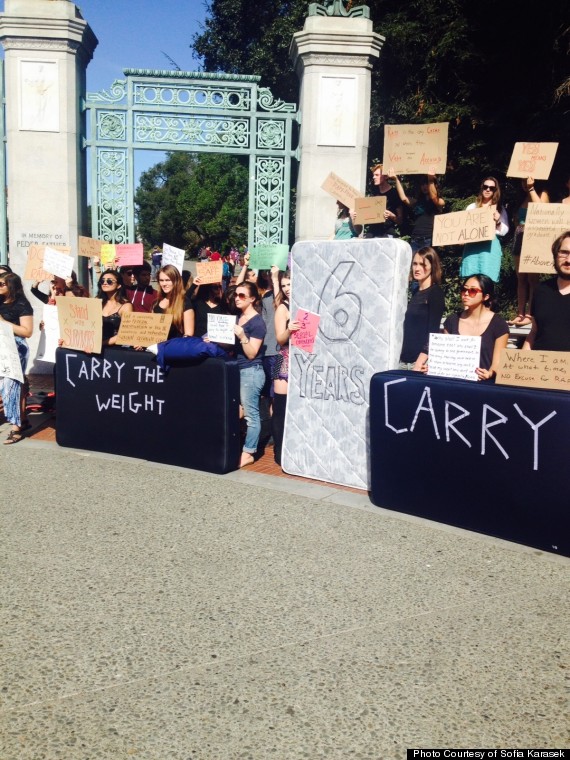 University of East Anglia (United Kingdom)
Appalachian State University
University of New Hampshire
Central European University (Hungary)
friend & i approached by caf staff while sitting down w/my mattress--thought we'd be kicked out, instead commended. thanks @ClarkUniversity

— Tessa Isis-Bahoosh (@tisisbahoosh) October 29, 2014
Pennsylvania State University
Related