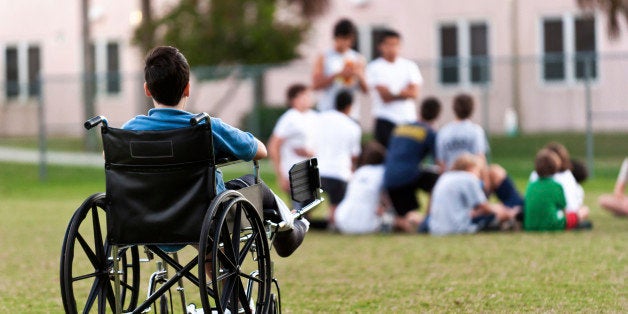 The largest event in Los Angeles since the 1984 Summer Olympic games is coming soon. All the visibility of the Special Olympics World Games may make it appear that individuals with disabilities are full and active participants in our society. To believe that would be like believing that because we elected a black president, racism is over. People with disabilities in our society are made invisible every single day. Children are left out of classrooms, and adults out of the workplace. When they are visible, it is most often either as objects of pity, to which we give our charitable efforts of time or money, or as sources of inspiration for their courage and perseverance in the face of daily obstacles.

The Special Olympics World Games will, for a short period of time, make disability visible. But while the message will be "inclusion", what we will see on the fields and courts will be events made up solely of individuals with intellectual disabilities. We should not be persuaded that this is what inclusion looks like, and should continue to fight for greater participation by students with disabilities, physical, intellectual and sensory, in our schools, communities, and yes, even our sports leagues.

In 2011 the World Health Organization and the World Bank produced the World Report on Disability. It stated that children with disabilities are "among the most stigmatized and excluded" children in the world and that limited knowledge about disability and related negative attitudes can result in the marginalization of children with disabilities within their schools and communities. Outdated attitudes toward disability can severely limit children's opportunities to participate meaningfully in their community, including the important sports activities that are a cornerstone in many people's lives.
The problem of excluding children with disabilities from group sports is a well-documented one. In 2008 the American Academy of Pediatrics recognized the problem of exclusion in youth sports when it published a clinical report titled Promoting the Participation of Children with Disabilities in Sports, Recreation and Physical Activities. The report states that all children benefit from physical activities and that, "The goal is inclusion for all children with disabilities in appropriate activities."

In January 2013 the US Department of Education published a "Dear Colleague" letter in which they outlined a Government Accountability Office report that found that students with disabilities were not being afforded an equal opportunity to participate in extracurricular athletics in public elementary and secondary schools. The letter reminded school districts of their legal obligation to serve students with disabilities in the least restrictive environment, under Section 504 of the Rehabilitation Act, and provided examples of the benefits of inclusive sports. It also suggested ways to accommodate and support athletes with disabilities. One example would be to use a visual cue, in addition to or instead of the starter pistol, for a deaf student in a track meet.

Special Olympics is a well-respected, generously-funded legacy organization giving thousands of athletes with intellectual disabilities the chance to compete at an international level. But, calling this "inclusion" could make us complacent and keep us from realizing the social change that is needed to end discrimination of individuals with disabilities.

As we watch the World Games this summer, and are inspired by the courage, determination and athleticism displayed by the participants, let's not let it end there. Policymakers can create legislation, as Governor Chris Christie of New Jersey did in January 2014, building on the guidance provided by the US Department of Education a year earlier ensuring that students with disabilities are not prevented from participating in school athletic programs. Athletic organizations, such as Little League and Pop Warner, can join the "Commit to Inclusion" campaign, of which one of the founding organizations is the President's Council on Fitness, Sports & Nutrition. Parents of children with and without disabilities can ask the question of teachers and coaches, "How are students with disabilities included in this program?" Creating a more inclusive world is everyone's responsibility, and while Special Olympics has a giant megaphone this summer, it's going to be up to us to carry the torch after the games are over.
REAL LIFE. REAL NEWS. REAL VOICES.
Help us tell more of the stories that matter from voices that too often remain unheard.