Donald Trump recognized the widow of the Navy SEAL who was killed during a botched covert mission last month in Yemen during the president's joint address to Congress on Tuesday evening, leading the crowd in a long standing ovation in tribute to her husband's service. 
Carryn Owens is the widow of Chief Petty Officer William "Ryan" Owens, who died during the Jan. 29 operation. She attended Tuesday's address as a guest of the president and sat next to his daughter Ivanka Trump.
Trump paid tribute to Owens and her husband near the end of his speech.
"We are blessed to be joined tonight by Carryn Owens," he said. "Ryan died as he lived: a warrior, and a hero, battling against terrorism and securing our nation.
"I just spoke to our great [Defense Secretary] Gen. Mattis, who reconfirmed that, and I quote, 'Ryan was a part of a highly successful raid that generated large amounts of vital intelligence that will lead to many more victories in the future against our enemy.' Ryan's legacy is etched into eternity. Thank you."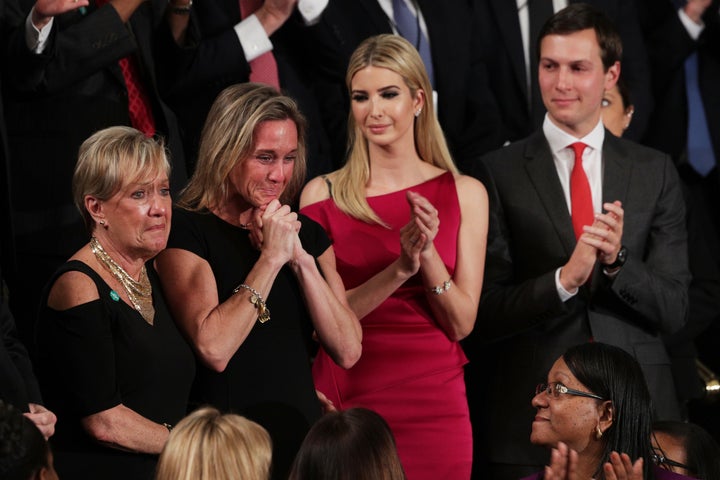 The audience inside the House chamber rose to its feet as it gave Owens a lengthy standing ovation. It was a visibly emotional moment for Owens, and tears streamed down her face throughout the ovation.
"Ryan is looking down right now, you know that? And he's very happy, because I think he just broke a record," Trump said of the applause. 
What went unacknowledged in Trump's tribute is the controversy surrounding Owens' death. The raid, ordered by Trump, was reportedly approved "without sufficient intelligence." And in contrast to the Mattis quote Trump read during his speech, NBC reported Monday that the raid yielded no significant intelligence. 
Owens' father, Bill Owens, has demanded an investigation of his son's death and has accused the Trump administration of using his son's death for political gain. He also said he couldn't bear to meet the president at the airport when his son's casket was carried off the military plane.
"Don't hide behind my son's death to prevent an investigation," he told The Miami Herald earlier this week. "The government owes my son an investigation."
Earlier Tuesday, Trump dodged responsibility for the raid and instead blamed the military and former President Barack Obama's administration in an interview on Fox News' "Fox & Friends." 
"This was a mission that was started before I got here. This was something they wanted to do," Trump said. "They came to me, they explained what they wanted to do ― the generals ― who are very respected, my generals are the most respected that we've had in many decades, I believe. And they lost Ryan."
REAL LIFE. REAL NEWS. REAL VOICES.
Help us tell more of the stories that matter from voices that too often remain unheard.
BEFORE YOU GO
PHOTO GALLERY
Trump's First Speech To Congress