Disneyland is unquestionably an American institution. When it opened on July 17, 1955, it set a new standard for themed entertainment. For the last 40 years, though, Disneyland has existed in the shadow of its sister theme park, Walt Disney World Resort in Florida. When Walt Disney World opened on October 1, 1971, it had "the blessing of size," and offered golf, dining, hotels and other recreation in addition to its own take on the Magic Kingdom theme park out west. It was touted as the "Vacation Kingdom of the World," and it lived up to this moniker as a destination for a multitude of vacationer demographics, not just families.
The divide between Disneyland and Walt Disney World has continued to grow over the years, as Walt Disney World has added three additional theme parks, water parks and a myriad of other entertainment offerings. In an effort to turn Disneyland into a bona fide "resort" destination, Disney opened Disney's California Adventure in 2001. The California-themed park was a bust of such a magnitude that it vanquished most hope Disney had in turning Disneyland Resort into a vacation destination that would rival Walt Disney World. Rather than resolving defeat, Disney went back to the drawing board, announcing in 2007 a five-year overhaul and expansion of the troubled Disney's California Adventure theme park.
That expansion concluded on June 15, 2012 with the opening of Buena Vista Street and Cars Land. The overhaul to the park was so comprehensive that even the park's name was tweaked, from the possessive Disney's California Adventure to Disney California Adventure. In the years leading up to 2012, this expansion brought new attractions and experiences, such as Toy Story Midway Mania, The Little Mermaid-Ariel's Undersea Adventure and World of Color, a stunning nighttime spectacular.
Buena Vista Street is the opening act to the park, which conjures up a vision of the 1920s Los Angeles into which Walt Disney arrived. It is the California Adventure twist on Main Street, USA, and it is remarkably well done with scores of exquisite details and even its own newspaper, the (free!) Buena Vista Bugle. Locals and Disney theme park fans are heaping praise on Buena Vista Street, which they contend sets an excellent tone for the rest of the park.
While Buena Vista Street is gorgeous and critical to the reinvented park's success, the land about which everyone is buzzing, and the land that will put Disneyland Resort on the map as a tourist destination is Cars Land, a new 12-acre land set in the town of Radiator Springs from the Pixar film Cars. Cars Land doesn't just look like Radiator Springs did in the film, it's a dead ringer for Radiator Springs.
When guests first step foot in Cars Land, the common visceral reaction is to simply stop, stare and marvel at the amazing scale and authenticity of the land and its mountains. It removes guests from Anaheim and places them in the middle of the fictional town of Radiator Springs. Disney prides itself on theming and escapism, and Cars Land is the pinnacle of both for any land in any United States Disney theme park.
Luckily, Disney's big bet on has already paid off in spades, as Disney hit an absolute home run with Cars Land. Guest feedback on the land has already been resoundingly positive and the "new" Disney California Adventure has been showered with rave reviews by critics. Equally as important, while Disney California Adventure once struggled in attendance, Disney CEO Bob Iger reported on an August 2012 investors' call that Disney California Adventure now is an equal draw to Disneyland.
Seemingly every establishment from the film version of Radiator Springs is present: Mater's Junkyard (Jamboree), a surprisingly fun whip ride; the Cozy Cone Motel, a low-capacity outdoor vending that offers "cone" food; Radiator Springs Curios, a gift shop; Luigi's Casa Della Tires (Flying Tires), an underrated flying tires-based attraction; Fillmore's Taste-In, a fruit and juice stand; Sarge's Surplus Hut, a gift shop; Flo's V8 Cafe, Disney California Adventure's new best counter service restaurant; and Ramone's House of Body Art, a gift shop. Other locations from the film are also represented.
Radiator Springs Racers is the crown-jewel of Cars Land, and sets a new bar for Disney E-Ticket attractions as it flawlessly combines a ride/race through Ornament Valley with dark ride sequences and audio animatronics that leaves guests speechless. Racing side-by-side with another car through the incredibly detailed Ornament Valley is an exhilarating experience, but it's the dark ride sequences, the queue detail and the full immersion of Radiator Springs Racers that put it in a league of its own. I have experienced Radiator Springs Racers dozens of times to pore over these dark ride scenes, and I've noticed something new each time. On its own, Cars Land is a beautiful and immersive land where I could spend hours just enjoying the ambiance, but Radiator Springs Racers takes the land to the next level with an attraction that, like Indiana Jones Adventure in Disneyland, will be a favorite of guests for decades to come.
With the reinvented Disney California Adventure, Disneyland Resort guests finally have wait they've patiently waited for since 2001. The entire reinvented park looks great, with incredible ambiance and some amazing attractions, but it's the tent-pole Cars Land that is poised to become a household name much like the Wizarding World of Harry Potter at Islands of Adventure in Universal Orlando. Like Potter, Cars Land will have guests planning trips to see "Cars Land and Disneyland," without even realizing that Cars Land is a land within a theme park.
Overall, this new incarnation of Disney California Adventure is a dramatic improvement upon what opened in 2001, with a slate of attractions and theming so impressive that it should make vacationers planning a Disney vacation give serious thought to not just Walt Disney World but also Disneyland. This is perhaps the most amazing aspect of the whole reinvention of Disney California Adventure: it has taken the relatively modest two-park Disneyland Resort and turned it into something that should draw some guests away from the huge, four-park Walt Disney World Resort.
It's doubtful that Disney expected to cannibalize business from its Florida park with Disneyland Resort, but that's exactly what might happen as word continues to spread about Disney California Adventure. It's a stunning reversal of fortune for Disneyland Resort, which has been publicly overshadowed for most of the last 40 years, but it's fitting that the resort containing Walt Disney's original magic kingdom is once again top dog in the Disney empire.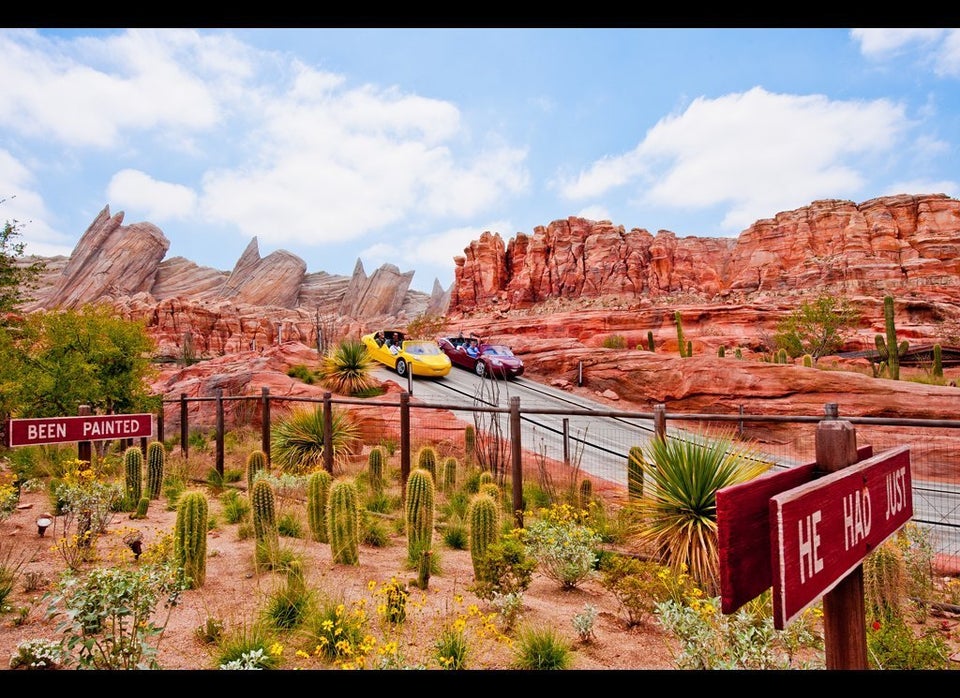 Disney California Adventure 2.0
Related