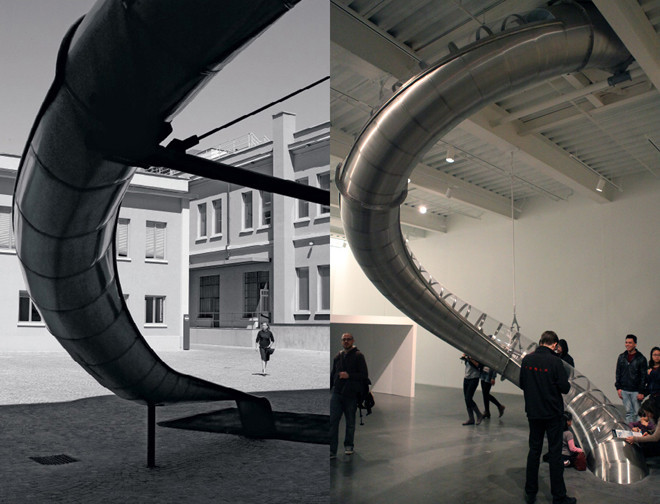 Carsten Höller's slides in Milan and New York
Ever since I saw the black-and-white image of Prada HQ's severe-looking courtyard in Milan tricked out with a giant tube slide (and one Miuccia Prada walking in the background), I'd been obsessed. Obsessed with the idea of a slide in the workplace. Obsessed thinking about Miuccia sliding down it after meetings. Obsessed with the idea of her sending others down it, perhaps.
The slide -- which is installed in her office, and shoots three stories down -- was built by the German artist Carsten Höller. Höller has built other slides in the Tate Modern Museum in London, as well as at the Berlin Biennale. So when I heard that one of his slides was coming stateside (*although the slide isn't hers, it's a pretty close replica), I knew I had to go. This past Sunday I dragged our photographer Bobby to the New Museum to document the whole thing. We were prepared to wait. And wait we did. For about an hour and a half. When we approached the entry to the slide, which was really no more than a inconspicuous metal tube coming about six feet out the cement floor, we were prepped by the museum attendant to keep our heads down and hands close to our bodies. We were also given helmets. Once I finally made my descent, I understood why. It goes incredibly fast, not unlike a luge. I managed (against museum rules) to take a video during the ride down. It's very blurry and pretty short because the last turn is a sharp one, and I ended up dropping my phone at some point.
The whole experience is at once both super juvenile and quasi-apocolyptic. You can see people watching you through the tube, and once you are finally dumped out (on to cushy mats), you find yourself alone in an huge empty room (save for two burly security guards) with flashing lights.
Although the wait is long (try going during a weekday at 2pm) and the ride is quick, it's totally worth it, and easily one of the coolest things happening in New York right now.
Watch the super short video, then click through gallery below for more photos of the exhibit.