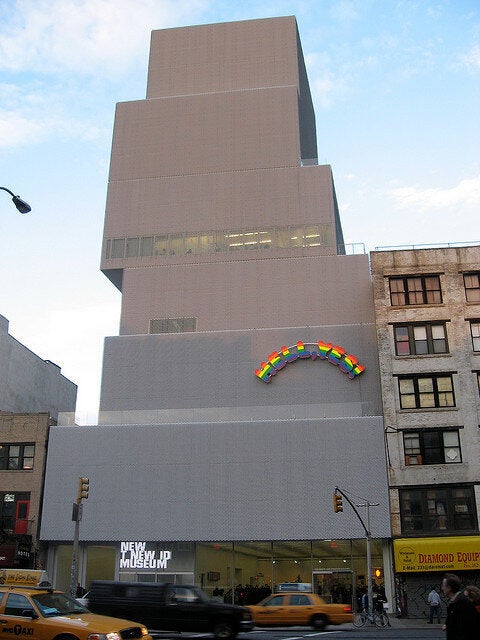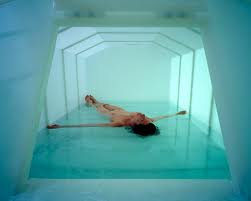 Giant Psycho Tank, 1999 © Attilio Maranzano
This week I participated in museum-sanctioned nakedness and submerged myself in a one-of-a-kind exhibit dubbed the Giant Psycho Tank -- a sensory deprivation pool of heavily salinated, skin temperature water.
If you've spent any time in NYC in the past few weeks, it's hard to miss the ads announcing this exhibit by artist Carsten Höller at The New Museum. Since its opening, visitors have been flocking to the Bowery to try out some of the experiential installations for themselves.
I didn't intend to stand in line for the Psycho pool, but I had just gotten a little banged up on another one of Höller's pieces, a 100-foot metal tube slide which drops visitors down an Alice in Wonderland-like shoot at high speed into a room full of life-size neon crocodiles and hippos and rapidly flashing lights (not recommended for those who have visually induced seizures or a whole host of other conditions, the Museum warns).
Image courtesy of The New Museum, © Benoit Pailley
True, I had been told to keep my arms together until I landed on the mat two floors below, but a primal survival instinct caused me to put out my hands at the bottom to stop myself from crashing to the floor. Call me crazy. My right hand instantly swelled, which I was told by one of the security guards "has been happening a lot around here," adding, "You're just lucky it wasn't your head."
I nursed my throbbing hand as I stood in line for the tank, hoping the water would provide some form of relief. I had to suspend some judgement about the young unkempt looking man waiting patiently ahead of me and thanked my lucky stars that the NY Department of Health had ordered that the exhibit must now only accommodate one museum visitor at a time instead of the six-at-a-time naked strangers it was intended for.
Once inside, I cautiously sat down on bent knees, thinking maybe I wouldn't submerge myself. Eventually curiosity got the better of me, and I slid down into the water and floated effortlessly with my arms outstretched. I remembered a question someone once asked me as a child about what heaven might be like. I imagined a clean, light room with warm water, not unlike this. I felt calm and free, and I really didn't want to get out.
For every person who loves the tank, there's someone who is utterly disappointed. When he came out, the man in front of me complained that the water was too cold and the tub was too shallow. I should have guessed that my kids, who had come along begrudgingly that morning, thought the slide took museum-going to a worthy and exciting new level. Vive la différence!As we walked home, caked up salt flaking off my body, I thought about some of the themes of the show: safety, doubt, childhood vs. adulthood, and what constitutes art itself. Maybe you don't need to throw yourself into this kind of psychedelic experience to understand that our impressions of art are formed not only on the physical level but also on the foundation of all the deep-seated experiences, impressions and beliefs from our past.
By bringing an amusement park-like quality to a museum, Höller calls into question our "regular" experiences in the outside world: couldn't they be considered art too?
Experience is showing at the New Museum until January 15. More information here.
Take a look at how the Museum literally cut into the structure of the building to install the slide:
Related
Popular in the Community