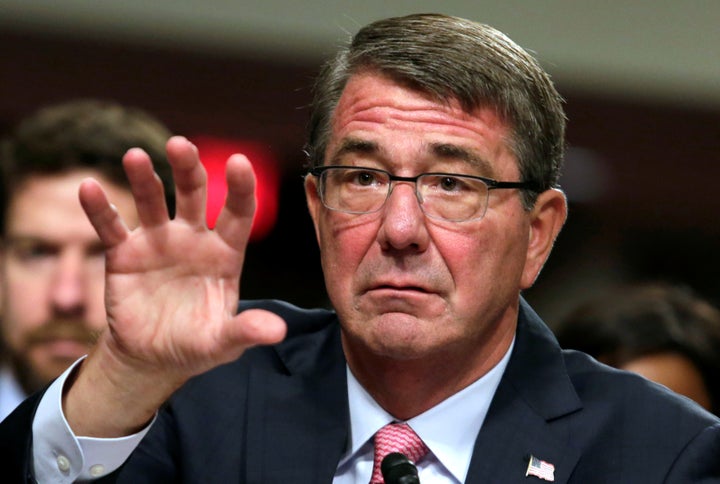 WASHINGTON ― The Pentagon is suspending efforts to recollect what turned out to be erroneous bonus payments to California National Guard members, Defense Secretary Ash Carter announced Wednesday. 
"While some soldiers knew or should have known they were ineligible for the benefits they were claiming, many others did not," Carter said in a statement.
But that doesn't mean service members who received those bonuses are necessarily off the hook. He said the suspension would last until he was satisfied the process for providing relief to those affected by the repayment demands was "working effectively."
Carter said he had ordered Pentagon officials to establish that process by January, ensuring "the fair and equitable treatment of our service members and the rapid resolution of these cases," with the Pentagon making decisions on all the bonuses by July at the latest.
"Ultimately, we will provide for a process that puts as little burden as possible on any soldier who received an improper payment through no fault of his or her own," he said. "At the same time, it will respect our important obligation to the taxpayer."
A bombshell report in the LA Times over the weekend detailed how the Defense Department was ordering some California National Guard members to repay large enlistment bonuses that they were not eligible for ― hitting veterans with interest charges, wage garnishments, even tax liens.
As the U.S. fought two wars over the past 15 years, the Pentagon paid out improper bonuses in every state. But those overpayments were particularly frequent in California. And efforts to get the money back from nearly 10,000 soldiers in California was causing incredible hardship.
After the Defense Department realized the error, they began trying to get the money back, years after it was paid out, by any means necessary. 
Calling all HuffPost superfans!
Sign up for membership to become a founding member and help shape HuffPost's next chapter