Editor's note: This article contains graphic descriptions that may be upsetting to some readers.
When Herge died in 1983, many assumed that Tintin would retire to Marlinspike Hall, giving up his life of adventure. Ever unpredictable, the boy detective did exactly the opposite: He headed out into the big bad world and set about losing the innocence his illustrator had been so intent on preserving.
Over the last several decades, Tintin has popped up on posters and t-shirts throughout the world that document his new adventures, from binges in Barcelona to bad trips in Goa. The Belgian illustration has, despite the best efforts of the litigious Herge Foundation, become our foremost traveling subversive, an ex-investigator under perpetual investigation.
In 2001, a man operating under the name Bud E. Weyser approached a bookseller in Belgium and attempted to sell him copies of a new Tintin adventure entitled "Tintin in Thailand." Unfortunately for Mr. Weyser, the shady book dealer was an undercover cop and the sting operation landed him and his two accomplices -- the villains here being rather Tintinian in their incompetence -- in the clink. They also ended up in the pages of Belgian newspaper De Morgen, which reported that the Herge Foundation, known locally as Moulinsart, had tipped off the cops.
Though the Belgian police confiscated over a thousand copies of the lewd comic, a few have remained in circulation. In Thailand, where the comic was printed, some of the illustrations are now printed on tchotchkes for sale at Chatuchak market. The images of Tintin getting down in a gay bar with rent boys are particularly memorable if not quite as offensive as Snowy's interspecial coupling with Chang, the duo's compatriot from "Tintin in Tibet."
Thanks to longstanding rumors about Tintin's sexuality and due to his clean-cut image, the "Tintin in the gutter" motif has become quite popular. The French street artist Dran has depicted Tintin leading a muzzled Snowy through a filthy Paris subway during a transit strike and hungover in a Barcelona alley. Much like the "Tintin Loses the Plot In Goa" shirt that shows the boy wonder with a constellation of stars around his head and wearing bell-bottoms, these works playfully critique a certain type of hedonistic travel -- the sort of backpacking that is less about the destination than about the substances one imbibes after arriving.
If Tintin once traveled through a landscape full to brimming with exotic people and pristine vistas, he now wanders a fallen world, stepping over the prone bodies of backpackers and spring breakers. So much for the sanctity of Syldavia. So much for Bordurian authenticity.
So much, in fact, for the rules of Tintin as laid out in Moulinarts' "Charter for the use of visuals from the work of Herge," which makes it illegal to "reproduce visuals taken from the work of Herge to illustrate themes linked to money, politics, the medical or paramedical field, sex, weapons, alcohol, drugs and tobacco."
When he's not getting off, drunk or high, the new, edgy Tintin is busy violating his charter by getting embroiled in international relations. His fictional world has adopted reality and, more ominously, reality has impinged on his imagined world.
"I went back home to visit Iran after nine years and I ended up getting arrested, losing my Iranian passport and being stuck for a year and eight months as I was interrogated by secret police and interviewed by different courts," said the animator Zartosht Soltani, whose illustration of "Tintin in Tehran" attracted the attention of government censors. "I was only planning to be home for a two-week vacation."
Soltani's drawing shows the corpse of Snowy, who has been hit by a car driven by government agents. Unfortunately, this is a reference to an actual incident: Basiji agents, members of a pro-government Islamic militia, ran over Soltani's dog and didn't so much as stop to apologize. Captain Haddock, who looks on, is portrayed as an extremist cleric.
The Afrikaner artist Anton Kannemeyer has also adopted the Tintin aesthetic to critique the West's ongoing infatuation with Africa. In his "Pappa in Afrika," a character who looks like a balding Tintin sits in a jalopy amongst starving and dismembered Africans whose faces are twisted into the same racist smear of lips and nose Herge deployed. The original illustrator did not, however, ever show Tintin wrestling with a snaking, black penis and shouting, "Oh my god!! These black dicks are outta control!" Kannemeyer does this in service of dissecting the mix of guilt, fear and patronage that has supplanted the simpler racism of Herge's day as the basis of the West's relations with Africa.
As his natives put it, "We are tired of living under this tyranny. We cannot endure that our women and children are taken away by the white savages."
Herge himself may have known that Tintin's journey would inevitably devolve into trespass. The very thing that made Tintin so popular -- the blankness that facilitated children's projections -- would allow him to be painted and repainted by ideologues and pranksters. Before his death, the author gave novelist Frederic Tuten permission to write a novel in which Tintin leaves Belgium for the real world.
In "Tintin in the New World," our protagonist's innocence is replaced by genuine desire. He is ravenous in the mode of Pinocchio or Buzz Lightyear. When a woman asks him where he wishes to go now, his answer is almost forward.
"To Brazil, perhaps," he says. "To the moist green night of Rio or Bahia, where I've never been. To hot sheets, and hotels..."
For this fictional wanderer, reality is inevitably the final destination.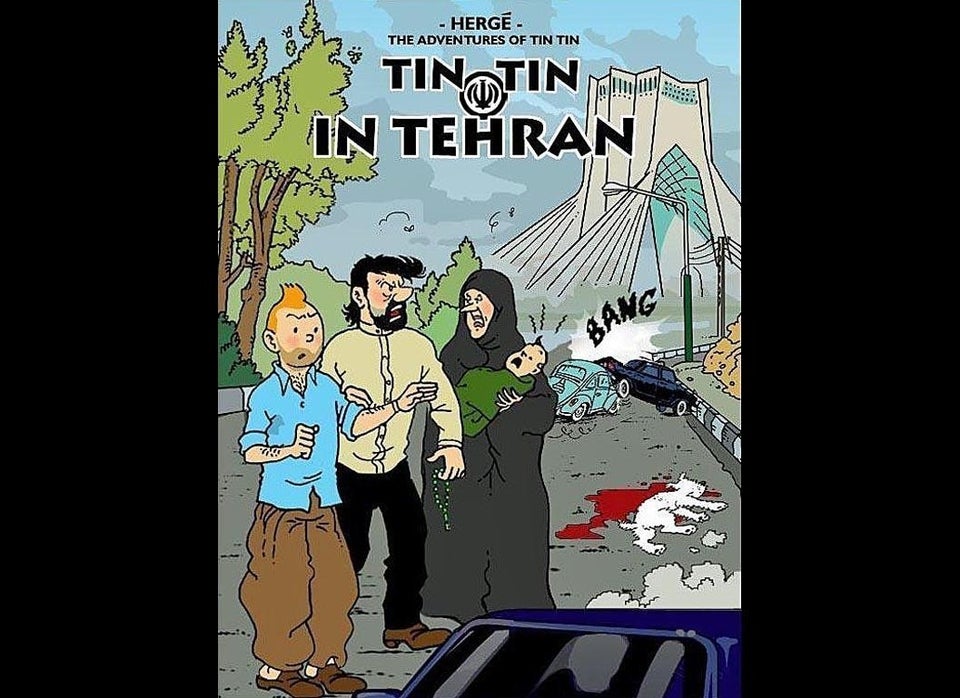 Tintin's Adult Adventures